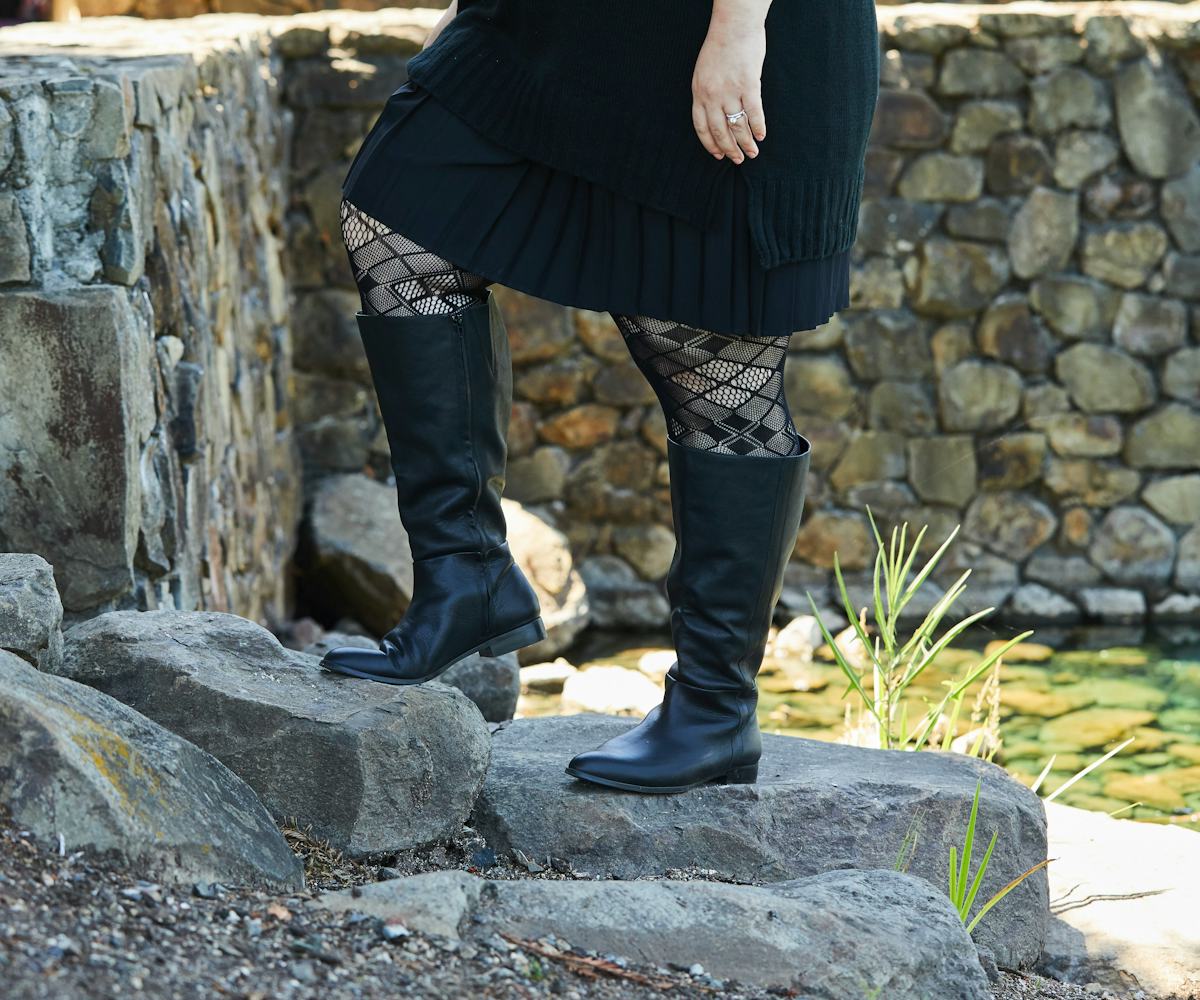 Photo courtesy of Part & Parcel
This Brand Is Making Classic Fall Boots Available For Plus Sizes
Founder Lauren Jonas on why "the wide-calf boots that were available on the market are useless"
Part & Parcel launched with one product to which plus-size customers typically have very limited access: calf-length boots—and high-quality ones at that. According to the brand's founder, Lauren Jonas, "the wide-calf boots that were available on the market are useless" because they don't actually fit the people they're allegedly made to serve. "The standard boots available in the market have a 14 and 15 [inch] calf circumference, and the wide calf boots on the market have a 15- or 16-and-a-half inch calf circumference," Jonas says, and notes that "according to the CDC, the vast majority of women in this country have a calf circumference that's larger than 16-and-a-half to 17 inches."
So, in 2017, Jonas created a Kickstarter campaign to start her own company, that would offer boots that actually fit customers with larger calves. Part & Parcel now offers boots in three different calf circumferences, and—maybe best of all—they ring in at under $300. Offering high-quality, but still affordable, options was paramount to Jonas, who also notes that, in the past, people with larger calves usually had to shell out tons of money on custom boots, since that was their only option. Jonas' boots quickly sold out, and, she says, there have been no customer returns.
Maybe the lack of returns is due to the fact that Part & Parcel offers "dimensional sizing," which takes several different factors into account for boots, rather than just shoe size. The brand also uses dimensional sizing in its clothing line, taking into account that people carry weight in different parts of their body. Jonas says this was important because "not every body shape is the same. When you're a plus-size woman designing for plus-size women, you think about all of the challenges you had, just in terms of physical accessibility into products and comfort in products."
This detail is one of many that came to Jonas from a history of being shut out of trends and even just fashion essentials because of her weight. When she was just 10, her mother didn't know what clothes to dress her in for a school event, and she ended up resorting to her local department store's maternity clothes. That led to, at such a young age, another woman in the fitting room asking "when [she] was due." And then there was the time Jonas tried to find a suit for internship interviews and had to buy it from men's retailer Joseph A. Bank because there weren't women's options. Jonas says, she was "really plus-sized and really made fun of for it."
Jonas tells me that she was the only person with her body type in her family, or in her community growing up, and didn't actually meet anyone going through the same experiences as her until she started sharing her story on the internet. Now, she takes great pleasure and pride in providing them with exactly what they need, whether over-the-knee boots or workwear essentials. She tells me, "I know the plus[-size customer]. I know the challenges she faces... I know the products she wants."
To see more of Part & Parcel's product line, visit here.