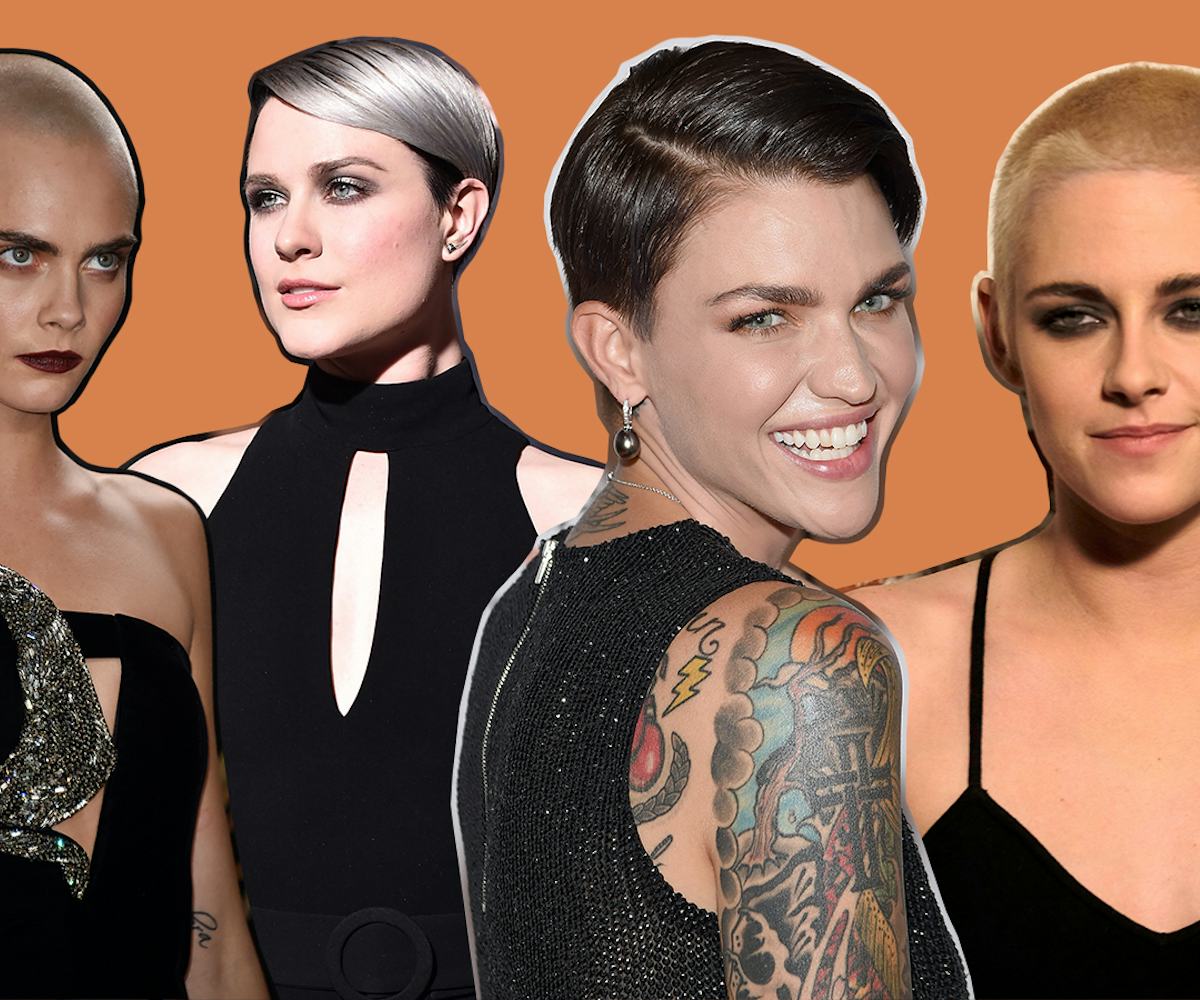 On The Rise Of Queer Women As The Hottest Spokesmodels
Chanel isn't typically associated with skateboards or beanies, but wait, look: It's Cara Delevingne, donning a hoodie, sneakers and a knit cap, cruising down a hill for a Chanel bag. Just a week before, Kristen Stewart, in a white T-shirt, black jacket, and a pair of cigarette pants, threw herself around a factory-chic warehouse room, comforted only by her… Chanel bag.
While it's true that the fashion industry has a very queer-friendly history when it comes to models (see: Gia Carangi, Jenny Shimizu, most seasons of America's Next Top Model), and an even friendlier history with heterosexual women posing sapphically to tell a sexy, sellable story, Stewart and Delevingne are not just models—they are bona fide celebrities. In fact, they're household names at this point, with both having appeared in major films and become tabloid fodder, with headlines touting what they're wearing, who they're dating, and what they posted on Instagram along with a proposed theory of what it all means. Celebrities with familiar personal lives are often utilized as models to boost brands, but most often, these celebrities are straight with conventional and heteronormative ideas of beauty or sex appeal. With Delevingne and Stewart, however, while they are certainly both the latter, they are just as known for being dedicated members of the LGBTQ community.
And it's not just Chanel. Ellen DeGeneres is a CoverGirl. Ruby Rose is the face of both Urban Decay and Nike. Stella Maxwell is one of Victoria Secret's most prominent angels. YouTube beauty blogger Ingrid Nilsen has been hired to represent Bare Minerals ("Be Your Best Self!"). Evan Rachel Wood is the face of fragrance Gucci Guilty. These are all women who are and have been in relationships with other women that they acknowledge without shame or detriment, signaling a huge role reversal from 2008 when Portia de Rossi feared she could lose her spot as a L'Oréal spokesperson after signing a contract that included a morality clause, as detailed in her memoir Unbearable Lightness.
"It states that if I'm caught doing something that damages the image of the company, I'll have to pay all the money back. I'll have to pay back the advance, everything," she wrote. "The clause cited examples like public drunkenness, arrests, et center, but I knew that it would including homosexuality. The wording of the contract was vague, and I was unsure exactly what would constitute a breach of the contract and how 'morality' was defined. The whole thing made me sick. I was so scared about the morality clause I didn't even want to talk about it."
The world is changing to be more inclusive of LGBTQ people, and that is finally being reflected in mainstream ideals of fashion and beauty. Earlier this year, L'Oréal signed trans model Hari Nef for their True Match foundations line, while Gucci Bloom will feature Nef as part of their fragrance campaign.
"L'Oréal Paris is a brand fueled by a mission to empower everyone to own and embrace their individual beauty and intrinsic worth," said L'Oréal's deputy general manager, Tim Coolican. "By featuring a diverse blend of individuals and illustrating their individual skin stories, our new True Match campaign celebrates the power and beauty of feeling comfortable in your own skin."
Alongside trans model Valentijn De Hingh, Nef was also hired for H&M's &Other Stories' trans-themed video "The Gaze," created in hopes of broadening views of gendered fashion, and featured in H&M's autumn collection ad, which featured women of all sizes, colors, and identities and was set to Lion Babe's cover of Tom Jones' "She's a Lady." Meanwhile, Gigi Gorgeous was hired to represent Revlon to "tap into that younger Gen Z consumer," and trans teen Jazz Jennings was tapped to encourage Clean & Clear consumers to "be their true selves." 
For better or worse, this kind of "be you" attitude frequently accompanies LGBTQ narratives in advertising. The new Chanel campaign for its unisex Gabrielle bag has been referred to as "genderless," and with both Delevingne and Stewart having recently chopped off their hair and shaved their heads, their queerness is arguably more visible than ever, and that kind of fluidity is becoming more and more reflected in fashion and beauty campaigns. Last year, Delevingne's Puma tomboy-ish activewear line encouraged consumers to "do you," with a message of inspiring confidence and individuality.
"All of us own a body," Delevingne said in one ad. "It's one of the most powerful insurgents that we own. We all wear our different armors in life. Everyone is insecure it's just being honest about that and having strength in vulnerability. Don't follow the crowd; don't do what other people do because everyone else is doing it. It's all about accepting who you are and not apologizing for it. Stand in your shoes and just, like, be you. At the end of the day if they don't like you, fudge off or whatever."
For Rimmel London, Delevingne makes eyes at men and women who end up congregating around her; her hip, dancing "brow squad." (That campaign, "#BrowLikeCara, includes a young genderqueer individual named Llewys.)
Similarly, Rose is brought in by brands to spread a gospel of enviable androgyny and originality. In Australia, she's been a brand ambassador for Maybelline since 2010, dispelling myths on carpets and interviews.
"I feel like the stereotype that lesbians don't wear makeup, it's not true," she said during a press event. "There's probably as many lesbians that don't wear makeup as straight girls that don't wear makeup. Some people are into it, some people aren't, and I think everyone wears some part of makeup, it's just how much they play with it and explore with it." Rose was so committed to the cause, she had "Maybe she's born with it" inked on her shoulder. 
Urban Decay called their campaign with Rose "their biggest lipstick launch ever." Titled Vice, Rose appeared in ads and videos for the collection, asking "What's your vice?" with shades of pink and purple lip colors and neon vaginal imagery leading down a dark hallway to an underground club where Rose is boxing and kissing her reflection in the mirror.  
Interestingly, Maxwell has yet to be portrayed in the "embrace your difference" way in which her peers often are. A Victoria's Secret angel since 2015, she's appeared on the runways for Marc Jacobs, Versace, Alberta Ferretti, Fendi, and Moschino—and that's just in 2017. She's a brand ambassador for Max Factor and Replay jeans and was named Maxim's Hottest Woman of the Year in 2016. Her photos (even those on her Instagram) tend to exude the traditional sexy vibe—scantily clad with a come hither look—that reads, frankly, as heterosexual unless she's bringing, as she often does, another model into the mix (as she has with Lily Aldridge, pressing her body upon Aldridge's hip and the side of her thigh). Her photos for Maxim's cover shoot had her in the buff, with her trademark long blonde hair waving around her like a modern-day Lady Godiva. (Although she's been pictured making out with ex Miley Cyrus and rumored girlfriend Kristen Stewart, she told Maxim, "I keep my personal life personal. I don't talk about it.")
Still, anyone who reads the internet is aware that Maxwell is interested and involved romantically with other women, but her modeling persona does not come attached to the same kind of "Be yourself! Yay individuality!" shout-out for uniqueness that the others (including her girlfriend) imbue. Her traditional femininity and sexuality is embraced, and most of the questions she gets in interviews are the same other models receive: How does she stay in shape? What are her beauty secrets? What's it like to be so gorgeous and glamorous? Still, Maxwell is being hired not just for her "look" these days, but her star power. She's not just another nameless model for Marc Jacobs or Jeremy Scott—she's Stella Maxwell.
CoverGirl didn't try to play up DeGeneres' femininity when they brought her on in 2009. DeGeneres' first CoverGirl commercial had her saying, "Inner beauty is important, but not nearly as important as outer beauty," with ads goofier than what we typically would expect from beauty brands. It's also worth noting that her ads are for their "Simply Ageless" anti-aging foundation. She might be the only one who doesn't seem to wear much more makeup than what is required for being on camera, one of those lesbians who, Rose says, just aren't that into it. 
And DeGeneres, in many facets of her career success, is considered an anomaly; an androgynous, suit-wearing lesbian who is non-threatening to heterosexuality because she comes off as approachable and fun—no need to hide your daughters or wives. In 2016, CoverGirl hired YouTube star James Charles as its first-ever male brand ambassador, saying that they see CoverGirls as "role models and boundary-breakers, fearlessly expressing themselves, standing up for what they believe and redefining what it means to be beautiful."
Stewart, Delevingne, and Maxwell are all still feminine enough for their beauty to fit into the typical definitions of desirable for straight men, and much of what companies want, at least in part, is for women to buy their beauty and fashion products to feel beautiful and sexy and worthy of male attention. That same ideal is not only feminine but also white.
For the record, queer icons Janelle Monae and Queen Latifah are both CoverGirls, but neither has publicly addressed their sexual identity in a definitive way and consistently refuse to define it for anyone who asks. There is definite a lack of visibility for queer women of color in this realm, even though more brands are embracing women of color and specifically catering to them with their shades of cosmetics. The fact is, though, that ethnic and racial diversity are still sorely lacking in the commercial realm, and that carries over into the queer modeling milieu, as well.
M.A.C has always been inclusive and diverse, with Nicki Minaj, Blac Chyna, Ariana Grande, Lady Gaga, Miley Cyrus, Caitlyn Jenner, and Beth Ditto all having participated in campaigns for the cosmetics cult that professes to be for "All Ages, All Races, All Sexes." Since 1994 (the same year they were purchased by Estée Lauder Companies), its annual Viva Glam campaign benefits HIV and AIDS organizations and has reportedly raised more than $450 million for charities. Their The M.A.C x Selena Quintanilla capsule collection (based on the late Mexican-American singer) was so coveted that, before it sold out in mere minutes, there was a purchasing restriction on items.
Fashion and beauty companies are essentially selling consumers pieces of their chosen identities, and for queer, trans, and gender-nonconforming people, seeing themselves being catered to (blatantly or subtly) can signal a kind of sea change that will hopefully expand to be even more inclusive of what it means to be beautiful and fashionable. Sometimes it means standing out; sometimes it means blending in—it's a personal level of comfort and interest for every individual. But having even the smallest reflection of yourself in an advertisement can confirm that you are appealing, and it can do wonders for one's self-worth, which is a concept worth buying into—and a product worth buying.