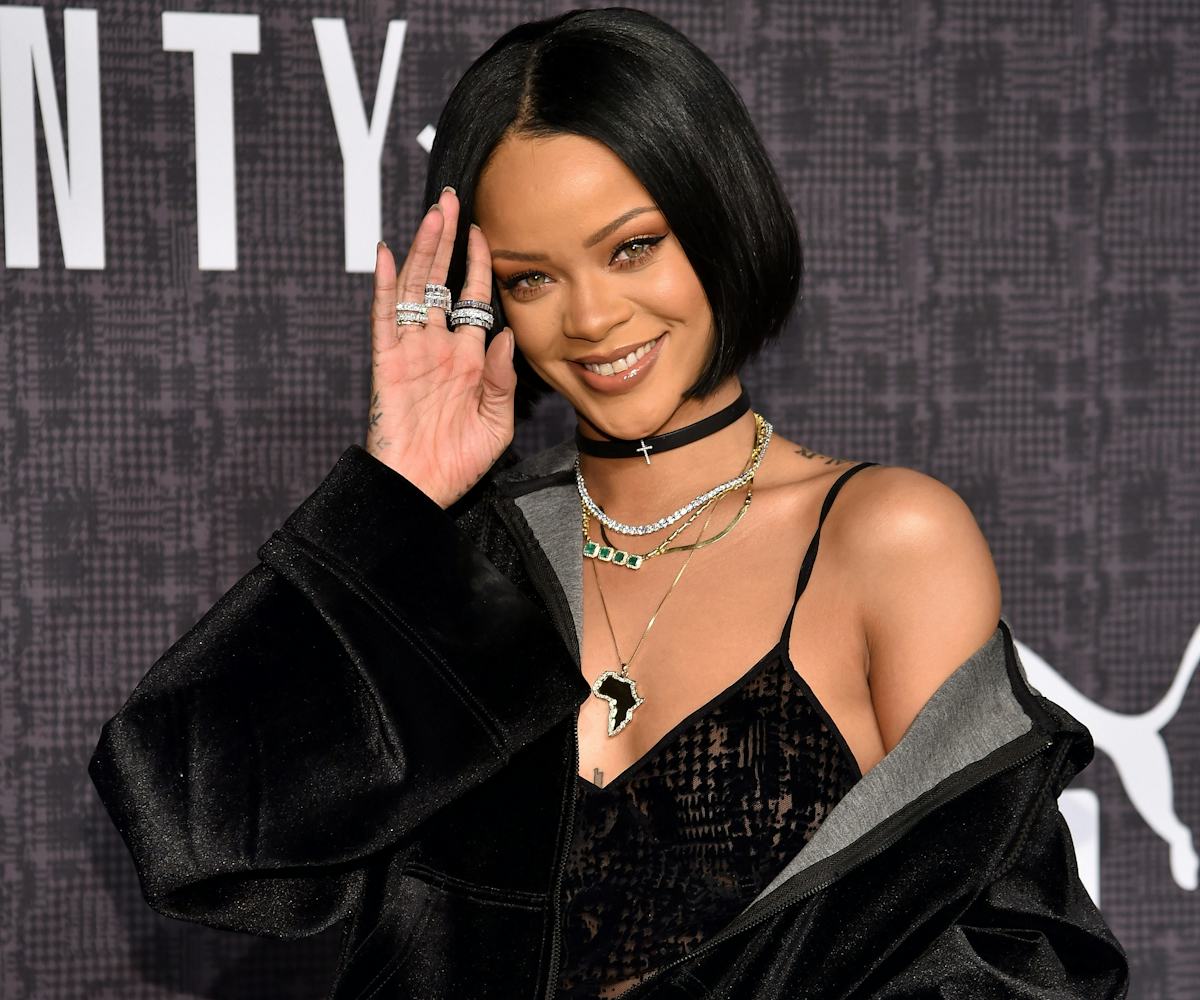 Photo by Dimitrios Kambouris/Getty Images
Rihanna Collabs With Manolo Blahnik On A Capsule Collection
denim dreams do come true
As we slowly roll into March, Rihanna continues to be busier than ever. After showcasing her debut clothing line with Puma to the world at NYFW, Rihanna was quickly on to the next thing unleashing the Fenty Trainer. (After all, she is their creative director.) With the long-awaited release of Anti out of the way, she had time to drop not one, but two music videos for her Drake-assisted single "Work," but that still wasn't enough to keep her satisfied despite the fact that a mere two weeks have passed since then.
Today, Bad Gal RiRi is back at it again with another collaboration, but this time, her partner is footwear designer Manolo Blahnik. Together, they have created the Denim Dessert collection which features six limited-edition shoes that are made entirely out of denim with "beautiful artisan embroidery inspired by Rihanna's hand tattoos." We thought the Puma sneakers were expensive, but the Blahnik collaboration ranges from $895 to $3,995.
In the press release, Rihanna said "The day I see a woman in the street wearing my shoes... I am sorry for that woman because I'm going to literally run after her, shouting, 'Stop! Selfie! Who are you? Where did you get them?' I'm going to have a moment!"
The thigh high boots (aka the "9 to 5") are featured on Rihanna's Vogue UK cover for the April issue, in case you were wondering how to go about styling them. Aside from making us nostalgic for the '90s with the heaps of sequins on denim, the best part about the collection are the names of the shoes: "Dancehall Cowgirl," "Sea Salt," "Rih-vi," and "9 to 5." Diamonds (and denim) are truly a gal's best friend. 
Rihanna and Manolo Blahnik's collaboration officially launches on May 5 in stores in London, New York, and Hong Kong. Preview some of the shoes from the collection in the gallery, below.
Dancehall Cowgirl
Rih-vi
Sea Salts
9 to 5