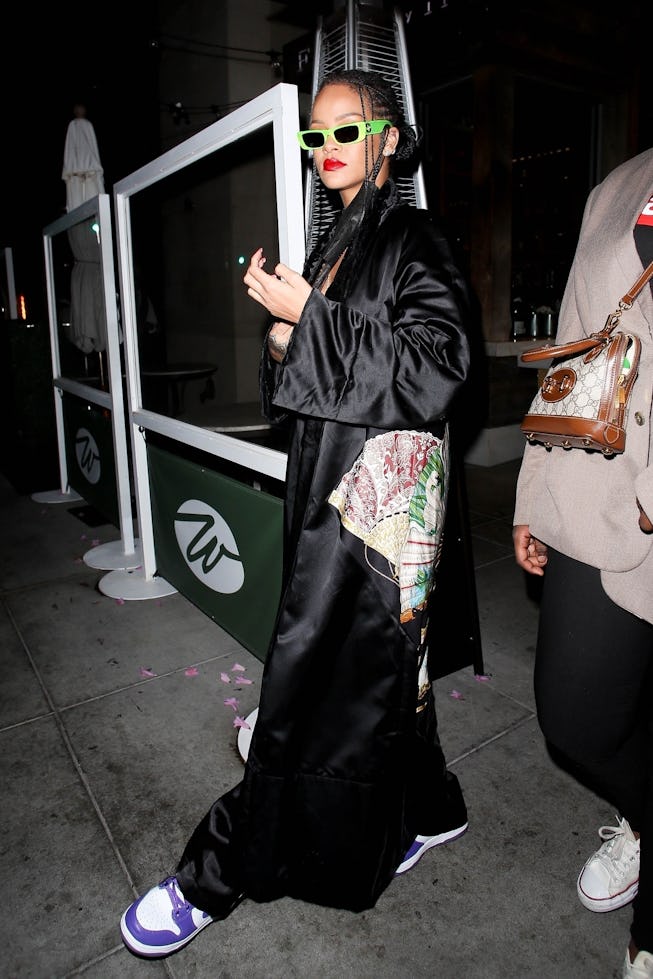 GIO / BACKGRID
Rihanna's Latest Outfit Is A Glimpse Into Future Post-Pandemic Style
I saw Rihanna wear lingerie in public, so I wore lingerie in public.
Any good business owner knows that it's important to research the competition, even if that competition is a vintage Chanel that's no longer available outside of resale. Lingerie magnate and recent fashion archive enthusiast Rihanna was spotted in a black lace tank for her latest street style look.
Miss Fenty headed to Wally's in Beverly Hills on Monday night in a (très sheer) vintage Chanel top that she picked up from Archive Vintage. She paired the statement piece with a silk Hermès kimono, satin Celine track pants, purple Nike Dunks, and neon green Gucci shades. We should all be thankful that we're living during this style era.
As the world slowly starts to reopen after a year of pandemic life, it may be difficult for some to shed their quarantined-at-home wardrobe of sweats, undies, and loungewear. If there is one thing to take away from this Rihanna look, it's that you don't really have to. Though, the singer-turned-entrepreneur has been a longtime fan of wearing PJs out in public, most especially for Met Gala after parties. Perhaps she's prepping for this year's event in September?
Until then, feel free to tack these photos, below, up to your summer moodboard. And if you're on the hunt for some black lace pieces of your own, might we suggest a little lingerie brand called Savage x Fenty?