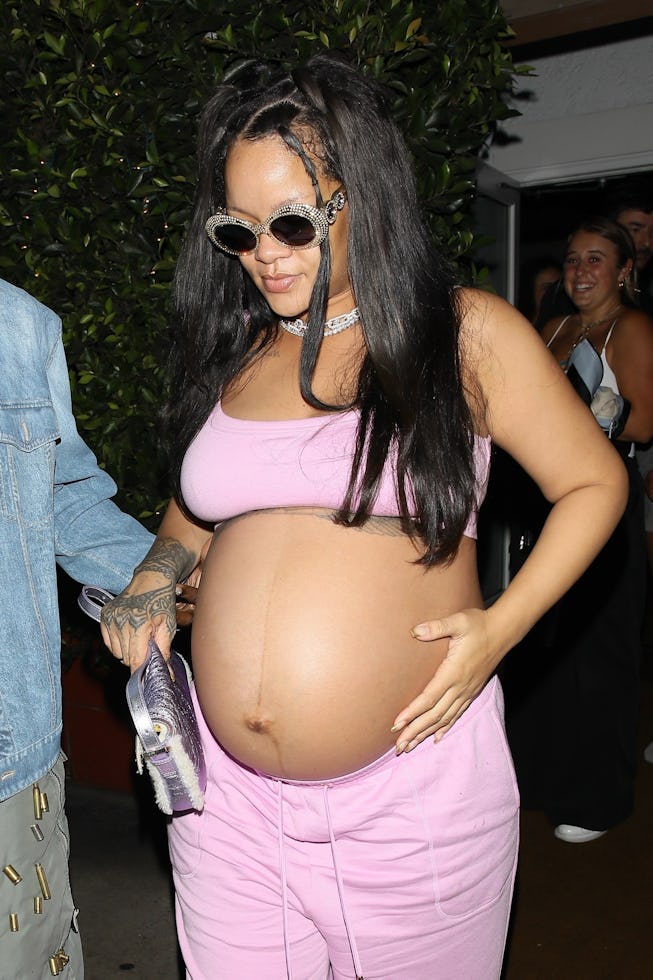 Backgrid
Rihanna Goes Full Barbiecore & More Summer Baby Bump Fits From Her Second Pregnancy
Forever a maternity wear icon.
At this point, it's well established that Rihanna not only overdelivers in everything she does, but also raises the bar even further. Launching her singing career when she was just 15, she's since changed the music industry forever. Then, when launching Fenty Skin in 2017, she set the new standard for what beauty brands should offer when it comes to shades for darker skin tones. Even throughout her first pregnancy, her "bump-baring" looks challenged what "maternity wear" could look like.
Rihanna and ASAP Rocky are now expecting baby number two, which the artist revealed during her Super Bowl performance and with a subsequent Vogue UK cover story, and we have no doubt that stylist Jahleel Weaver will continue to move the needle when it comes to pregnancy styling. However, thus far, Rihanna has been keeping her second pregnancy style more low-key. After all, she doesn't need to wear back-to-back "bump-baring" looks to prove that she's still the queen of maternity wear.
Ahead are the best looks from Rih's second round of maternity outfits, updated as she makes new appearances.
Sunday, FEB. 12: Super Bowl Halftime Show
Imagine being able to say that you were part of Rihanna's 2023 Super Bowl performance before you were even born! Taking the stage in a custom bright red Alaïa puffer coat over a custom red Loewe jumpsuit and glossy bustier, Rihanna's bump debut couldn't have been more iconic.
Monday, FEB. 20: Giorgio Baldi in Santa Monica
Just a week after her Super Bowl performance, Rihanna celebrated her 35th birthday with Rocky and close family and friends. Wearing a white mini dress, the singer paired the look with a shiny black overcoat, a pair of silver strappy heels, and a white fuzzy purse.
Monday, FEB. 20: Langosteria Bistrot in Milan
Rihanna kept it classic while in Milan for fashion week, walking hand-in-hand with Rocky in a long, peach, silk dress with a turtleneck. She also wore strappy Manolo Blahnik heels and a brown bomber jacket.
Sunday, MAR. 12: Oscars red carpet
Not long after Rihanna was caught on video walking into Los Angeles's Dolby Theatre in an Eagles T-shirt, a green bucket hat, and black Vans, she emerged on the red carpet in a black custom-made Alaïa leather band dress worn over a jersey bodysuit. She completed the look with a spiky bun, silver eye shadow, and two large diamond rings.
Sunday, MAR. 12: Oscars Performance
On stage, Rihanna wore an embellished black Maison Margiela bra with black leather gloves and printed pants.
Sunday, MAR. 12: Oscars Ceremony
For her third outfit of Oscars night, Rihanna wore a lime green bustier and skirt from Bottega Veneta. She completed the look with green leather gloves and joined ASAP Rocky, who wore a Gucci ivory-and-black double-breasted tuxedo, a white evening shirt, black bowtie, and black patent leather lace-ups.
Monday, MAR. 13: In Los Angeles
The day after the Oscars, Rihanna was seen walking around LA in a Loewe striped polo collar sweater (from the women's Resort 2023 collection) and low-rise baggy jeans.
Monday, APR. 5: Giorgio Baldi in Santa Monica
Rihanna and ASAP Rocky stepped out with their son in matching black-and-white outfits, sharing a family dinner at RiRi's favorite restaurant. Rihanna wore a Wu-Tang Clan jersey, a sheer skirt, black heels, and a diamond choker.
Monday, APR. 17: César in Paris
Rihanna and ASAP Rocky dined at César restaurant in Paris, with RiRi bringing back the crop top and baby bump combo. Pairing the crop with grey cargo pants, a patchwork cardigan with a hood, and a diamonté choker, the look was casual-chic at its best.
Monday, APR. 18: In Paris
If there's one thing Rihanna will do, it's the unexpected. While a brown fur off-the-shoulder top with a fur jacket and baby blue pants wasn't the combination we would usually associate with the start of spring, the result looked extremely cozy.
Monday, APR. 20: César in Paris
Rihanna wore denim-on-denim (on denim) in Paris with a puffy, denim bomber jacket with silver studs, a button-up crop top, and a denim mini skirt. She completed the look with studded Gianvito Rossi Lydia boots and a diamond choker necklace.
Monday, APR. 27: Rihanna's Private Jet
Before leaving New York, Rihanna wore a LOEWE cropped tank top in a ribbed cotton jersey from the Spring/Summer 2023 collection with a grey camo jacket and a baseball cap.
Monday, APR. 27: CinemaCon
Rihanna showed up at CinemaCon and announced that she's playing Smurfette in Paramount's upcoming The Smurfs Movie, fittingly wearing a blue denim floor-length Y/Project gown with thigh-high denim boots and blue eyeshadow to match.
Monday, APR. 30: Pre-Met Gala in New York City
As Rihanna put it in her caption, it was "not even [Met Gala] Monday" and she has already stolen the show. In preparation for this year's Met Gala, themed "Karl Lagerfeld: A Line of Beauty", she wore a white furry micro-dress from Chanel's Fall 1994 ready-to-wear collection and paired it with a vintage faux fur jacket (currently on Farfetch for $6,550). She completed the look with pair of Chanel logo glasses and a furry oversized hat.
Monday, May 1: Met Gala
Rihanna was fashionably late for the red carpet—so late, in fact, that she missed it—but her Met Gala look was well worth the wait. Heading to the event hand-in-hand with A$AP Rocky and wearing a vintage Fendi fur coat from Lagerfeld's Fall 1997 collection, she then emerged in a white floral dress by Fendi that both resembled a bouquet and an egg (in the best possible way).
Wednesday, May 3: In New York City
Post-Met Gala, Rihanna was spotted with ASAP Rocky out in New York, wearing an Acne Studios FW23 Trench Coat, with the zipper open to reveal her baby bump and thigh-high boots.
Friday, May 5: Full Fur in New York
Rihanna kept her pre-Met Gala fur theme going in New York, stepping out in a full brown and beige furry outfit with strappy heels.
Wednesday, June 21: Louis Vuitton Spring / Summer 2024 Afterparty
Rihanna and A$AP Rocky celebrated their friend Pharrell Williams' debut collection for Louis Vuitton Spring / Summer 2024 in Paris, wearing pixelized triple denim straight from the runway.
Friday, July 28: Barbiecore Date Night
The release of the highly anticipated Barbie movie put Rihanna in the pink mood for her date night with Rocky on Friday night, wearing a baby pink crop top and matching sweats.
This article was originally published on