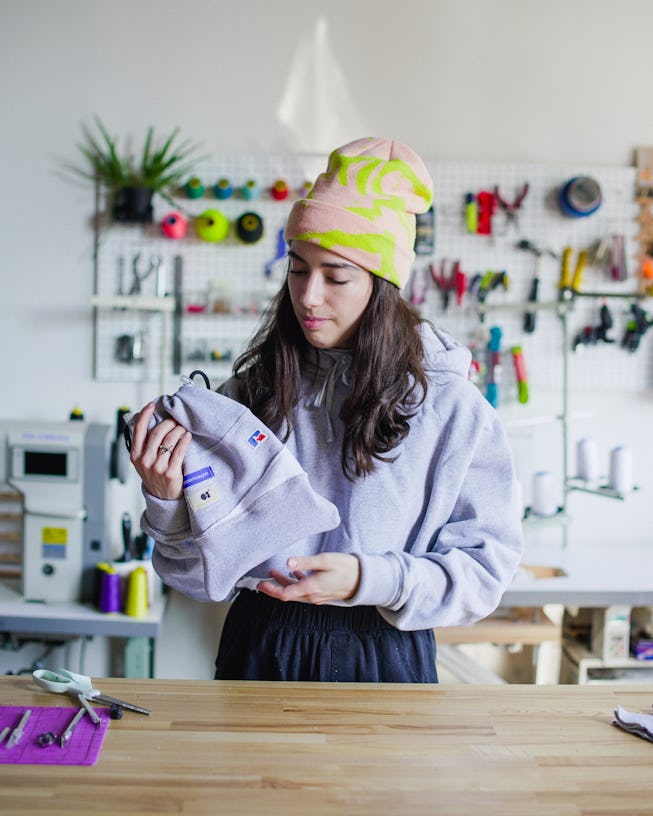 Courtesy of Greenhouse
Nicole McLaughlin Teams Up With Russell Athletic For A Special Upcycled Collection
One of Instagram's favorite upcycling DIYers has made another return into the fashion space. After Nicole McLaughlin's much-loved collaboration with Crocs, she's back again this time alongside New York brand O-1 and heritage label Russell Athletic.
Announced on Friday, the three have come together to create an upcycled capsule collection in honor of Earth Month. Following suit with McLaughlin's Crocs, this collab will be sold exclusively through Foot Locker's Greenhouse app.
The collaboration is made out of overstock Russell Athletic clothing and has been repurposed and upcycled by McLaughlin and O-1's Dao-Yi Chow, who is the co-creator behind Public School and has an extensive reputation in streetwear and sustainable clothing. Together, both Chow and McLaughlin worked together to create a limited-edition, three-piece collection.
The new drop is comprised of upcycled and reworked hoodies, along with a draw-string tote bag that will be available in two sizes and a pair of slides that has already received some traction over Instagram.
"I approached each piece's construction like I was putting together a puzzle; all the components were different. So essentially, they're all distinctive with their little design touches, and that makes them unique," McLaughlin, who was involved in designing both the tote bag and slides, tells NYLON.
"It's just a different way to think about design and consumption," adds Chow, who worked on the collab's hoodies. "Take a look around and you'll discover ways to create something new without having to create something new."
The Nicole McLaughlin x O-1 x Russell Athletic collaboration retails between $120 to $225 and is available now on the Greenhouse app. Below, take a closer look at the pieces, as well as McLaughlin and Chow's experience creating them.