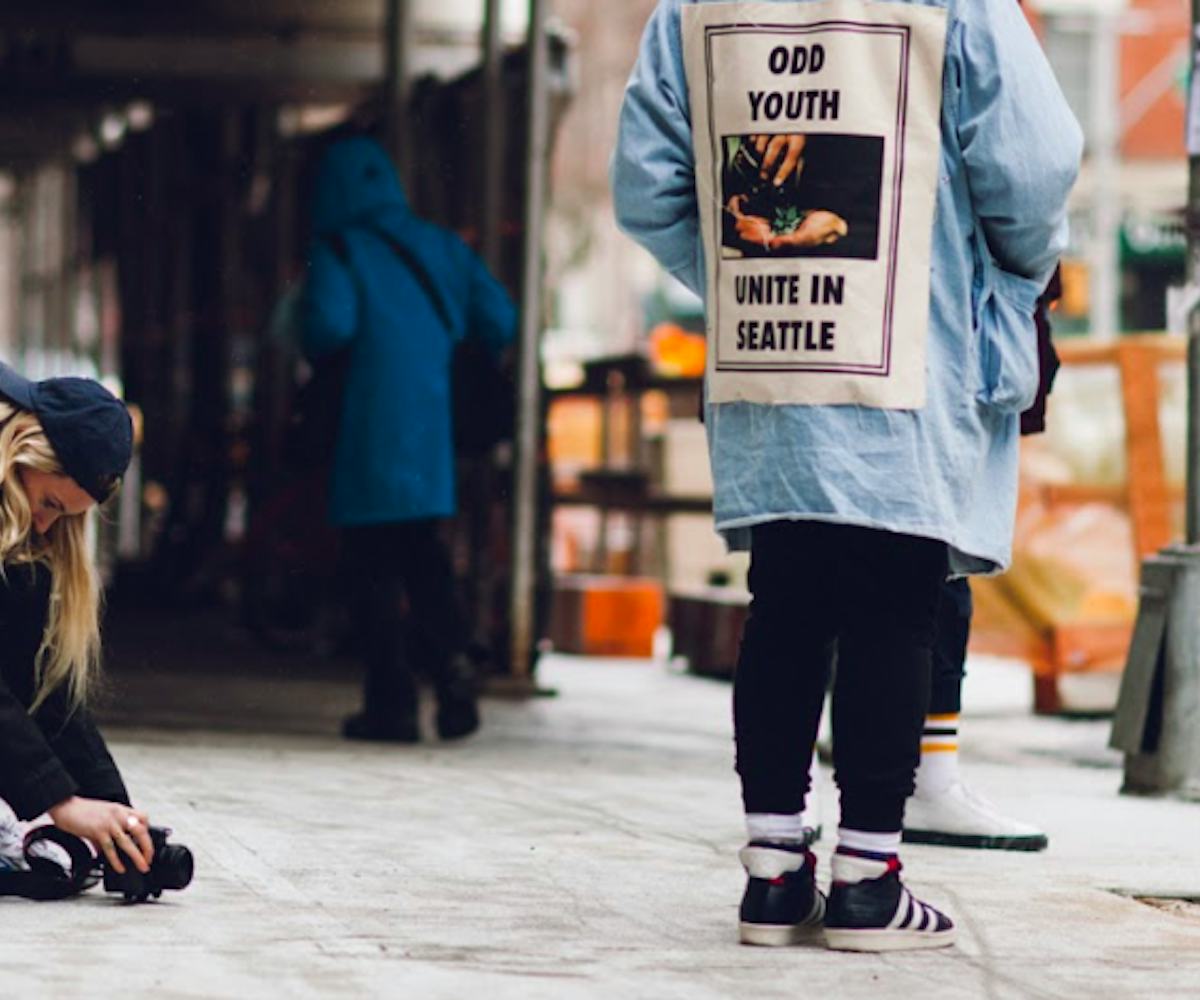 Photo courtesy of ShoesOf
Instagram Account @ShoesOf Knows Every Pair Of Shoes Has A Story To Tell
We talked to the founders about how they created an accessories-oriented Humans of New York
With an Instagram following of almost 50,000, ShoesOf is like Humans of New York but for the shoe-obsessed. Created by Lexi Cross and Huston Conti in August 2014, the Instagram account features incredible photographs of people's footwear from the ankle down and a brief quote to go with each pair. Originally focusing on the shoe styles of New Yorkers, ShoesOf has expanded to other international cities including Milan, London, and Paris and is now a creative agency as well as a discovery platform for footwear around the world.
The account is not only a great place to find the latest shoe and style inspiration, but it's arguably the perfect utilization of Instagram, with its artful photos and the stories that so many shoe lovers share. Whether someone's shoes are akin to a family heirloom or they couldn't take their eyes off them through a store window, there's a shoe-related story to which anyone can relate.
NYLON recently caught up with Cross and Conti to talk about their cool, innovative account—and their love of shoes, of course.
How did you set out to create ShoesOf?
Lexi Cross: It took us time to really develop an aesthetic. When we first started, we would try and do whatever angle worked with the shoe, but we'd always try to incorporate this personal element, because it's all about storytelling. It's not so much about the shoes, but about the person. We do show some full body street style looks, but we really liked this idea of putting yourself in somebody else's shoes. There have been times where we photographed a man wearing a woman's heeled boot, and people don't even know that it's a guy, and we like that ambiguity because it allows people to relate.
How do you shoot for each post?
Huston Conti: It kind of really depends on the person and the situation, but we always start with a compliment. That's how we reel them in. Like: "Oh, wow. You have really cool shoes on." And you just start with a genuine compliment, because we obviously think that, and that kind of lowers the barrier; it makes people stop. Who doesn't want to hear that what they're wearing looks good? And so that's what stops them. They're like, "Oh, thank you," and then we follow up with, "Can we take a photo of you and ask you some questions?" And they usually say yes.
Then, we kind of just jump in. We always start with the shoes. "Why did you buy these? Why do you like these? What was it about these? This pair spoke to you because you bought them for a reason. And now let's get to the crux of why you did." And then it's just a freestyle from there. Some people are more forthcoming than others. Some people will go into a five-minute story about how they had to hunt these down and they were inspired by their grandmother. Some people are more shy at first, and they're like, "Oh, I just liked the color, and then I thought they were comfortable." And then we kind of have to pry a little bit more, but in a respectful way, like, "Okay, you like the color and you thought they're comfortable, but you didn't know they were comfortable before you tried them on. What made you try them on? Let's get to the real reason why you like these." And then they usually open up more. The stories vary, but it starts with a compliment and then turns into a conversation.
LC: We kind of call ourselves photojournalists, too. And there are times when we just don't get the story, so it can be just product-focused in those moments.
Why did you branch out from New York City to other urban centers worldwide and grow your team of photographers?
HC: I think we always wanted to venture out of New York City. I think it's a natural progression and it makes sense. For photographers, it started out with a lot of direct messages and trolling on Instagram. There has to be a pocket of people. There's a very small niche pocket. It's not like we're shooting portraiture or a campaign. It's not complicated, but we have a very specific style and way that we shoot. It started with a lot of DMs all over the world and communicating what it is that we do. It's easier to find photographers than it is to find photographers who also know how to interact with people and actually pull these stories out. That's the kicker. When you can find someone who can do that, it's like a needle in a haystack.
LC: It's also awkward, at first, to be like, "Can I take a picture of your shoes?" And you're crouching on the ground, and it's not totally comfortable, so we were able to find a couple people who are really good at that. We also went to Europe for a month to do Men's Fashion Week, and we were able to network with street style photographers in person. We actually had these photo walks where we got together different photographers that we had DM'ed and would pick this notable location in these cities for them to come find us.
HC: We figured this was the best way for us to show people how we do what we do. These photo walks were a great opportunity because once people saw what we did in person, it was like a lightbulb. It was really cool to see people watch what we do, process it, understand it, and then go and do it themselves.
What are your personal relationships to shoes, and how many pairs of shoes do you each have in your closet?
LC: I grew up loving shoes. I don't know, my mom would always get me the plastic [shoes]. I would always want to venture into [my mom's] room and try all her shoes and walk around. I played a lot of dress-up and wandered around in these shoes that were too big for me. Recently, my mom told me that when I was younger, we would have guests over for dinner. And my mom didn't want people wearing their shoes in the house, but I wanted them to still be able to wear shoes, so I would make paper shoes and line them on the stairs. My mom told me recently, "You're always meant to work in the footwear industry." I have way too many shoes for a small New York City apartment, and I seriously think that it's going on 200 [pairs].
HC: I've recently done a purge, so I would probably say I have about 50 [pairs] or so. I have a lot of these retro Air Jordans that I don't really ever wear, but I just keep them because I want to give them to my kids; I just want to hold on to them. From as early as I can remember and from what my mom always told me, as early as I could walk and talk, I always dressed myself. I remember I always had stages of wearing only one kind of shoe for one or two years straight. So, I had a pair of Converse Chuck Taylors. I would wear those until they were torn through. My next stage, I believe, was cowboy boots, and then after that, moon boots. I think this was all before I was 10 or 11 [years old]. So, between the ages of probably four to 10, I pretty much wore Chuck Taylors, cowboy boots, and moon boots. So, there was no real rhyme or reason. My mom, again, didn't dress me, so she just kind of let me do my thing.
Do you have favorite areas to scout for shoes?
LC: We spend a lot of time in SoHo on the corner of Lafayette and Spring. There's always a lot of great designer-forward looks and so much foot traffic and people from all over the world. So, it's a good place for us to go if we want to get a lot of content. But I think recently, we've done things a little bit differently. We are trying to explore [places] that are not so documented. For instance, we did an episode in Bushwick [Brooklyn], where we wandered around and stopped people and asked them for recommendations and things we should do in the neighborhood. So that was really cool because you really do start to get a sense of the culture and lifestyle to a certain place by the footwear people wear in it. When we went to Paris, you find people wearing brands that are locally based, Parisian brands that you wouldn't even know existed from living in the States. So, yeah, we do SoHo, we do kind of those high-traffic, foot traffic areas but we also want to make a better effort to get out of that comfort zone.
HC: In terms of other places, there's Shoreditch in London, [that's] very similar to New York in the sense that streetwear is really big there, so we saw a lot of sneakers. Le Marais in Paris, which kind of has a West Village or Greenwich Village vibe to it. When we were abroad, we had just come back from Milan, and we got back to Paris, which is where home base was, where we stayed most of the time, and it was Pride weekend in Paris, and so we decided to walk around and stop people during Pride in big heels. I can't fully remember the stories we got, but to experience concurrent events in other places. We've experienced Pride in New York City, and I hadn't experienced it in any other place than that, and to experience it in another city—not only another city but another country, in another culture—was really cool. And to do that and to explore and do footwear made it even more interesting.
What are the connections that you see people have to their footwear?
HC: I think it depends. We stopped a woman who was wearing a pair of mules or oxfords, and she was wearing them because she remembers her grandmother wearing the same pair when she was growing up. And so, when her grandmother passed, she got her pair. But then she gravitates toward that kind of footwear because that's what she grew up with. I think it can be emotional in that sense, but I also think that, if you buy a pair of shoes and there's not an emotional connection initially, the places you've been and the things that happen in those shoes then make that connection more personal. You look at them, and you lace them up every day, and you think, Oh, I remember going to Coachella in these. I remember my first date wearing these shoes. I remember my first interview or my first day on the job. I think of any article of clothing you wear, shoes hold the most stories and memories. You can scroll through our Instagram, and it's like a time capsule. Fashion is so fast now that at this point in time, this year, in this season, in this city, this is what people were wearing.
LC: I like to try and buy a new pair of shoes in every city I go to because I think it's like listening to a song at a certain time in your life. It always brings back memories of that time, and there's kind of the same thing with shoes. I would agree. I think what Huston is saying is true. There's a bit of nostalgia attached to footwear for people, and maybe sometimes, it's even subconscious. You're drawn to certain things because you're inspired by your mom or your dad's footwear when you were growing up, so I think that's also why '90s nostalgia right now, is such a big hit. You're buying shoes that remind you of that time. A lot of people are discovering footwear through influencers and Instagram, so they'll get attached to brands through that. And we hear that a lot. So I think that's interesting. What we're doing is like this anthropological study because, in 50 or 100 years, we're going to look back at these images that we've taken of shoes now. It's pretty fascinating.
Do you have a favorite pair of shoes that you either used to have or currently own?
HC: I grew up playing basketball, and I remember the first pair of retro Jordans that I ever got were the Jordan 14s. I remember walking into Foot Action with my mom in the mall to get my basketball shoes for the season. Usually, I had to go for a lower [priced] pair, but I saw these Jordans on the wall and said, "I've got to get these." They were white with bright red detailing. They were Jordans, so they were really expensive, and I remember pleading with my mom for five minutes to get them. She agreed, and she got them for me. I was so happy. I held onto those shoes until they were beat, and I don't know where they are now; they're gone, but that was my first pair of Jordans. I loved [those] so much, and I wore them all the time.
LC: I can't top that, but I did go to a private Catholic school from kindergarten to eighth grade, so I wore a uniform. And I used to love going back to school shopping for shoes because I could wear different shoes and that was exciting for me. I remember there was a Doc Marten phase. I got those chunky sandals that were super popular back then that I'd wear with socks. In high school, my girlfriends and I would always wear these Minnetonka moccasins. I still have my Minnetonkas from my freshman year of high school, and I still wear them to this day.
What are your future plans for ShoesOf?
HC: It would be great to have a photographer in Tokyo, in Seoul, in Mexico City, Berlin, Milan, Paris, Lagos—literally any city, we'd be down. It would be great to have our network grow and have a presence in all those places. I think you can expect to see us more international soon. Up until this point, we've documented things primarily through photo. Expect to see more video in a more documentary sense.
LC: We want a book and we want a TV show and to expand the creative agency part of what we do.
Check out ShoesOf on Instagram, YouTube, and the website for more footwear content.