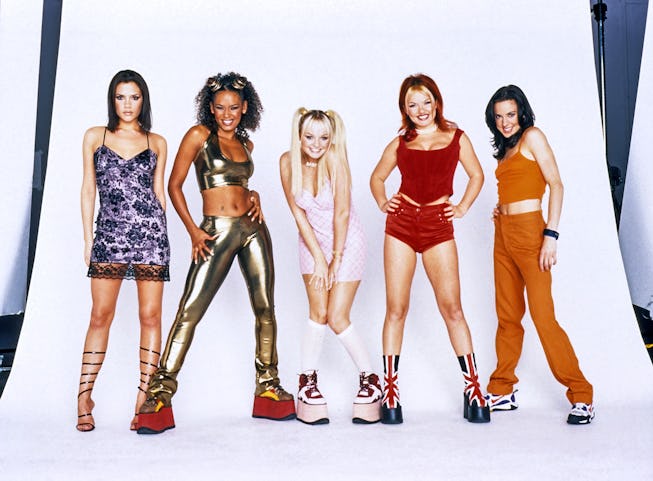 Columbia Pictures/Courtesy Everett Collection
How 'Spice World''s Costume Designer Nailed The 'Scooby-Doo on Acid' Look
Kate Carin shares the iconic film's style secrets with NYLON, 25 years later.
The musical comedy Spice World, starring the British girl group the Spice Girls, was released in theaters 25 years ago — exactly one year after the group's hoes-before-bros anthem "Wannabe" topped charts in the United States. By the time the movie came out, the world was well acquainted with the five women known as Ginger (Geri Halliwell), Posh (Victoria Beckham), Scary (Melanie Brown), Sporty (Melanie Chisholm), and Baby Spice (Emma Bunton), as well as their "girl power" mantra. The film follows the women as they zip around London on the Spice Bus, a double-decker tour bus emblazoned with the Union Jack. Movie magic made the bus appear massive on the inside, with every girl having their own themed space: Posh's came with her very own runway, while Baby's had a built-in swing. Though panned by critics at the time, Spice World was a fashionable feast for the eyes for any young wannabe who religiously watched their VHS copy from Blockbuster.
Over two decades later, the Spice Girls are still fashion icons, especially with the return of '90s fashion in recent years. But back then, they were trailblazers. There weren't any other pop stars walking around in Union Jack mini-dresses or sky-high Buffalo London platforms, a shoe style that originated from club kids but hit mainstream retailers after the group wore them. In the film, Spice Girl fashion is in abundance; each band member gets over 30 outfit changes, including one memorable scene which sees them cosplaying as each other.
Kate Carin, who served as the film's costume designer, tells NYLON what we'd already known to be true: that working on Spice World was a total dream job. Since the girls were already established characters with personalities and distinct styles, Carin used that as a springboard. "To be given the trust to have such a free rein was a gift. The girls needed to keep the essence of the roles they had already very successfully created, so we heightened them and expanded on them," she explains. "I told the girls in my first meeting that I wanted the movie to look like a cartoon — Scooby-Doo on acid — and like a big, luscious bowl of the most exotic and colorful fruit. They loved that."
Ahead, Carin shares memories from making the film that might inspire you to get a pair of platform boots (if you don't have some already) and scream "Girl Power!"
It Was the First Time the Girls Had Custom-Made Costumes
Geri Halliwell proved her own fashion-forward ingenuity when she asked her sister to sew tea towels to her Gucci dress to create her famous Union Jack look. One surprising tidbit that Carin shared was how the film provided the first-ever opportunity for the girls to have bespoke clothing made for them. "Historically, the girls had been shopped for, but they hadn't had anyone manufacture for them and tailor for them, so this felt like a great way to build on their look as we could specifically design looks for the various scenarios," explains Carin. She says that the girls were all very excited to have the custom-made costumes, and while they were involved in decisions regarding shape and style, they "very much handed themselves over to experiment" when it came to the costume designer's ideas.
The Montage Scene Was a Reference to One of Their Songs
One of the most memorable moments in Spice World was when the girls complain about being stereotyped all the time, so they decide to try out new characters via a good old-fashioned montage, which Carin says was especially fun to create. If you pay attention to the lyrics in the song, "The Lady Is a Vamp," from the album Spiceworld (which doubled as the film's soundtrack), you'll notice that they all dress up as the characters mentioned in the tune. Ginger dresses up like Marilyn Monroe, while Scary dresses like Diana Ross. There's also a Charlie's Angels and Grease homage. "The producers kind of handed over the selection of characters and I was asked to come up with a list of ideas. Again, the girls were involved and those fittings were hilarious," recalls Carin.
There Was No Little Gucci Dress
During one famous scene, Posh gets mocked for her penchant for LBDs, as she laments not knowing what to wear. "It must be hard trying to decide whether to wear the little Gucci dress, the little Gucci dress, or... the little Gucci dress," Sporty teases. The reality is, Beckham wasn't wearing Gucci in the film, nor was she wearing a dress from Miss Selfridge, a shocking epiphany she divulged back in 2014. "No little Gucci dresses were worn by Victoria; we made them for her, which she loved," recalls Carin. "She had the iconic shift dress silhouette and we made it in various fabrics, including a very fine, stretch lambskin leather one. She has a very easy body to dress and whatever you put her into, she owned." Of course, Beckham went on to become a fashion designer (and beauty brand founder), herself.
There Was a Separate Truck Just for Their Platform Shoes
Unsurprisingly, everybody wanted to dress the Spice Girls. "We shot the movie at the height of the girls' fame, and suppliers were falling over themselves to give us clothing," says Carin. Although there were plenty of custom pieces, Bunton wore Topshop and designers like Blumarine, while sports brands like Adidas were shipping boxes of merchandise for Mel C to wear. Meanwhile, Geri's outfits were mixed with many vintage pieces. Carin also says that the influential shoe brand Shellys London made custom footwear for the girls from Carin's designs, including a pair of black-and-white, polka dot knee-length boots for Mel B. "Of course we had tons of Buffalo trainers… we had a whole separate truck just for their shoes and boots," she says.
The Spice Girls Weren't the Only Stylish Ones…
The underappreciated style icon of the film was Clifford, the girls' not-so-chill manager, played by Richard E. Grant. You'd never find the man in casual clothing, as he was always wearing dapper monochromatic suits in purples and greens, like a comic book villain. Carin says his look was inspired by '60s movies when the guys wore suits with matching shirts and ties. "[Grant] is a total clotheshorse and loves to do costume fittings and literally throws himself at the character," says Carin. "I discussed the idea of the jewel tones and a five-piece suit, jacket, tie, vest, trousers, and shirt, all tonal, and he loved the concept. He looks amazing in the movie." Fun fact: Grant still has his suits. "I got to keep all of the costumes. I don't think I'd fit into any of them right now, but they're all in my loft," he told Vulture in 2017.
The Assless Chaps Were the Costume Designer's Wild Idea
One hilarious scene shows the girls performing with male backup dancers — the Dreamboys, a British all-male stripping troupe, much like Chippendales. Towards the end of the performance, the hunks turn around and reveal their bare butts. "The assless chaps were my idea. Go big or go home," says Carin. "We didn't tell producers until the show and they thought it was hilarious, and the girls didn't know until the first take and they roared!"