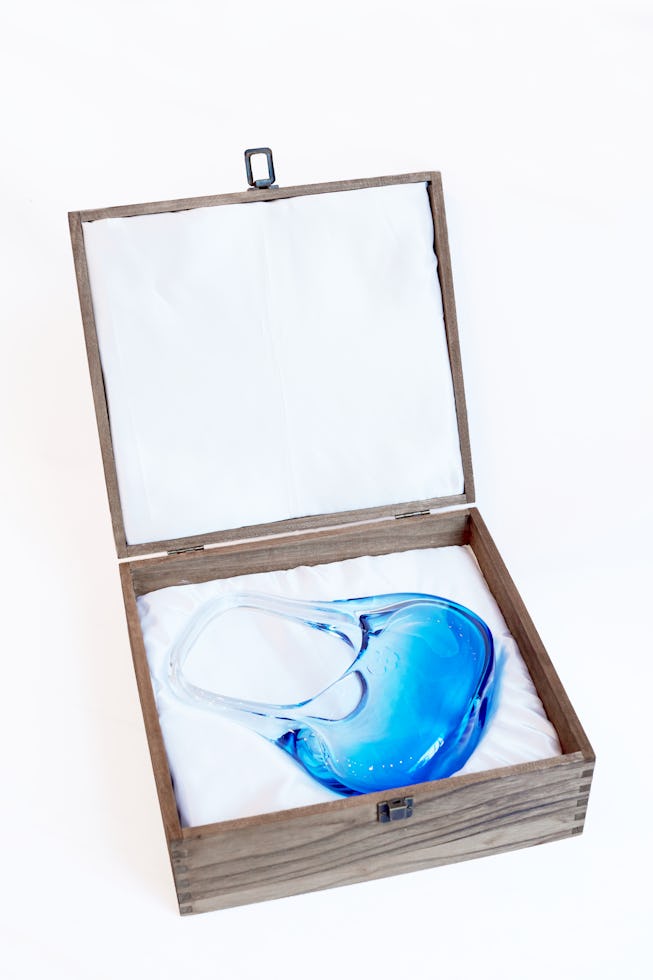 Strada & Artist Joshua Raiffe Made The Viral Glass Bag A Must-Have Art Piece
A stylish addition to your wardrobe or art collection.
A glass purse seems like a very unlikely—if not impractical—fashion choice. But after Doja Cat walked the 2022 Grammy Awards red carpet carrying a blue blown glass Coperni "Swipe" bag and Kylie Jenner displayed her Kylie Cosmetics glosses in a clear version of the $2,700 breakable bag, it was only so long before the somewhat risky accessory went viral. Joshua Raiffe, the Brooklyn-based artist behind the viral glass bags and Raiffe Glass studio turned an unlikely accessory into an instant hit. Now, Raiffe has partnered with the emerging art gallery and exhibitor leading the charge for talented Gen-Z artists, Strada, to get his glass bags into more hands (or, if you're not brave enough to carry it around, your home).
Paul Hill, the 24-year-old founder of Strada and Raiffe first met at a gallery opening in February, where Raiffe was carrying one of his own glass bags. While Hill was already familiar with the Coperni bags, he says the idea for a collaboration sparked from the idea to bring the artist behind the viral moment to center attention. "I think most people don't know who the original designer behind the bag was," says Hill. "I love working with niche artists that don't have the recognition that they deserve, and helping them to grow a platform."
Joshua Raiffe in studioSophia Wilson
After a post of Raiffe on Strada's TikTok went viral, the pair decided to release a made-to-order glass bag design together. The Glacier Bag, featuring Strada's signature blue color is available now on the Strada website for $2,500. The bag will be the first in a series of more functional (and wearable) artworks that Hill plans on releasing to his younger collector base. "It's a way to introduce people to this idea of art collecting as something that doesn't mean you have to save up multiple thousands for a painting," Hill says. "You can have something a bit more functional that you can use on a day-to-day basis if you want to." Micro versions of the Glacier Bag, which will sell for $500, are also set to be released soon.
Hill has always been interested in pushing the barrier between the fashion and art worlds, previously hosting a collaborative exhibition with the brand Head of State, but for Raiffe the collaboration also serves as an opportunity to start a conversation between glass art and the rest of the art world. "There's an interesting parallel between the relationship between fashion and art and glass and art," he says. "I feel like a lot of established art institutions view glassblowing as a mindless practice of making decorative items, and I feel like that's definitely not fair." Each Glacier Bag takes a couple of hours of glass blowing before it cools overnight. Raiffe then has to grind the bottom flat, with the entire made-to-order process taking no longer than three weeks after ordering online.
This is set to be only the first of many collaborations between Raiffe and Hill, as well as it's only the beginning of the plan for Strada to shine a spotlight on the up-and-coming artists shaping the culture of today. Raiffe, however, is less concerned with the future of his identity as an artist as he is ensuring he always has the freedom to express himself and "deliver pieces to people who are really passionate about them". Raiffe finds his purpose as an artist through the joy of people wearing his designs or displaying them at home— as long as it's not used as a vase. "Whether or not you wear it out or keep it at home, it doesn't really matter to me. But, for some reason, it bothers me when I see someone put a flower in them," Raiffe laughs. "A lot of energy went into making the bag ergonomic, lightweight, and strong enough to put a phone in there for them then to be used as a vase. I work too hard for that."
Photographer: Sophia Wilson. Models: Paul Hill & Josh Raiffe. Stylist: Ruja. Producers: Talia Garg and Channél Jordan. Assistants: Shamshawan Scott and Wika Soto-Hay.