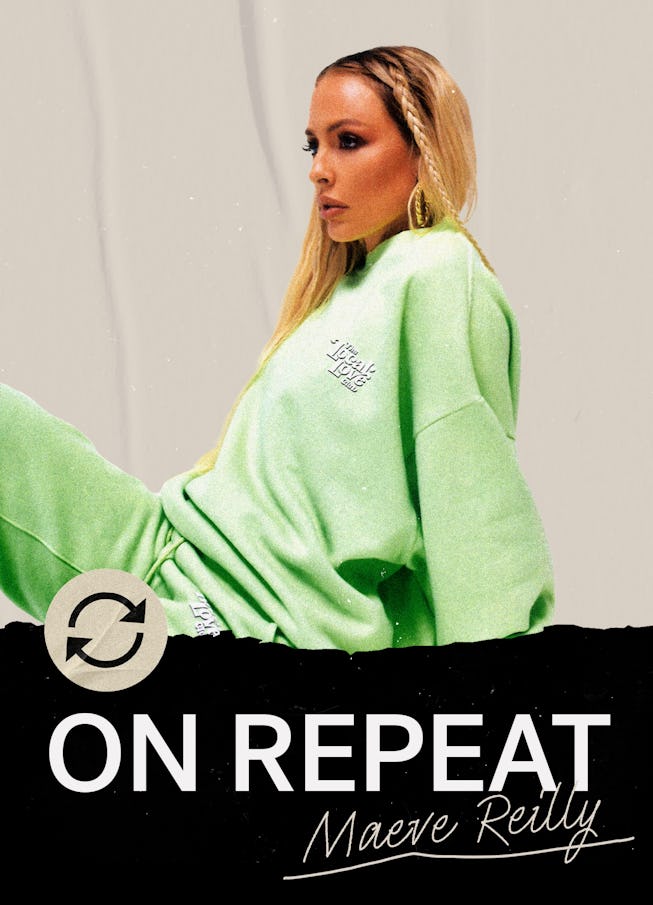 Courtesy of The Local Love Club
Maeve Reilly's The Local Love Club Was Inspired By Your Favorite Feel-Good Songs
From Justin Bieber to Frank Ocean.
On Repeat is a music series where NYLON asks our favorite creatives — designers, artists, and more — about the songs they can't stop playing while they work. You're going to want to add these to your playlists and streaming platforms ASAP.
The mastermind behind Hailey Bieber's casual-meets-luxury looks is expanding her fashion know-how into design. Stylist Maeve Reilly will soon launch her own brand The Local Love Club, inspired by empathy, self-love, and the feeling of being included.
"Having experienced bullying first hand, both in-person as a child and now online on the internet, I wanted to create a brand that served as an advocate for love, inclusivity, and kindness," Reilly tells NYLON. "When people wear our clothing, I want them to feel like they are a part of something greater."
The Local Love Club officially launches on Monday, April 26, and a portion of proceeds from its purchases will go towards the Kind Campaign, a nonprofit organization that focuses on the negative effects of bullying. The first drop will include athleisure-leaning cozy sets and separates in neutral and bright neon hues, along with retro-inspired graphics and positive slogans, like "thank you for being kind" and "everyone's invited."
"When designing our first collection for The Local Love Club, listening to my favorite songs set the mood and brought out feelings and emotions that'd inspire everything from our brand message to the clothing itself," says Reilly. From Justin Bieber's latest release to feels-inducing tracks by Frank Ocean, Daniel Caesar, and Giveon, see what the stylist-turned-designer had on repeat to help her create her debut collection.
"We're In This Together" - Justin Bieber
"It was hard to only choose one Justin Bieber song to feature as he is a must-listen on the daily. I love the uplifting message, reminding us of what really matters in life."
"Heartbreak Anniversary" - Giveon
"Giveon's voice soothes my soul. Tugs at my heart strings and inspires me endlessly!"
"everything i wanted" - Billie Eilish
"My favorite line is, 'if they knew what they said would go straight to my head, what would they say instead?' I think it shows how words can hurt and how important it is to be kind to each other. You never know what someone is going through."
"What You Know Bout Love" - Pop Smoke
"Pop Smoke always raises the vibes and radiates positive energy. A good-feel song that gets me excited to design."
"Save Your Tears" - The Weeknd
"Can't go wrong with The Weeknd. We're huge fans at The Local Love Club."
"Godspeed" - Frank Ocean
"This one gets me in my feels. Beautiful in every way. Frank Ocean plays nonstop in the office."
"Heat Waves" - Glass Animals
"Glass Animals always brings the vibes."
"CYANIDE" - Daniel Caesar
"There is something so special about Daniel's vulnerability and honesty in this song. Gets me in the zone and wanting to spread the love."
"Do You Believe In Magic?" - The Lovin' Spoonful
"There is a sense of happy nostalgia I feel when listening to 'Do You Believe In Magic.' It always has a way of lifting me up, and reminds me to pay that positivity forward."
"Soulmate" - Lizzo
"Lizzo inspires me to love myself and, in turn, put that love back into my designs. She's unapologetically herself, something we could all learn from and aspire to be!"
See more of The Local Love Club's debut collection, below, which launches online on Monday, April 26.