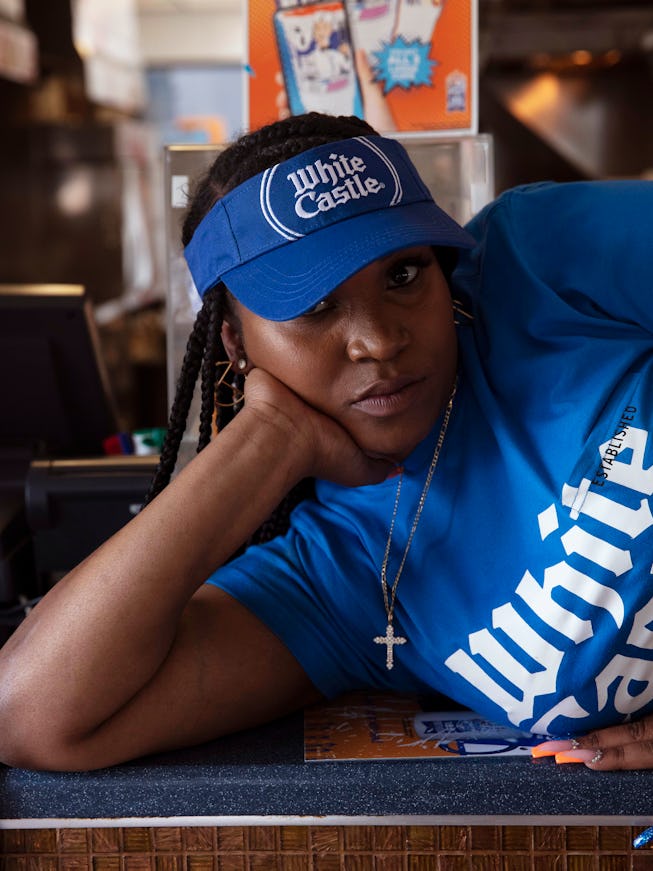 Photos courtesy of Elliott Jerome Brown Jr.
Telfar Brought Back Its White Castle Collab For The Chain's 100th Anniversary
Including a brand new durag.
Announced on Tuesday, Telfar is bringing back its beloved White Castle collab in honor of the fast food chain's 100th anniversary. Telfar Clemens has a history with White Castle going back to his childhood and in 2015, the New York brand threw its fashion week after party at the chain's Times Square location. Two years later, it designed a unisex uniform for employees at 400 locations across the country.
For White Castle's 100-year anniversary, Telfar has created four new uniform designs for all of the company's 10,000 employees, as well as a limited-edition collection that will be available for purchase by the public.
"White Castle supported us before our success and we consider them family," Telfar creative director Babak Radboy said in an official statement. "Their team would serve Sliders backstage at all our shows and were basically part of our team. It's still the only thing open after midnight in Telfar's hood — seeing our uniforms there means something to us, and so we take it personally."
The collab includes hats, hoodies, and T-shirts, available now on Telfar's website, as well as a new durag style requested by White Castle employees. Proceeds from this line are donated to the Robert F. Kennedy Human Rights Liberty and Justice Fund, which provides bail to imprisoned minors.
"We have a vision for fashion that I don't think anyone else is touching. A lot of people take inspiration from 'the streets' — and there is this whole language of appropriation — taking something 'low' and elevating it. We don't believe in 'high' and 'low.' The way I see fashion is totally horizontal," Clemens told The Fader during the initial launch back in 2017. "The White Castle uniform is like one look on 12,000 models to me. That's cuter than a celebrity wearing something to some event. Although that's cute, too!"
Check out photos of the new collection shot by artist and photographer Elliott Jerome Brown Jr., below, and shop the White Castle collection over on Telfar's website.