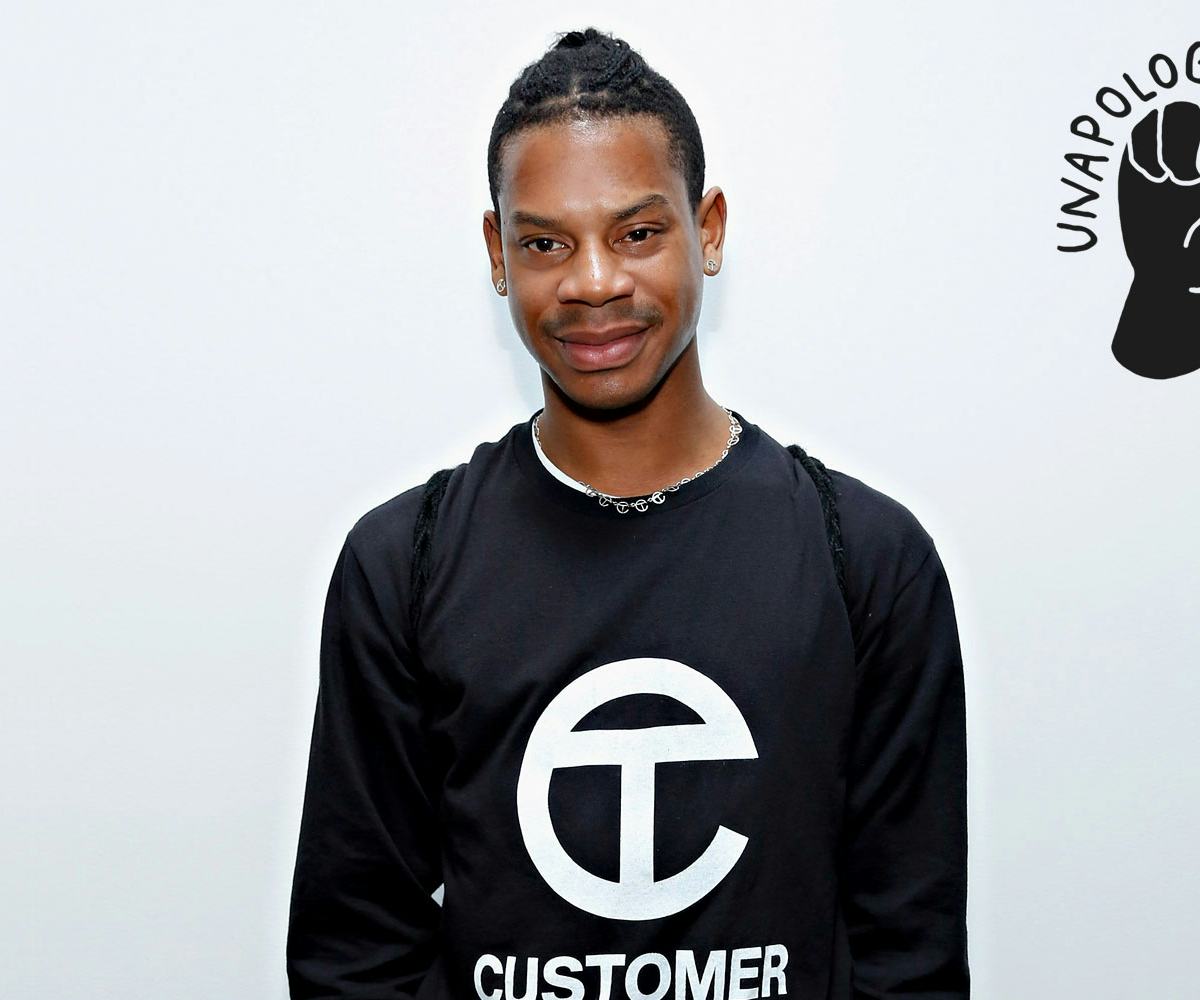 Don't Call Designer Telfar's Clothing Streetwear
"2017 is a good year not to fit in"
In celebration of Black History Month, NYLON is running a spotlight series called UNAPOLOGETIC. Every day, we'll celebrate different aspects of black culture through profiles, interviews, roundtables, reviews, videos, and op-eds. #Blacklivesmatter and we hold that truth to be self-evident.
A Telfar fashion show is a spectacle. In fact, the moments before the show are just as entertaining as when the lights dim, the music starts, and the clothes appear. Front row guests are clad in massive Vetements x Canada Goose coats, more suitable for the arctic than a heated enclosed room (but, hey, fashun); Young Paris and someone who may or may not be Lil Yachty stroll through with a posse in tow; and attendees are gifted White Castle T-shirts, with the "C" slyly replaced by the Telfar label. An average fashion event, it is not. 
The man behind the brand, Telfar Clemens, designed gender-fluid clothes before it became the buzzword of the season. But, don't try to categorize his pieces into an either or box (and definitely don't refer to it as streetwear), he actively rejects labeling of any kind. As artist and friend of Clemens Ryan Trecartin says that Clemens invites viewers to "fill in the fucking blank." Deconstruction is a word used to describe this season's clothing, though. And there was a lot of it—denim with knitted material at the bottom, puffer and peacoat hybrids, tracksuits with sweatshirt fabric lining the front. It was fall and winter gear remixed. 
Ahead, we spoke with the designer about his collection, being a black designer, and what happens when fashion meets politics.
Congrats on your show! Do you have any post-show rituals? 
Sleep! Right now, I'm getting back to my life and sleeping and watching a lot of TV. 
What was your goal behind this season's collection?
A big goal is always to make new, exciting things. Things that are going to move the brand forward, and I think the main goal was to just keep the standard up from what our work has been. And, for me, just focusing on clothing and details and exploring things that we haven't done. So, a lot of experimentation went into this season. 
A big theme was deconstruction and pairing different types of fabrics together. 
Yes, pairing different garments together, as well. It might be part sweatshirt, part dress shirt, part puffy jacket, part sweater, part jeans or leggings. It was really collaging a lot of these staple winter garments and making them one singular garment.
And was that something you thought of as you went along, or was it planned out?
It's basically something that we tend to do with a lot of the collections. Since the beginning, it's been a deconstruction fusion of ideas of clothing. So, really, we've just been continuing what we've been doing. I think this season the difference was that we had a lot more women in the show; this was particularly due to us being so influenced by how women and men tend to look exactly the same when it's really cold outside because everyone's wearing the same coat and the same style of shoes. So that's really what we were aiming at: to really just erase the gender assignment that typically goes with clothing and fashion week.
And that's something that more and more designers have been experimenting with, but I know it's something you've done since the beginning, also. The creation of unisex clothing. 
I think we always do it in a way that I feel like is a male perspective unisex line, and I think this season was really the female perspective of how you wear Telfar.
I have to ask, why White Castle? 
I'm from [New York], so I grew up on White Castle, and that's the only place that's open in my neighborhood at four in the morning. It's also the first fast food restaurant I remember coming to in America. So, when we were approached to work with them, of course, that sounded like the most natural partnership to me. We kind of progressed in our relationship, where I'm going to be making the entire uniforms for the nation. So, in all of the White Castles in the U.S., you'll be able to see and buy a piece of Telfar.
Can you share anything about what the uniforms are going to look like?
A lot of it is going to really resemble the clothing we make now. So, that's a really cool thing; we didn't have to alter our way of doing things to fit into that world. You can expect to see a polo shirt, standard uniform clothing, but definitely with a Telfar twist. So maybe a polo shirt made out of just T-shirts. I think that's the most I can give away right now. I think they start to be released in April, so there will be a lot more that you are going to see.
With the current political climate, did you feel any added pressure to have a collection with a message? 
Right now, it's like a fashion trend to actually be political. You can't really tell where that's coming from. It's been a trend that's been happening for awhile now. I mean with our artist Ryan Trecartin, that was his voice paired with Aaron Davis Ross' musical composition. And everything he's saying is true. Every single body is illegal. There's a bit of poetry, nothing's necessarily tongue-in-cheek, even though, "Fuck Trump," yes I agree with that. But it seems like people are also selling T-shirts that support Trump. And they're inadvertently supporting Trump. And I feel like the political climate has always been a horrible place…What I'm doing is sticking to my roots, which is just knowing your place in the world. We're doing that by just being who we are and being cool and sticking to what we do, and hopefully, people recognize that and see that we're not just trying to fit into this club of fashion politics.
You're one of the few black designers in the industry, do you ever feel a burden of responsibility? 
The fashion industry basically wants you to play a character of a black designer, instead of just accepting you for what you are. If anything, it's like they try to put me into this box of "Oh, you're a streetwear designer," and everything has to match into this checklist of what I'm supposed to do and also what I'm not supposed to be. So, I get confusing interpretations of what my brand is supposed to be. I can be whatever type of designer I want to be and make whatever type of clothes I want to make, and people will still categorize it as streetwear. And that title definitely includes a lot of people and it is inclusive, but they wouldn't say it's from an art place—it always has to be from a street place. There's no artistic credibility, they're labeling it without actually having to look at it.
If there's one piece of advice you could give a black boy or girl living in America right now, what would it be? 
I would say, a couple of months ago, Obama was president, so definitely stick to whatever you're doing and actually work harder. Because you're going to have to. Everybody's going to have to work harder, and I feel like it's going to make people smarter. It's good all around. I feel like everything's going to shift, and the shift is good. Whatever's happening is happening. You can't necessarily stop it, but you can definitely change the way you interact with the world and how you put work out and why you put work out.