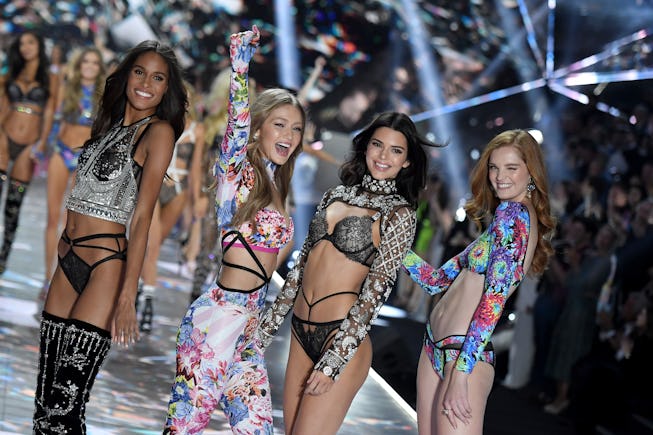 Axelle/Bauer-Griffin/FilmMagic/Getty Images
A Victoria's Secret Docuseries Is Coming To Hulu — UPDATE
Victoria's Secret: Angels and Demons will document the lingerie brand's troubled 40-year history.
Editor's Note: This post has been updated from its original version to include the docuseries' official trailer.
The tumultuous tenure of Victoria's Secret is headed to the small screen. The Hollywood Reporter announced that a new three-part docuseries on the fashion brand, now titled Victoria's Secret: Angels and Demons (originally The Rise and Fall of Victoria's Secret), has been picked up by Hulu, and will document its rise to the apex of lingerie to a downfall marred by workplace toxicity, sexism, and financial woes.
The annual Victoria's Secret Fashion Show was once the prized tentpole for the brand, bringing in models like Gisele Bündchen, Naomi Campbell, and Heidi Klum, in addition to top-tier performers from Justin Bieber to Rihanna. What was once the holy grail for rising supermodels was officially canceled in 2019 in response to declining profits and and dwindling ratings.
"We didn't see a material impact on the next few days results," L Brands CFO Stuart Burgdoerfer told The Hollywood Reporter at the time. "We'll be communicating to customers, but nothing that I would say is similar in magnitude to the Fashion Show. With that said, it was a very important part of the brand building of this business and was an important aspect of the brand and a remarkable marketing achievement."
Victoria's Secret: Angels and Demons comes from director Matt Tyrnauer and Peter Berg's Film 45 and is set to debut at the 2022 Tribeca Film Festival as part of its television lineup alongside five other docuseries. It will then be released on Hulu on Thursday, July 14. Read on for the show's full synopsis:
Investigated with journalistic rigor, Matt Tyrnauer directs this searing and provocative exposé of the Victoria's Secret brand as well as their then CEO, the larger-than-life, enigmatic billionaire, Les Wexner. Truth is not what it seems; as the underworld of fashion, the billionaire class, and Jeffrey Epstein are revealed to all be inextricably intertwined with the fall of this legendary brand.
On Thursday, July 7, Hulu released the trailer for its new docuseries, which you can watch below.
This article was originally published on