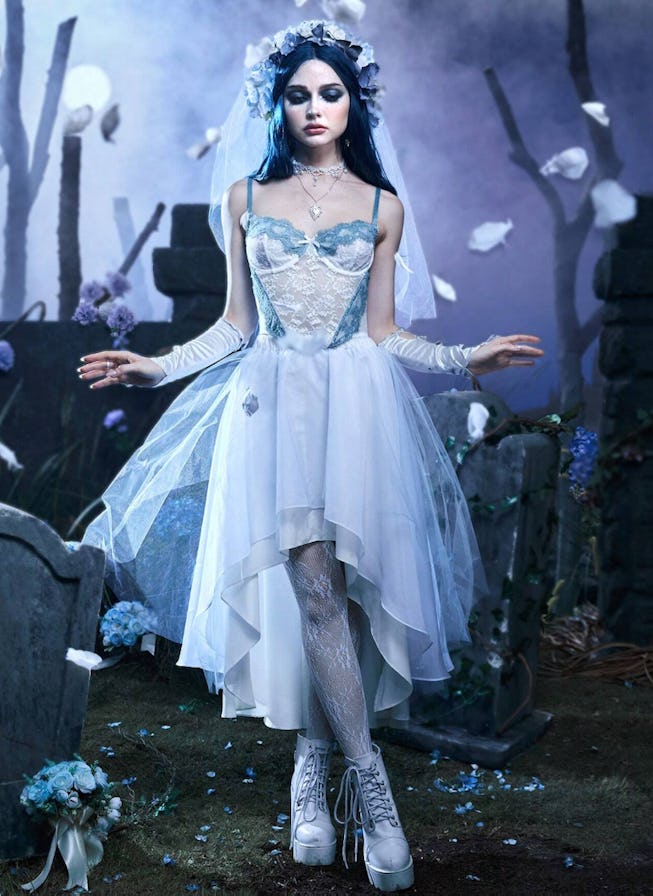 Courtesy: ROMWE
Turn Heads With These 9 Bold Halloween Looks From ROMWE
Scary never looked so stylish.
Spooky Squads, assemble! The ghostly decor is up and fall-themed beverages are abundantly flowing, but you still have one thing missing: your Halloween costume. Thankfully, ROMWE has a wide variety of pieces that offer ample opportunity for costumes, no matter what you're thinking of dressing up as. It's easy to get excited about #ROMWESpookySZN when you look at the retailer's offerings, which include everything from hooded capes and flowy skirts to velvet dresses. (You'll be able to become a stylish vampire, a hauntingly chic bride, or the head of a witch coven with those pieces alone!) Plus, the retailer has tons of officially licensed costumes, including an exclusive Corpse Bride collection, for even more Halloween inspo.
If your goal is to be ghoulish and glamorous, #TeamROMWE has your back. You'll be able to get everything you need for your costume at ROMWE, so once you decide what you're going to be, you can stock up on accessories and jewelry to add even more pizzazz. Ahead, see nine of the top looks from ROMWE's Halloween collection — with fun tips on how to put them together. Then, all you'll have to do is get ready to win all of the Halloween costume contests!
Shop The Stylish & Scary Looks Below