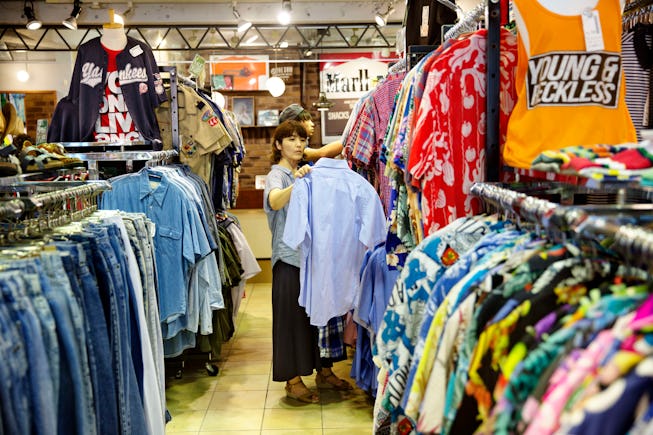 Jonas Gratzer/LightRocket/Getty Images
The COVID-19 Pandemic Caused A Boom In The Resale Industry
Vestiaire Collective's new report shows a growing interest in shopping secondhand.
Sustainability in fashion has been on the rise for years, but the resale market has enjoyed a very recent bump in popularity, thanks in part to the COVID-19 pandemic. Vestiaire Collective has just released its second report with Boston Consulting Group on consumer resale habits, revealing that people are shopping secondhand now more than ever.
According to the new report, people are wearing their clothes 40 percent less than they did 10 years ago, but the desire to shop more sustainably and ethically is growing. When asked how they plan on shopping once the world starts to normalize post the COVID pandemic, 82 percent of people surveyed said they plan on buying more quality items that they plan to have for a long time, while 70 percent revealed they plan to adopt more sustainable shopping practices.
Tighter budgets have also contributed to the shift in shopping habits, with millions of people losing their jobs due to COVID-19 in 2020. Shoppers have turned to the resale market not only for sustainable reasons, but also to purchase items they couldn't afford at full price.
Vestiaire and BCG polled 7,000 people from six different countries for their latest report, which also said that 85 percent of shoppers have turned to the secondhand market to help reduce overconsumption, switching from excess fast-fashion purchases to fewer, higher-quality, longer-lasting items.
Head over to Vestiaire Collective to read the full 2020 fashion report.