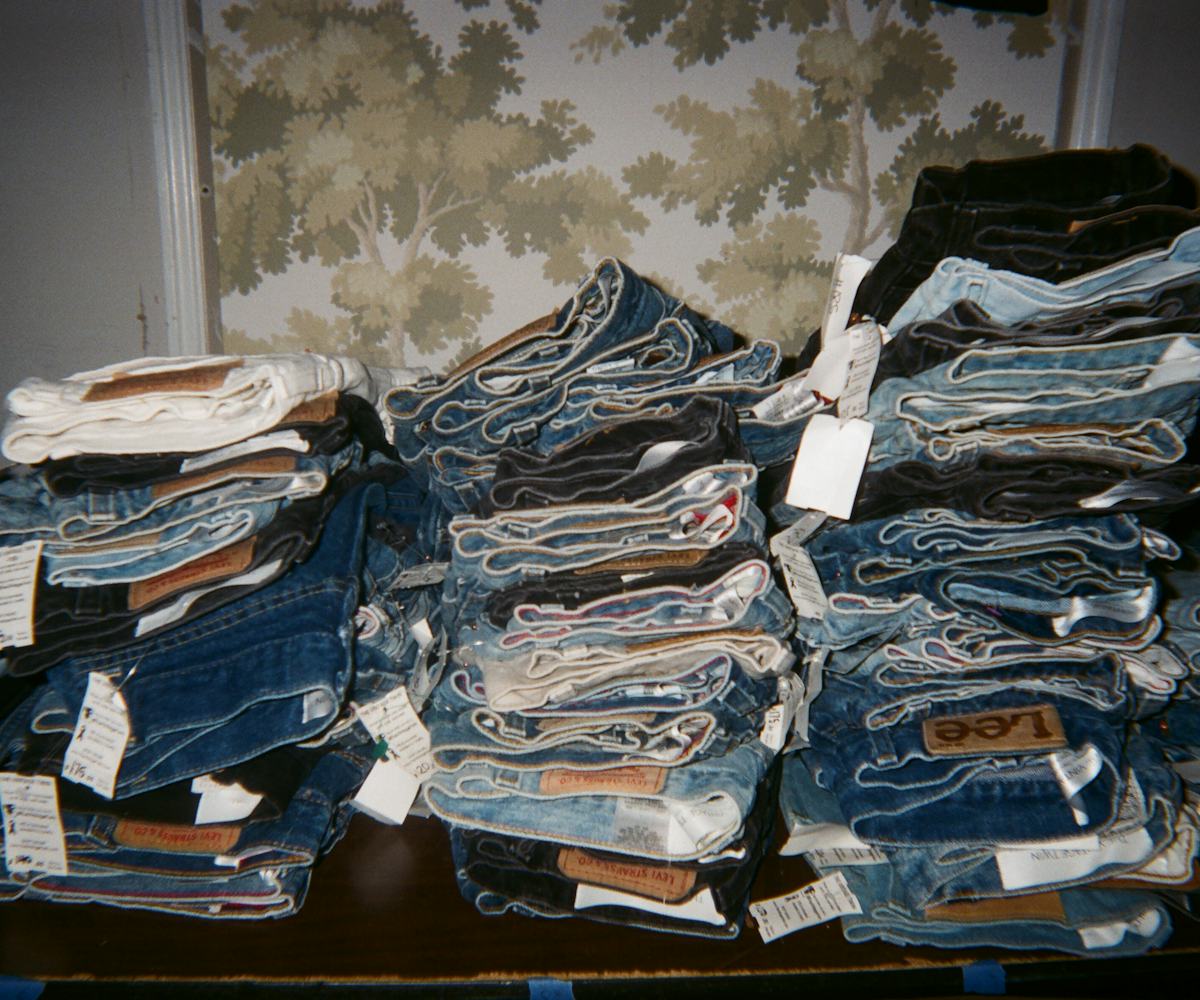 Photographed by Ricky Michiels
How To Find The Perfect Vintage Cutoff Shorts
Tips from our friends at The Vintage Twin
As anyone who's sifted through racks and racks of denim knows, finding the perfect pair is a chore in and of itself. Throw in the element of a secondhand shop, and it becomes an hours-long task to find a style that may just 
kind of
fit you in all the right ways. But, as anyone who's thrown on a pair of old Levi's 501s knows, vintage denim stands apart from the stretch fabrics available nowadays. From the workmanship to the durability and fit, finding the perfect pair of heritage denim means having jeans that will stay with you for life. 
We headed over to the Vintage Twin, a curated shop by sisters Morgan and Samantha Elias that reworks and customizes vintage pieces. With their signature Jeanius bar, a service where employees can pick out the perfect pair of mom jeans, cropped flares, and cutoffs just by looking at you, it's basically magic. Click through the gallery for some tips and tricks of the trade. And if you're in New York, be sure to check out the
(and follow their Instagram
for their rotating pop-up locations). 
Years ago, sizes and fits used to vary a lot more than they do today. They're extremely different from the sizing charts we use today, so it's unlikely that you'll find a pair in your size that will fit you properly.
Using their self-made denim bible, the Vintage Twin girls can distinguish measurements by looking at the leather tags. Different colors and fonts can distinguish one year from another, and button-up styles fit differently from those with zippers. 
If you don't have years of experience like Morgan and Sam, we recommend you grab a multitude of sizes above and below your typical one before heading into the fitting room. 
One of the most notorious tricks in denim shopping is the waist one. If you are able to wrap the waist of the pants around your neck, they should fit you.
But when it comes to vintage, that's not always true. If you find a pair that truly sits at your waist, this trick tends to work. But if you're looking for hip-huggers or lower rises, it won't. Besides, most of the time, cutoffs come down to the leg size, which you'll want to be loose and not skin-tight. 
Make sure to pay attention to the natural distressing. "Look where the front pockets connect to the cotton and where pockets are attached in the back and make sure that there's no stress at the corners," Samantha says. "If there's already stress, it's more likely that holes will form."
Brands are now releasing brand-new, vintage-inspired garments. But the beauty of older denim is that it's, well, real denim. Check the tags to make sure that it is made of 100 percent cotton. If it contains spandex, the jeans were created in more recent years and won't have the same fit and durability as those from years prior. As Samantha points out, there's a reason why current $200 skinny jeans give you a saggy bottom.
Also, if the tag states that the jeans were "Made in USA," it means that it's a true heritage piece. 
When in doubt, DIY. If you find the perfect fit, but there's a weird stain on one of the back pockets, grab a vintage patch and sew it on top. And if you can't find shorts that fit you perfectly, head to the mom jeans section and find a pair to cut up yourself.