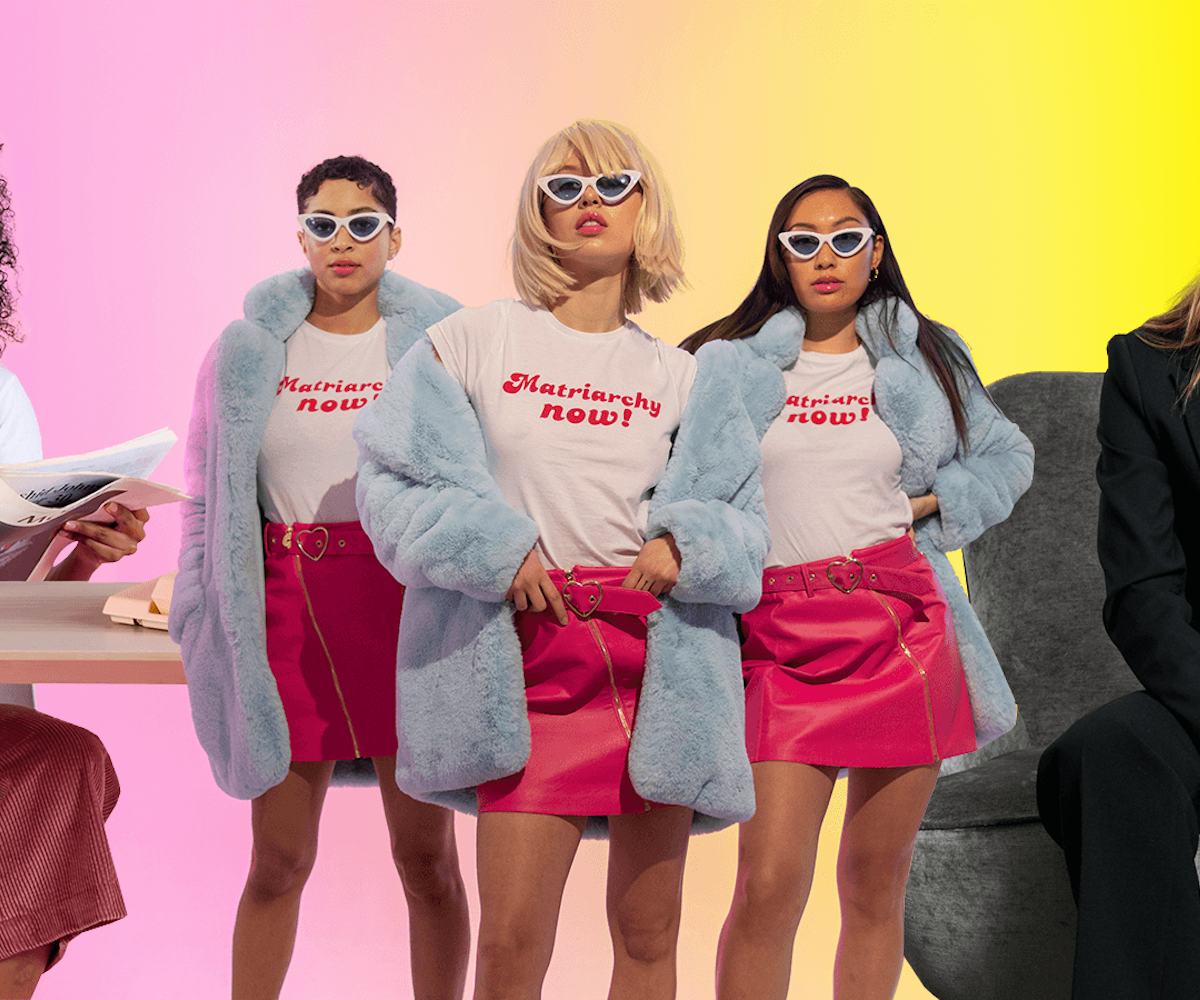 5 Feminist Brands That Make Giving Back To Women A Year-Round Initiative
They give their thoughts on why we need to support women every single day
Every International Women's Day, we're presented with a practically infinite number of ways that brands attempt to capitalize off the occasion, whether it's by promising to donate $5 from a specific T-shirt or give 10 percent of proceeds from an entire day of sales. And while we're happy that some money is going to a good cause, it makes us even happier when brands don't just celebrate women on one day, but on all of them.
And so, we chatted with five brands that span the fashion, beauty, and wellness spheres that do exactly this. Get to know each brand, and find out why they think International Women's Day initiatives need to be taken beyond March 8, below.
Bulletin
Bulletin is on a mission to democratize retail by providing hundreds of female-founded brands the opportunity to get into the physical retail space, an otherwise tough and expensive endeavor. Since its launch in 2015, it's not only helped hundreds of brands navigate the world of retail, but also helped build a strong community of female entrepreneurs.
For Bulletin, supporting women and women entrepreneurs is at its core. "Bulletin is in such a unique position, in that we've tried to bake supporting female-led brands and women entrepreneurs directly into our business model and our overall mission," says co-founder Ali Kriegsman. It currently hosts a slew of female-founded brands, from apparel and accessories to sexual wellness, stationary, and more. Currently boasting three NYC storefronts, it works with 100 different businesses.
In addition to allowing female entrepreneurs to thrive—from hosting them in-store to offering consulting services—it also does its job to give back. Each store acts as a free-to-use venue for female-led organizations, hosting events surrounding reproductive rights, career development and more. It also donates 10 percent of all proceeds, year-round, to Planned Parenthood and has partnered with and donated proceeds to other organizations, such as Dress for Success, Black Girls Code, and more.
Kriegsman tells me she fully supports the fact that brands are using their exposure, resources, and clout to support other women, and doesn't feel that she's in a position to cast judgement on a brand that chooses to only give back for one-off campaigns. However, she does feel that it can, at times, feel disingenuous and distasteful. "We believe in giving back to women and supporting women year-round, and I think brands can inadvertently objectify women by adopting pro-women messaging as a temporary marketing ploy, or deciding to financially support women only when it feels timely."
BEBOLD
Newly launched BEBOLD is a brand, yes, but, first and foremost, it sees itself as a community. Founders Nicole Roth and Mathilde Delonca conceptualized BEBOLD after meeting at a Berlin-based media group and connecting over their goal to empower other ambitious, hard-working women all over the world.
Following the release of its first book, The Bold Women Guide, it just launched its first-ever fashion item, a line of work wear shoes called The Adwoa, named after model-activist Adwoa Aboah. The line of loafers, aimed to be a chic yet comfortable office shoe for all women, are made in an all-female run factory in Portugal.
Like its book, and every future item that BEBOLD will sell, 3 percent of proceeds go back to one of three organizations BEBOLD has partnered up with (currently Educate Girls Globally, Young Women's Trust, and Junior Achievement Africa), a choice that's left up to the customer.
While it has plans to create a membership-based platform to host events, workspaces, and more, globally, it's initial endeavor include empowering women through its digital community in addition to donating proceeds for every sale. "Brands have to focus on giving back more than once a year, because this very important and nuanced work requires more than a day to be accomplished," says Roth. "It's impossible to limit this to just one day or month out of the year if you truly want to make strides on any scale—let alone a global one."
Bon Temps
Bon Temps isn't just another new beverage company: Founded by friends Ali Ogston and William Yin, this tea brand also intends to lift up women everywhere.
But first, the tea: Bon Temps offers alternatives to teas sold in bleached paper tea bags, and offers a selection of 100 percent organic blends (with no artificial flavors), in sachets made of non-GMO corn starch.
Tea aside, the brand encompasses feminism in everything it does. A portion of proceeds from all sales go towards $1,000 grants that the brand then reinvests in women looking to pursue their passions—no matter how big or small—through an application process. Its first-ever grant went to Gabriella Grimes, a non-binary artist based in Brooklyn.
The grants are an ongoing initiative that is a core part of the brand identity—and the founders hope that other brands, big and small, too, will commit to making a longer-term impact when it comes to gender equality. "The only way we'll see real change and a truly equal future, is if brands, organizations, and individuals make a commitment to strongly support women in the long term," says Ogston. "That means if equality is your goal, you need to embed it in the foundation of your business, making it a part of everything you do and allowing it to drive decisions in parallel with profit and growth."
Bon Temps is currently accepting applications on Instagram for its next investment, which closes March 15. Check its highlights for directions for how to apply.
Fempower Beauty
Fempower Beauty is much more than just a beauty brand—its founders are working to reclaim traditionally misogynistic historical narratives. With each collection that drops (and its surrounding campaign), founders Alexis Androulakis and Christina Basias are retelling these narratives—starring some of the most known and most misunderstood female figures in history—through a matriarchal lens.
The brand serves to not only empower through beauty, but to educate and advocate for its femme community. The newly launched brand currently allows customers to purchase lipsticks as gifts to femme refugees, in partnership with Dignity Not Despair, and has plans for future ongoing endeavors with other organizations, such as donations, charity events, and more. "At Fempower Beauty, we believe that if we are reclaiming the historical narrative while also celebrating how far we've come, that limiting to one day, or to one campaign, would never be enough," says Basias. "So, we built our brand on the belief that every day is an opportunity to create change by giving back."
You can read the full on the brand story, here.
Michael Stars
What sets Michael Stars apart from the previously mentioned brands is that it's a largely established and recognized fashion label, most known for its quality wardrobe essentials, specifically tees. Co-founder Suzanne Lerner founded the brand with her husband Michael Cohen back in 1986, and it's still family run today—boasting an 80 percent female staff. But what's most important about this brand is how it's grown its philanthropic efforts over the past three decades.
Back in 2005, Lerner launched the Michael Stars Foundation, which has since donated millions of dollars to female and gender-equality focused organizations, from Joyful Heart Foundation, which works to heal and empower survivors of domestic abuse and sexual assault, and StepUp, an organization that empowers girls through mentorship programs. It currently has a year round partnership with Joyful Heart Foundation, creating exclusive tees and donating 25 percent of proceeds to the mission.
"When brands support women, they are actually investing in the betterment of society as a whole," says Lerner. "Wherever there are social ills, wherever people are not thriving—women are there, digging in and leading the drive to solve those problems. When women thrive, so do communities, countries, and the world. While International Women's Day celebrates women's achievements and draws attention to the gender inequality that still exists all over the world, it's really meant as a way to motivate us to support women on the other 364 days of the year."
While the smaller, emerging brands are working hard at empowering and supporting women, it's the large brands that are going to make a massive impact. Which is why we hope that more large brands in the fashion, beauty, and wellness spheres—and across all industries—make giving back part of their every day initiatives.
And for us, as consumers? We should go ahead and buy that T-shirt the one or two days it donates $5 to a good cause. But we should also seek out and continually support the brands that have initiatives—big and small—each and every day.