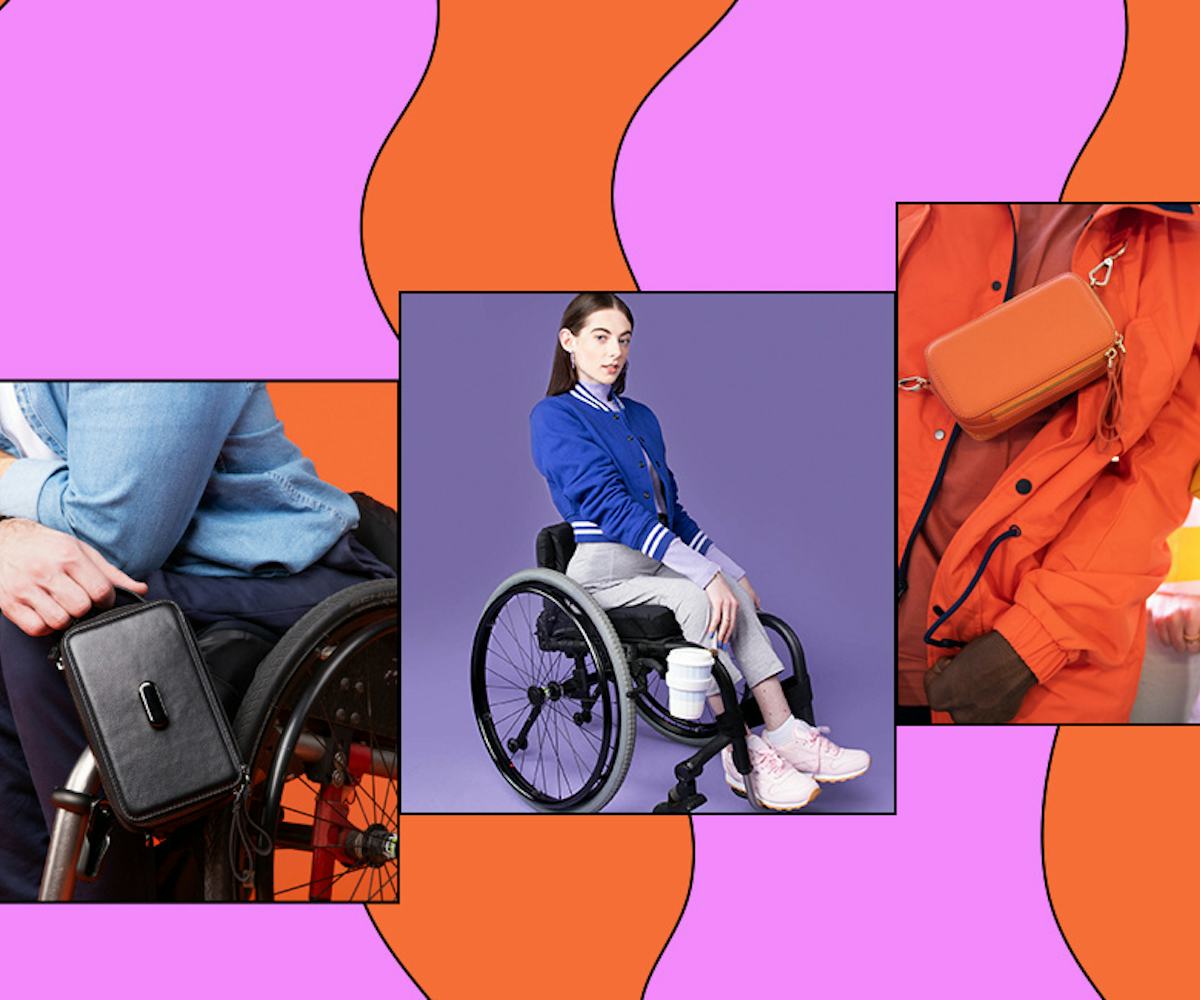 Photos courtesy of FFORA
These Ultra-Stylish Accessories Are Made With Wheelchair-Users In Mind
FFORA designs with true inclusivity
The fashion industry is notorious for being exclusionary in just about every way. One community in particular has been, and very much still is, extremely underserved: people with disabilities. And that's exactly what designer Lucy Jones and her new line of functional accessories FFORA, are hoping to change.
While studying fashion design at the Parsons School of Design, Jones spoke with a family member of hers with cerebral palsy, which sparked her to lay down the groundwork for FFORA. "He challenged me to think about the accessibility of my creations," she says. "I then started reaching out to members of the disability community to listen to their stories and hear their perspectives."
Throughout the development phases, she learned that many of the individuals she spoke with felt that fashion not only didn't cater to them, but they didn't see themselves ever reflected in designs or brand imagery. "I wanted to create a brand that creates products that actually work for this demographic first, and not as an afterthought," she says.
While Jones' schooling may have focused on apparel design, she attributes the brand to always having a passion for creating accessories. "I was frequently told I have a natural flare for accessories, which I often rejected, until I guess I could no longer avoid my calling!" she says. From there, she assembled her team, which includes her design partner Joonas Kyöstilä, who serves as the brand's head of industrial design.
FFORA launched with three beautiful products: two sizes of crossbodybags and a cupholder, along with an attachment system for wheelchair users, which consists of a clamp and open dock that is compatible with over 21 brands of wheelchairs. "The dock is the building block holsters FFORA accessories, including our cupholder and two crossbody bags," says Jones. The bags can dock vertically or be worn on the body horizontally with our crossbody strap. Each accessory has a magnetic pebble-shaped counterpart embedded into the design, which allows it to slide into the dock."
Products and attachments are available in a variety of beautiful colors and finishes, making them not only functional, but beautiful: From candy-colored bags to clean and modern cup holders and attachments, they look straight out of the MoMA Design Store. But more importantly, they're serving an untapped market, as Jones explains:
The disability community has historically had to troubleshoot scenarios/designs to make them work for their needs, simply because many designs aren't often designed with disability in mind. In our case, people were hacking existing bags to make them fit on their chairs, tying extra straps/strings so bags wouldn't fall off or could be located, sitting on phones and keys, and whilst cup holders do exist, most are designed for bicycles or don't appropriately fit all models of wheelchairs, so if individuals wanted to enjoy a hot drink, they had to balance it on their chair or lap, one-handed while running the risk of spill and burns.
While all of FFORA's products come with technology that allows them to be wheelchair-friendly, they also serve others in the disability community who aren't wheelchair users. "Beyond wheelchair users, some individuals have limited motor skills, so the bags also have two-way zippers with thumb-pulls for an easier grip," explains Jones. "The bags also open flat, like books, for easy organization. We recognize, however, that we will have a long way to go, and many more ideas and products to create to broaden our customer base and serve more people.
Naturally, the response that Jones and the brand have received since its July launch has been an outpouring of support and praise. What FFORA is doing is revolutionary—but shouldn't it just be part of the norm?
Kyöstilä feels that the lack of ability-inclusive fashion and accessories is due to the fact that people typically "offer design or services that reflect their own experiences, which is incredibly limiting."
"When you don't collaborate with individuals with different skillsets, or who have different backgrounds and life experiences and cultures, you can only really stay in one lane," says Jones. "The lack of inclusion is a result of the lack of invitations for participation and involvement of the disability community. Until more doors are opened, the insights and appropriate product offerings an opportunities will not exist, so we have a responsibility to use our platform to do this."
Though, Jones notes that FFORA isn't the only brand out there that's highlighting inclusion, referring specifically to the designers who did so during New York Fashion Week earlier this month, "Chromat being one, and others who are now starting to iterate and add relevant product lines to the disability community," she says."The most successful and widely praised [shows] were the ones breaking away from exclusionary or traditional stereotypes, instead opting to elevate a range of diverse people. Bottom line is that this is the most truthful depiction of what our would and society actually look like, so let's make sure it's represented."
In FFORA's eyes, the future of fashion will be more inclusive, and will rapidly grow in this way over the next few years. And for the brand itself? "We're continuing to build our relationships with brands in the complex rehab (CRT) industry, so we can be sure to expand our line to other mobility devices," says Jones. She hints that there are already a number of products in the works, and while she can't reveal too much, we might be seeing something new just in time for the holidays.
You learn more about FFORA's current product offering at liveffora.com.