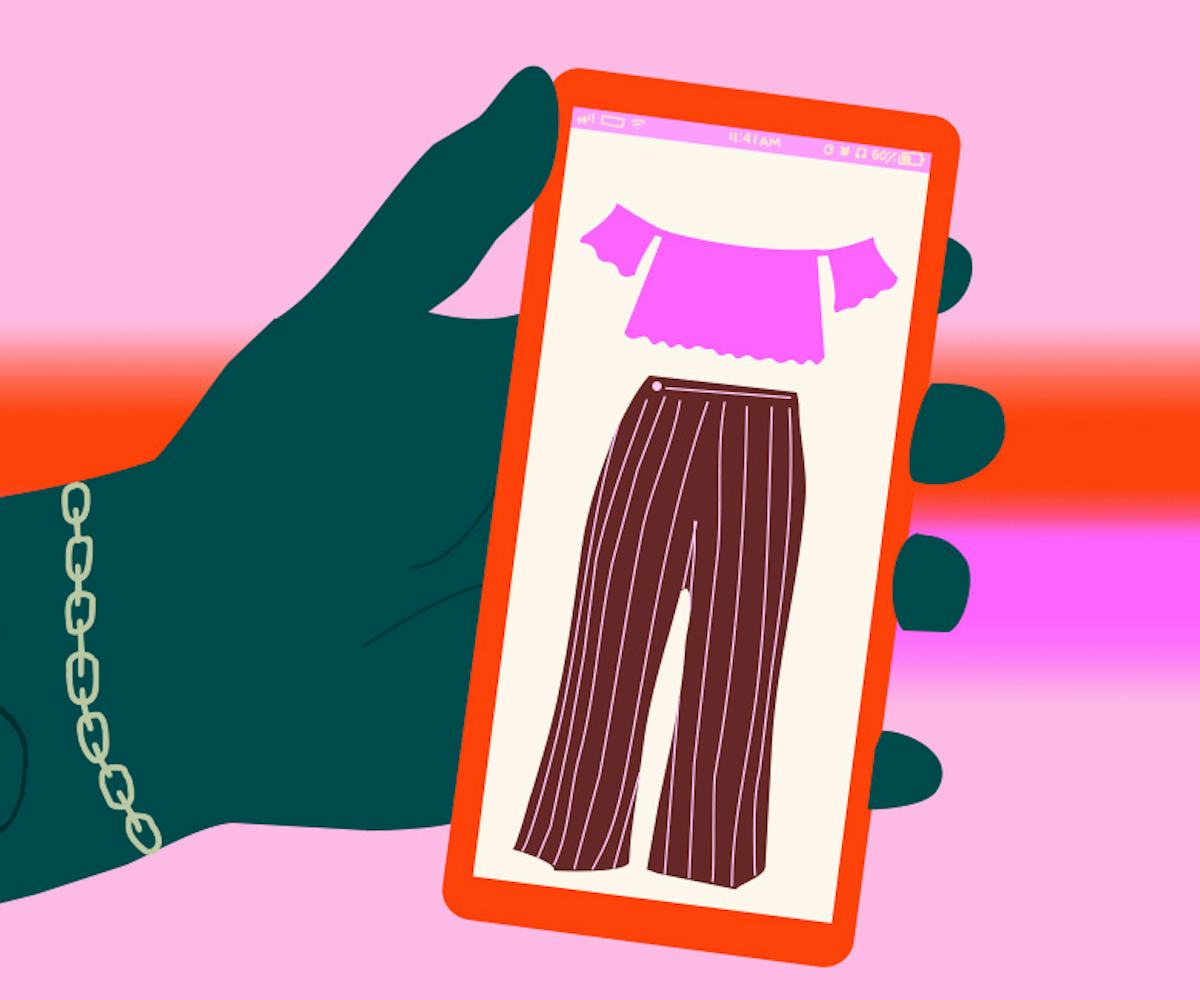 Illustrated by Lindsay Hattrick
This App Helped Me Curb My Shopping Habit
And made my mornings exponentially easier
Being that I work in fashion—and have pretty much planned to do so since I first learned to dress myself—it shouldn't come as a surprise to learn that I own a lot of stuff. A mix of contemporary and (sorry!) fast fashion seasonal purchases, vintage pieces I've collected over the years, prized consignment designer finds that I'll never let go of, and a handful of gifted pieces that I'm lucky enough to call a perk of my job are all part of my ever-growing and evolving wardrobe.
Predictably, then, there are various articles of clothing and accessories overflowing from just about every corner of my room. My dresser drawers, the drawers under my bed, and my walk-in closet (yes, after a decade in New York, I might still have four roommates, but I finally scored the ever-rare walk-in closet) are all stuffed to the max with everything from sweaters to shoes to workout gear. There's even a special box under my desk at work I keep for emergencies, and, yes, that's overflowing too.
That said, I probably wear the same 10 pieces, give or take, on rotation each week. This is partially due to laziness and partially due to not knowing what lies beneath the mountains of tops and sweaters crumpled on the top of each drawer, or the hangers holding two to four garments at once. But mostly it's due to my lack of decisiveness before 9am.
I knew I needed help, and since I'm not quite ready to Konmari all my stuff, I turned to an app instead, one I had been hearing a lot about: Finery. Launched by model-actress Brooklyn Decker and author-TV anchor Whitney Casey back in 2017, Finery aims to change the way you get dressed every day, allowing you to log your closet via your online purchases by scanning your email (and manually adding things you've picked up IRL) and creating and saving outfits using them. On top of that, it offers styling suggestions for each individual piece, as well as a separate collection of street style photo inspiration that you can save and favorite, essentially allowing you to create your own Pinterest board for your closet. It's basically the dream app for the modern-day Cher Horowitz.
I downloaded it, entered my email, and was ready to go! While it definitely took a weekend afternoon to "yes" or "no" everything it picked up in my email and manually photograph and categorize the rest, once everything was ready to go, it was like a weight had been lifted off of my shoulders. My shoe rack might still be hidden underneath a mountain of boots, but at least my iPhone could tell me what was in there.
In no time, it was clear to me that turning to Finery as soon as I woke up in the morning made a world of difference. I was able to easily scroll through what clothes I owned in the same way I scrolled through my Instagram feed, and clearly see what I hadn't worn that was most likely buried somewhere. From there, I was able to pick out my outfit for the day—and make sure I was properly utilizing everything I owned rather than opting to shop for more—all while still hiding under my comforter.
Most importantly, what this app did was show me ­just how much (i.e. a lot) I shop for clothes and where—and how often I tend to forget about pieces I bought just months prior. It brought to light just how wasteful I can be, even when I think I'm trying to be more conscious. So, if even for just opening my eyes a bit more, Finery certainly influenced my shopping habits for the better.
What's next for me now that I've curbed how often I shop? Downsizing both my IRL and my digital closet, whether it's by consigning or selling what I no longer need on apps like Depop, or hosting a clothing swapahead of the spring-cleaning season.