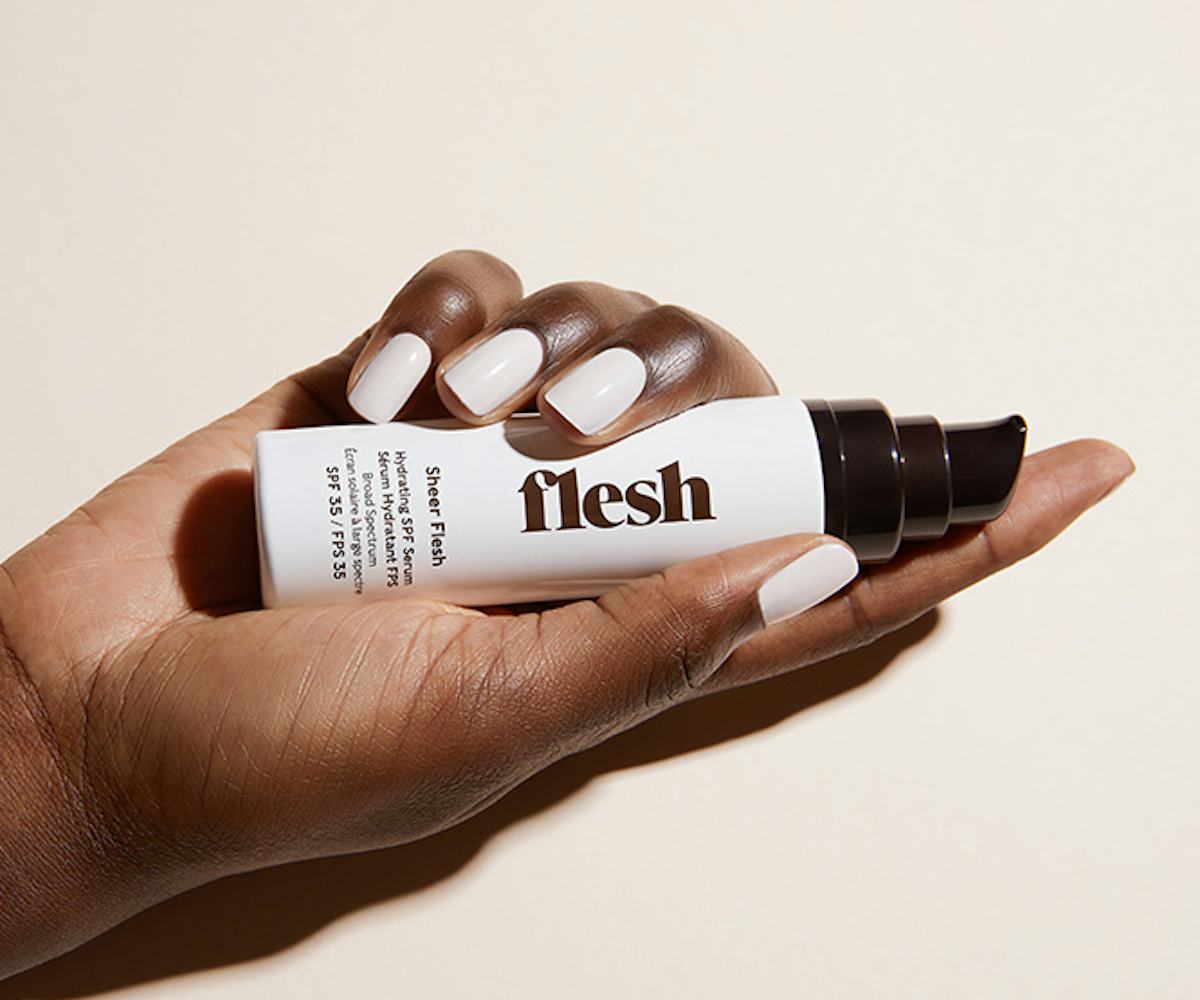 Image courtesy of Flesh Beauty
Flesh Beauty Is Stepping Into Skin Care With A Sunscreen
Since its launch in 2018, Flesh Beauty has been doing its part to change up the beauty industry, making the world of makeup more inclusive with a vast range of offerings. After releasing a number of popular makeup items in the last two years, the brand founded by Linda Wells, founding editor of beauty magazine Allure, is trying something new. On March 13, Flesh Beauty launched the Sheer Flesh SPF 35 Hydrating Serum, its first-ever skin care product.
The sunscreen — retailing for $32 on FleshBeauty.com — was made for daily wear, and its lightweight, sheer formula ensures that wearing the product will come without the white residue and mess often associated with sunscreen application. According to Flesh Beauty, the product moisturizes skin for up to a full 24 hours and helps prepare skin for makeup application. Basically, this is a wonder item.
In order to get the most out of the serum, Flesh suggests applying up to 15 minutes before you step into the sun. The serum should be the last step in your skincare routine and should be placed on your face before any makeup. You need only a dime-size amount initially, but it is suggested that you reapply every two hours, if you're in the sunlight, to ensure continued protection from UVA/UVB rays. However, it is important to note that the product is not water-resistant, so if you do intend to take a dip in the ocean or spend any amount of time in the pool, you should use a different sunscreen.
The cruelty-free product features glycerin, pomegranate and honey extract to brighten and hydrate skin. And unlike your traditional sunscreen scent, this product was lightly scented with chamomile, orange and lemon notes. The formula is also oil free, which according to Flesh Beauty's Instagram post, ensures that the product works on all skin types.
See Flesh Beauty's official Instagram announcement, below.