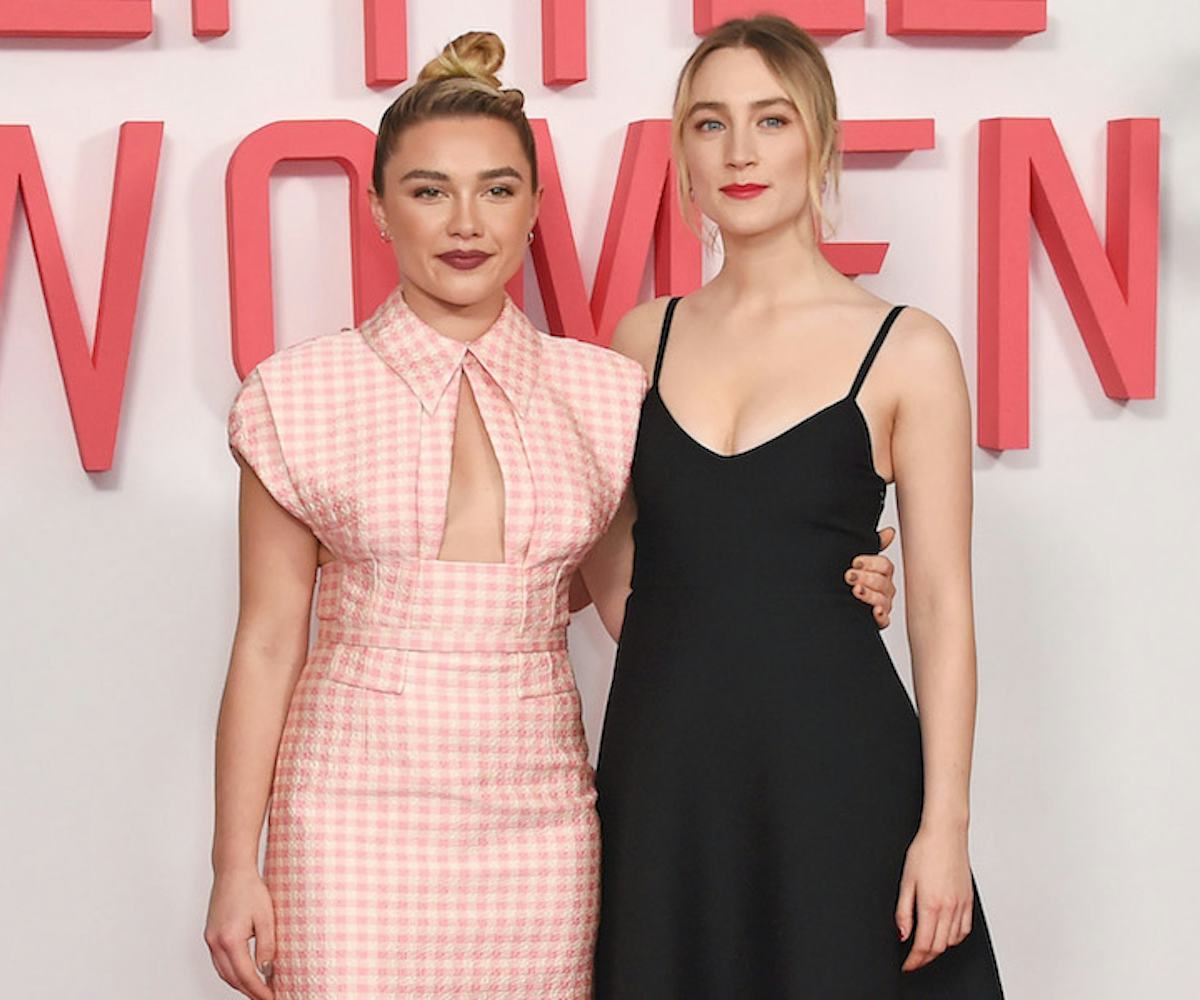 Photo by David M. Benett/Dave Benett/WireImage via Getty
Florence Pugh Stans Saoirse Ronan, Too
The 'Little Women' actress cites working with Ronan as "the most magnificent thing"
While the Academy of Motion Picture Arts and Sciences was rightfully called out yesterday for its predominantly white, predominantly male slate of Oscar nominees, there were still several nominations that everyone could get behind. Chief among them were those for Little Women stars Florence Pugh (in Supporting Actress) and Saoirse Ronan (in Lead Actress), who shined as Amy and Jo March, respectively, even amongst a large cast that boasted well-known thespians like Meryl Streep and Laura Dern. Of course, after four Oscar nominations, it's more than clear that The Academy is enamored with Ronan's acting prowess. And apparently, they aren't alone: according to Vanity Fair, Pugh is just as impressed by Ronan's talent as the rest of us.
For this year's Hollywood Issue, Vanity Fair assembled a coterie of talented actors from some of last year's best films. Surrounded by heavyweights like Hustlers' Jennifer Lopez, Dolemite Is My Name's Eddie Murphy, and Judy's Renée Zellweger (who all graced the cover together) was the 24-year-old Florence Pugh, whose work in both Little Women and the horror masterpiece Midsommar has been appropriately lauded.
As part of her inclusion, the Oxfordshire-born actress (labelled by the magazine as "The Prodigy") was asked to recall a "perfect moment" in her career. Out of everything, she settled on the time she spent with Ronan on the Little Women set. "I would watch so many things as a kid — so many child actors — and I'd go, Oh, shit, I would have loved playing that role," she told the magazine. "The first actress I ever watched where I thought, Oh my goodness, no one else could have done that was Saoirse in Atonement. I remember thinking, If I get to work with her one day that would be the most magnificent thing."
Fast forward several years and Pugh had her "most magnificent thing" come true when she got the opportunity to star alongside her one-time inspiration in Greta Gerwig's critically-acclaimed, Oscar-nominated Louisa May Alcott adaptation. "We have a no-soppy rule in our friendship because we're so bro-y with each other," Pugh said about the relationship she established with Ronan. "But I wrote it in a card and she sent me a text, like, 'You goon!' She's a magical person and a magical actress."
Given that Pugh has already confirmed that the Little Women cast share a group text, I like to imagine that the two women (along with fellow co-stars Eliza Scanlen and Emma Watson) are still communicating daily. And knowing how attached Gerwig has always been to the Alcott source material, I'd like to use this time to formally request a sequel, with Ronan and Pugh reprising their roles as the second oldest and youngest March sisters. Please, Greta. We must reunite these two young Hollywood starlets.