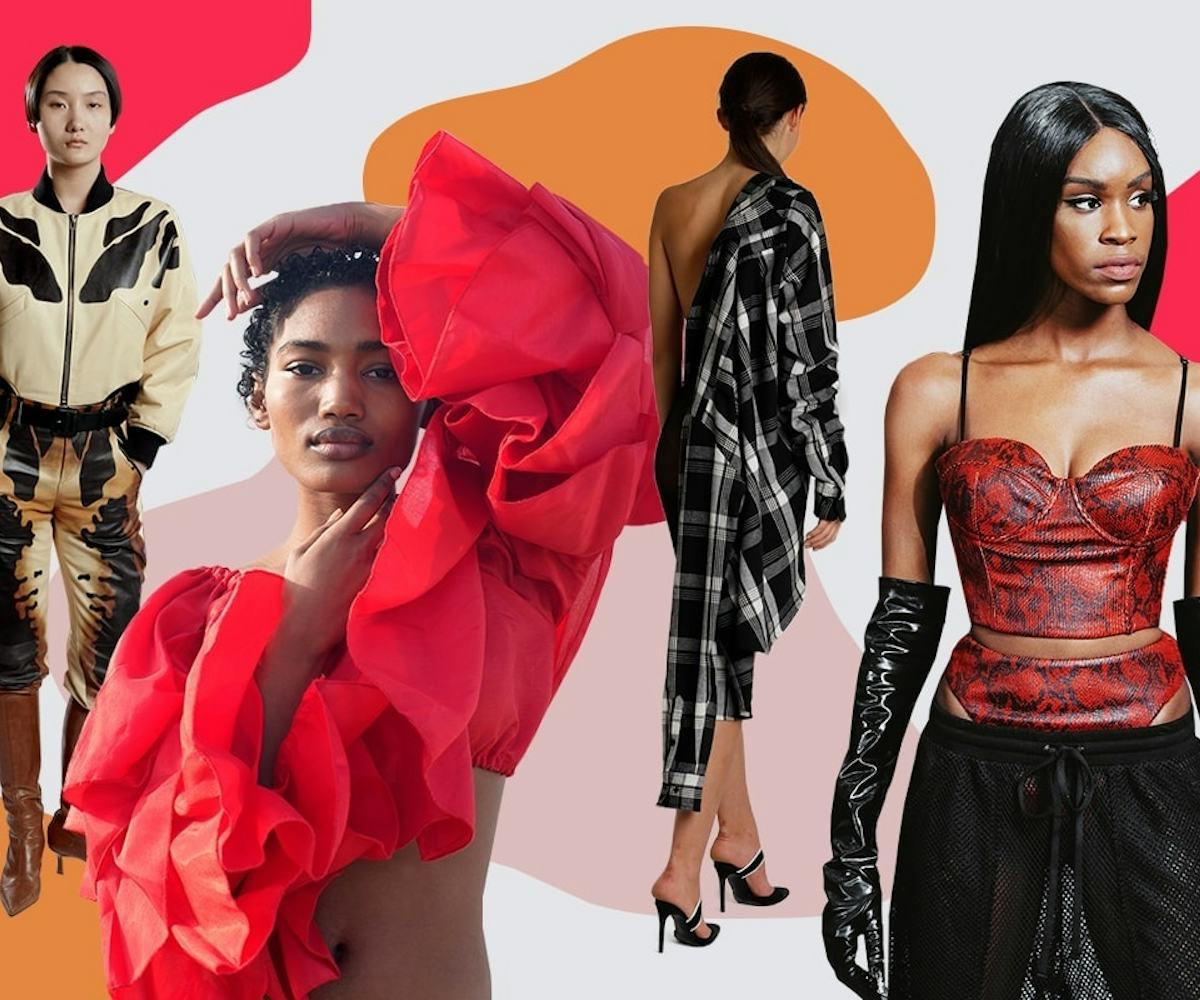 Six Gen Z Fashion Designers On How They're Changing The Industry
Get to know fashion's new guard
Recent years have seen significant advancements within the fashion industry in terms of inclusivity, diversity, and sustainability, while politically driven collections address some of the biggest issues in the world today. At the forefront of this change? Today's youngest creatives: Gen Z designers.
We caught up with six of the up-and-coming designers who are taking the industry by storm. Each of them talked to us about their thoughts on the future of fashion, and how they're playing a part in this new movement. Get to know them, below.
Tia Adeola of Slashed by Tia
Chances are you've already been seeing 22-year-old Tia Adeola's line, Slashed by Tia, all over your Instagram feed. After moving to New York City for school, the Nigerian-born fashion designer began crafting her label out of her New School dorm room. Soon after, her ruffled and sheer masterpieces would blow up on social media, even landing her a spot on the New York Fashion Week calendar last September.
To Adeola, her Renaissance-inspired clothing is wearable art that inspires a special kind of confidence. "I've seen almost every kind of girl in Slashed by Tia—pregnant women, girly girls, skater girls—and they all transform into the most confident in the room," she says. "That, for me, is the most important thing: to enhance the power and beauty we already have as women."
As a part of the new generation of fashion designers, Adeola believes that the future is bright and is confident that inclusivity across the boards will soon be the norm. "I feel like this generation genuinely wants to see a change, and that, for me, is encouraging, and I'm very hopeful that we will achieve this," she says.
Taofeek Abijako of Head of State
Taofeek Abijako was first exposed to fashion at a young age, living in Lagos, Nigeria, and watching his father construct traditional Yoruba wear for their community. While he's since moved to America, these nods to his African culture are apparent in his label Head of State, which fuses refined sportswear and expert tailoring with contemporary African streetwear, paying homage to the African youth subcultures he knows well. "I started to see streetwear as a way to comment on the different social and political climates I was being exposed to," he says.
Abijako believes that the elitism and exclusivity that exists within the old guard of fashion is outdated, and doesn't see it sticking around for too much longer. As a part of this new generation (last year he became the youngest designer to show at NYFW: Men's; he was just 19), he sees inclusivity, accountability, sustainability, and transparency become concerns of consumers. "The beginning of a new generation always coincides with a pushback against certain aspects of what came before, that pushback should be central to the questions we ask," he says. "How can we bring something new to the table, or fix what needs to change?"
Representation is another important aspect of Abijako's work, putting his customers first, allowing their thoughts and feedback to be a part of this fashion conversation. "I'm representing a marginalized community, we aren't concerned about our perspective gaining acceptance as much as we are concerned with celebrating every aspect of what makes us," he says.
Matt Sarafa
For 21-year-old designer Matt Sarafa, the foray into fashion began after watching an episode of Project Runway at age seven. Since then, he's competed on the show's young designer spin-off twice, has been featured on The Real Housewives of Beverly Hills, and is running his namesake luxury streetwear and jewelry label, along with his line of luxury faux fur coats, FAKE. Oh, and he's doing so all while attending UCLA full-time. (Casual!)
For Sarafa, being a young presence in the fashion industry is all about the push for representation. "Being openly gay and a huge advocate for the LGBTQ+ community, I always try to sprinkle in some androgyny into both my designs and the marketing for my brand," he says. "I pride myself in diversity and try to show my clothes on people from all walks of life." You'll find that Sarafa doesn't gender his pieces, and features models of all colors, identities, and sizes in ad campaigns and runway shows.
He also believes that this push for change is a huge part of Gen Z's responsibility. "We have a responsibility to not only fill the big (designer) shoes of the previous legends but also to change the fashion industry for the better." But thanks to social media bringing young, emerging designers like him into the spotlight, those working hard to change the industry finally have the visibility they deserve.
Imogen Evans of imi
U.K.-born Imogen Evans began creating clothing of her own after receiving a sewing machine as a gift at the age of 11, using which she created pieces with "wonky hems and mismatched sleeves." Fast-forward to 2019, after studying fashion design in Milan, and the 19-year-old is a designer to watch.
Today, Evans is creating artful streetwear with a message under her label, imi. She made a powerful debut at New York Fashion Week this past February when she presented her most recent collection, Places I've Been Touched, which featured sexual assault testimonies submitted to her via social media, that she then translated into a text-based print. "For me, if you have a platform, you should be using it to say something," she explains. "I really want my work to spark discussion and emotion."
Aside from making sure women's stories are heard, inclusivity and sustainability are other important aspects of her work, which is something she feels this new guard of young designers are better addressing as a whole.
For Evans, it's all about creating pieces that are sustainably made and built to last. She hopes that we, as consumers, will begin to shift our shopping mentalities toward investing in staple pieces we love, and therefore will keep, and away from wasteful fast fashion and constant buying. She says, "I want my customers to love my pieces so much that they pass them on to the next generation, is that so much to ask?"
Vejas Kruszewski of Pihakapi
Canadian-born, Paris-based designer Vejas Kruszewski is fashion's wunderkind, being the youngest-ever winner of the LVMH prize at just 19. Now 22, the designer has gone on hiatus from his namesake gender-fluid label Vejas that first put him in the spotlight, returning last year with a whole new brand: Pihakapi, a collaboration with Italian leather manufacturer Pellemoda, that fuses heritage leather manufacturing with progressive design.
Kruszewski's interest in fashion was first sparked by a fashion editorial starring model Lara Stone in his early teens. "Nothing about the clothing is particularly interesting, but the attitude struck me," he says. "Fashion was a way to elevate reality. Some people find aspiration exhausting, which is completely understandable, but I find it cathartic; to constantly question one's choices whether regarding adornment, or desire, is a way to avoid stasis."
For Vejas, being a part of fashion's new generation of designers means owning up to how destructive to our planet the industry is, and doing his part in sparking real change. "It implies taking responsibility for being one of the world's most polluting and unethical industries through concrete actions and informed decisions," he says.
Sustainable and ethical manufacturing aside, the future also depends on the industry changing its ways. "The future of the fashion industry is an overarching restructuring of the globalized supply chain," he says. "I hope we can move toward a circular economy. This will not be achieved without significant investment from the top tiers of the industry; the current misallocation of corporate resources is an injustice to our collective future. This close to a billion euros raised by the French conglomerates for Notre-Dame, a building, is a case in point."
Tyler Lambert of Lambert
Twenty-two-year-old Tyler Lambert may have launched his namesake label Lambert back in 2012, but he's been designing for it for a full decade; he began sewing and piecing together found objects—from clothing to drapes and napkins—at the age of 12.
Growing up in a small Wisconsin town, Lambert got his start selling his pieces at local boutiques and through social media, drawing inspiration from his childhood and small-town roots to create his line of what he describes as "essential streetwear," from pinstriped, sporty tennis skirts to cropped hoodies and flannels.
It wasn't until Kylie Jenner wore a handful of his pieces back in 2016, truly putting him on the map, that he was provided with the means to take his brand to the next level and open an online store—which proves the power of Instagram in moving the fashion needle.
At the same time, Lambert also feels that technology and social media are the downfall of fashion design. These advancements make it easy for anybody to pump out a clothing line and promote it, which takes away from the true art of design. He says, "I'm not yet decided on whether or not this scares me about the future of the fashion industry."
So, while Lambert is certainly grateful for social media putting him and his brand in the spotlight, he still enjoys running his brand as "old-school" as he can: building a natural fan base and not buying followers, being present for trunk shows and meeting his customers in person, and taking the time to email with them directly.