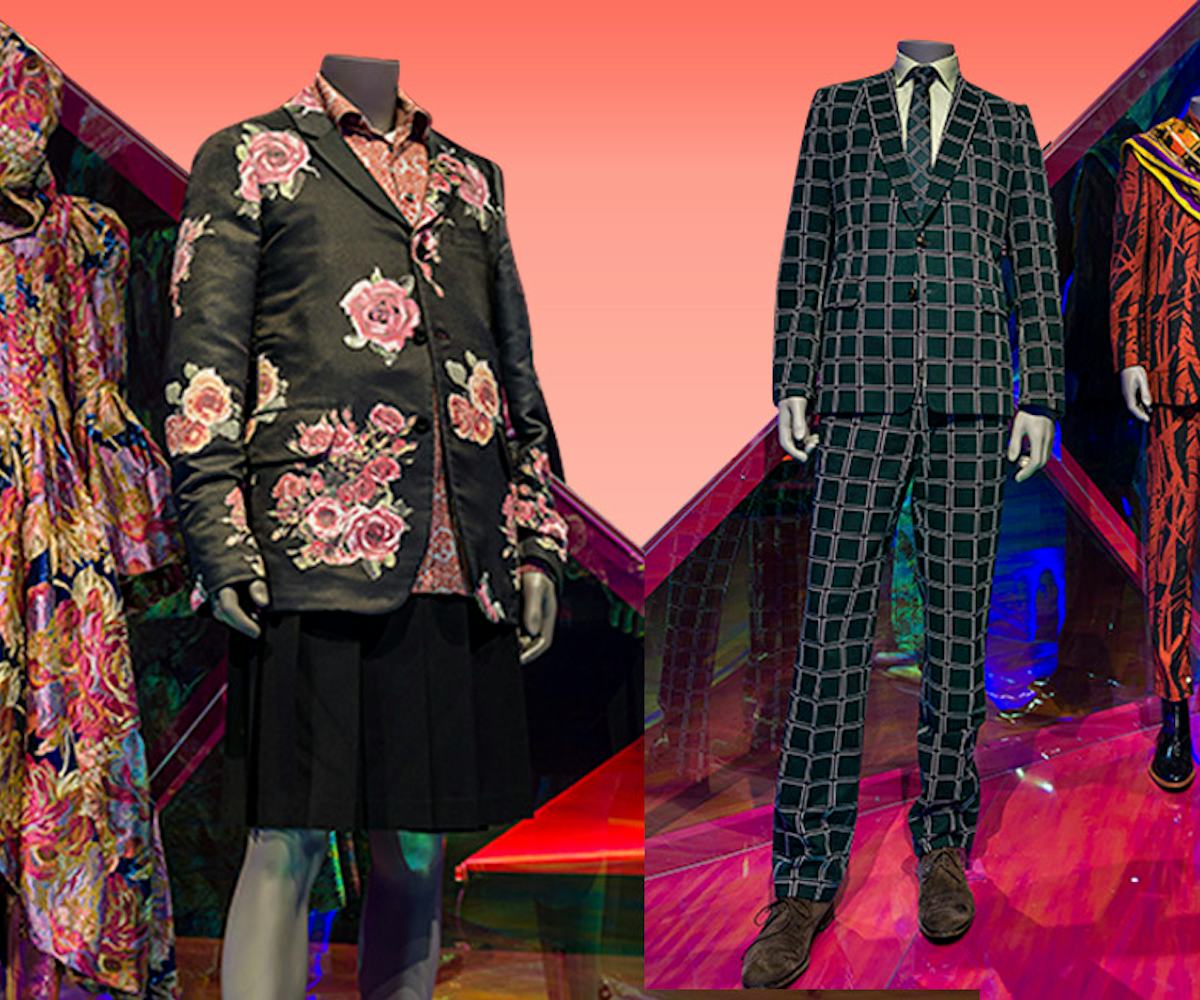 Photo by Michael Blanchard
Inside The Long, Fascinating History Of Gender Bending Fashion
This exhibition proves that fashion that blurs the boundaries is actually nothing new
In the last few years, the fashion industry has made some serious strides in promoting diversity and inclusion through progressive clothing offerings that are revolting against rigid prescriptions of gender—but this trend is actually anything but new. For decades, designers have been pushing the envelope, creating haute couture and ready-to-wear designs that have challenged the long-established gendering of fashion. And this idea is now the topic of a new exhibition at the Museum of Fine Arts in Boston, Massachusetts.
Titled "Gender Bending Fashion," the landmark exhibit features over 60 creations by designers such as Rick Owens, Rei Kawakubo, Rad Hourani, Jean Paul Gaultier, Alessandro Michele for Gucci, and many more. Highlighting the complex history and context of different trends—such as the garçonne look of the 1920s and the "peacock revolution" of the 1960s—the show not only features pieces worn by celebrities and influencers such as David Bowie, Jimi Hendrix, and Young Thug but also includes paintings, photographs, music, and videos to tell a complete story.
Michelle Finamore, curator of Fashion Arts at the MFA and the mastermind behind the exhibition, says the idea initially grew out of her own design research, which typically revolves around gender and fashion. "Previously, I had curated an exhibition called 'Think Pink' in 2014, which looked at the gendering of color, that served as a launchpad for this exhibit," she told NYLON over the phone.
Beyond this, in the last five years or so, she started noticing shifts in patterns and silhouettes with men's fashion, expressing, "I thought that designers were responding to something amazing that's going on in the cultural zeitgeist." Suitably, the curator, design researcher, and author started to draw comparisons with comparable shifts in the women's fashion world, realizing there was something major bubbling up.
"So many ideas about gender expression have been shifting with millennials and generation Z, and I really thought having this tangible form in what the fashion designers were showing on their runways, along with my love of fashion history, [would] bring it all together," she explains. While she thought about the idea for the show for approximately five years, it took two years to bring the vision to life, with the help of her talented team and the local community.
Rattling expectations around gender and clothing, the garments on display reflect many of the societal shifts that have occurred in the past century; this includes the evolution of gender roles, the increase in visibility of the queer community, and the ways in which social media has become a colorful tool for self-expression and establishing a deep sense of belonging.
On top of this, the museum also enlisted a local queer photographer named Ally Schmaling who was tapped to take dynamic portraits of individuals in Boston's LGBTQIA community, which are on display in the exhibition space via large, digital screens. Schmaling, whose work is dedicated to the documentation and elevation of queer and gender-expansive narratives, says she is drawn to portrait work because it gives her "the privilege of witnessing humans being present and powerful living inside of their own bodies."
Working closely with the major art institution, Schmaling made a point to include "one photo for each subject using a shutter drag technique, rendering each subject in one frame simultaneously crystalline and in technicolor motion, [and] speaking to the fluidity and ever-evolving quality of gender and presentation." The result is a physical manifestation of queerness and gender-nonconformity, that she believes is "varied" and "multitudinous" and also highlights the vibrancy of Boston's gender expansive community.
With most major art museums steeped in a white colonialist history, it's worth noting the significance of an institution like the MFA putting a show of this kind on display, and wondering what it could mean for future exhibitions. "Museums today have to perform a slightly different role than they did in the past and I think this is one example of how you can accomplish that," says Finamore. "It's an exercise that worked well for us, and time will tell as to what the reception is, but I do think that museums and institutions need to engage more broadly in these issues."
Along these lines, the curator hopes that viewers will gain a deeper understanding of what gender bending fashion is now, what it has been historically, and recognize that it is something that's been around for a long time.
Schmaling, on the other hand, hopes her work and the exhibition as a whole will encourage people to come away with a sense of introspection: "Rather than ogling at the 'otherness' of this show, I hope viewers use this as a moment to examine the specific learned habits that have been informed by their gender assignment."
In this way, "Gender Bending Fashion" serves a public reckoning of sorts and an honoring of the legacy of gender bending in fashion and many of the critical individuals who have helped pushed the dialogue forward throughout history, and until the present day. Moreover, it highlights the intersectionality of different issues including that of gender, sexuality, race, and class.
"Gender Bending Fashion" is open until August 25.