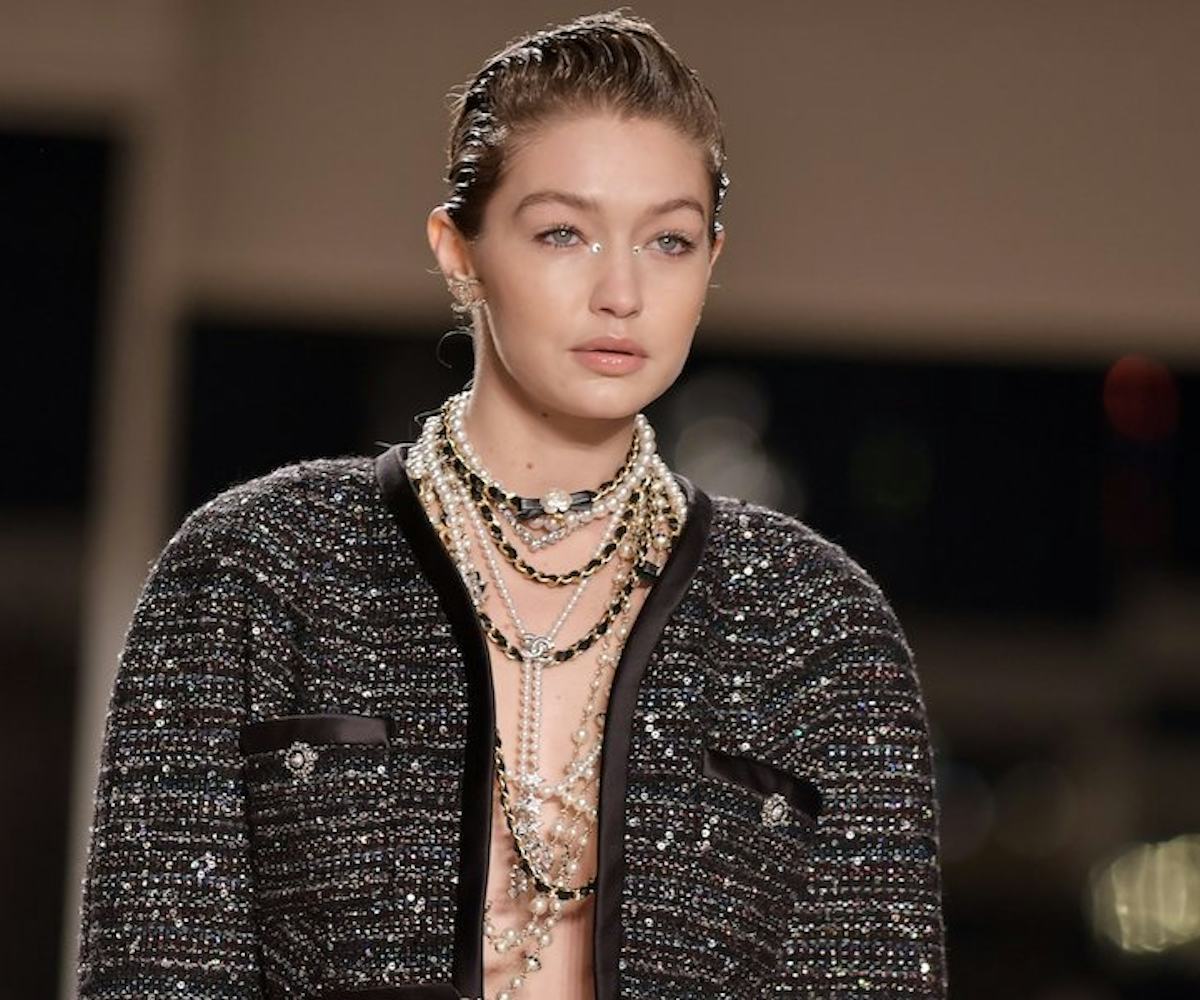 Photo by Swan Gallet/WWD/Shutterstock
UPDATE: Gigi Hadid Has Been Summoned As A Potential Juror In Harvey Weinstein Trial
She told judges that despite having met Weinstein, she could "keep an open mind on the facts"
Editor's Note:This article has been updated to reflect Gigi Hadid being dismissed as a juror in the Harvey Weinstein trial.
As the sexual misconduct trial of Harvey Weinstein continues in its earliest stages, model Gigi Hadid has joined the pool of potential jurors. According to a new report by AP News, Hadid was one of 120 people summoned to participate in the initial screening process on Monday, January 13, and has been asked to return on Thursday, January 16 for additional questioning. The trial is hoped to reach opening statements by end of January, and is expected to run through March.
During questioning, a list of celebrity names that could come up during the trial was read to potential jurors, which included Rosie Perez, Salma Hayek, Charlize Theron, and more. Hadid was upfront about her level of celebrity and closeness to the situation, having met both Hayek and Weinstein prior to the trial, but told a judge she could remain impartial and "keep an open mind on the facts."
Hadid was spotted leaving the New York City courthouse wearing a slouchy oversized blazer over a classic white T-shirt and high-waisted jeans. Photographers attempted to get more details from Hadid, but she stated, "I'm not allowed to talk about jury duty. I'm sorry."
Back in October 2017, Hadid's friend and fellow model Cara Delevingne detailed a disturbing alleged experience with Weinstein on social media. Per Delevingne's post, following a meeting with Weinstein about an upcoming film, he allegedly tried to have her kiss another woman in a hotel room, and attempted to kiss her as she left. "I felt like I didn't deserve the part. I was so hesitant about speaking out," she said in the post. "I didn't want to hurt his family. I felt guilty as if I did something wrong. I was also terrified that this sort of thing had happened to so many women I know but no one had said anything because of fear."
Hadid returned to the Manhattan Supreme Court for additional questioning on Thursday, but was dismissed minutes later upon her arrival. According to ABC News, court officials confirmed that she was removed from the list of potential jurors for the Weinstein trial, and that "the defense and prosecutors later agreed that having her on the jury would be too much of a commotion."
In addition, Weinstein's lawyers have requested that the trial, slated for Jan. 22, be moved outside of New York City to avoid too much press and public attention.