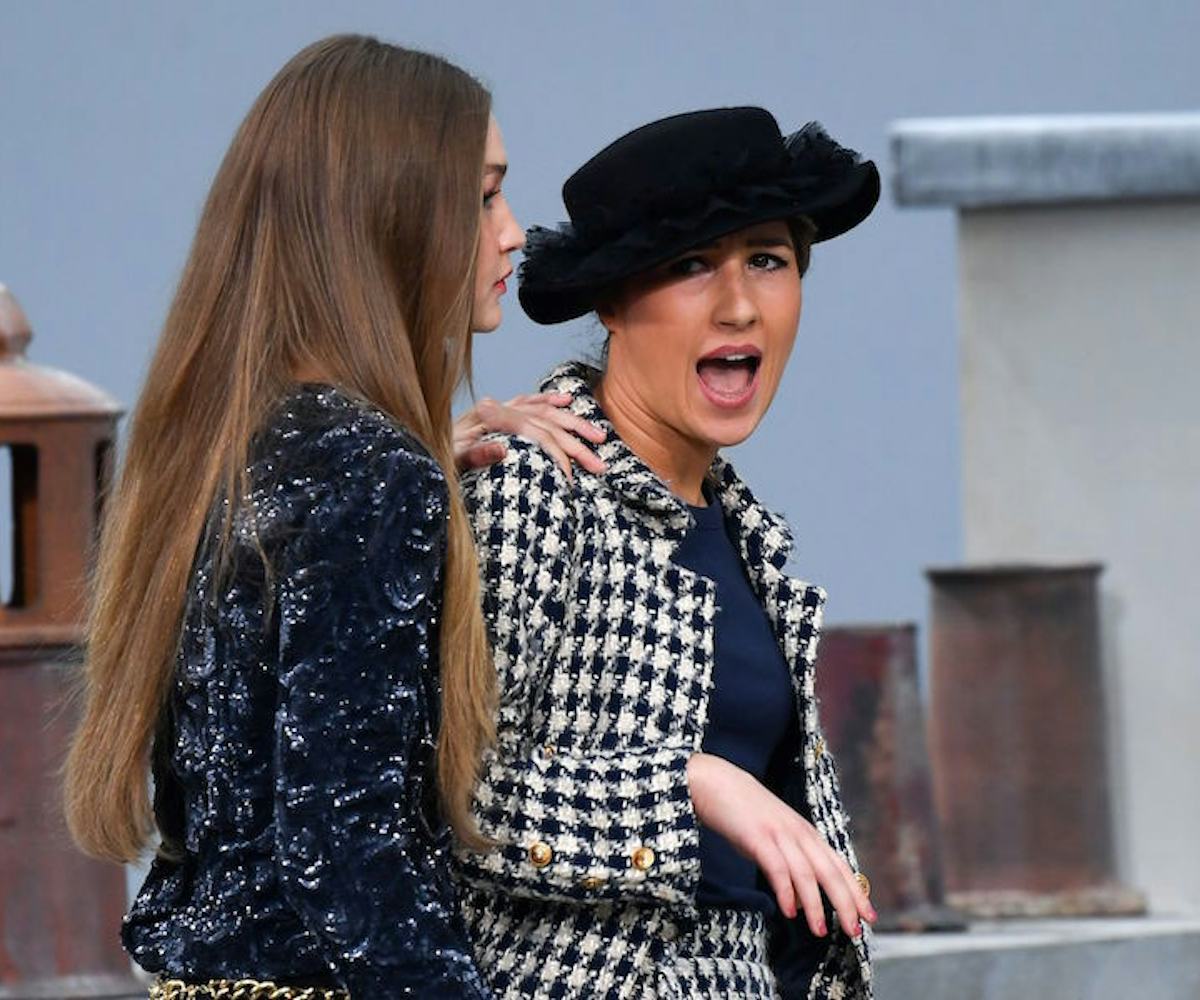 Photo by David Fisher/Shutterstock
Gigi Hadid Bounced A French YouTuber Who Crashed The Chanel Runway
Comedian Marie S'Infiltre seemed to be pretty proud of herself for this stunt
Gigi Hadid proved she could start a side hustle as a bodyguard during the Chanel Spring 2020 runway show on Tuesday when one woman decided to crash the finale. Despite clearly not belonging on the catwalk, the show's security was unable to remove the woman — dressed in a classic tweed ensemble similar to those the house is famous for — so Hadid did what had to be done and escorted her from the set. The woman has since been identified as Marie S'Infiltre, a French YouTuber and comedian best known for infiltrating spaces for the sake of comedy, with 196,000 followers on Instagram and 227,000 on YouTube tuning in to watch her antics.
Women's Wear Daily Executive Editor Booth Moore (as well as dozens of other editors in attendance) captured the moment S'Infiltre joined the parade of models, haphazardly jumping down from the risers and nearly rolling her ankle before slipping into the lineup.
Even if you hadn't seen S'Infiltre storm the runway, it was pretty easy to tell her look apart from those in the actual collection. But that and her purposely goofy walk weren't enough for actual security guards to pull her from the catwalk. S'Infiltre's time in the spotlight was only put to a stop once Hadid decided she needed to be removed, and took care of it herself.
S'Infiltre seems pretty proud of herself for the act, posting a screenshot of coverage from French media hub 20 Minutes to her Instagram grid, joking in her caption that the Etam runway was right next door.
Just last week, S'Infiltre crashed the Etam runway as well, though based on the videos she seems to have stood out a bit more to the crowd. S'Infiltre has since posted a clip to her YouTube channel threading together the attention she received on social media for the act. Undoubtedly, there will be a similar video recapping her Chanel shenanigans soon.