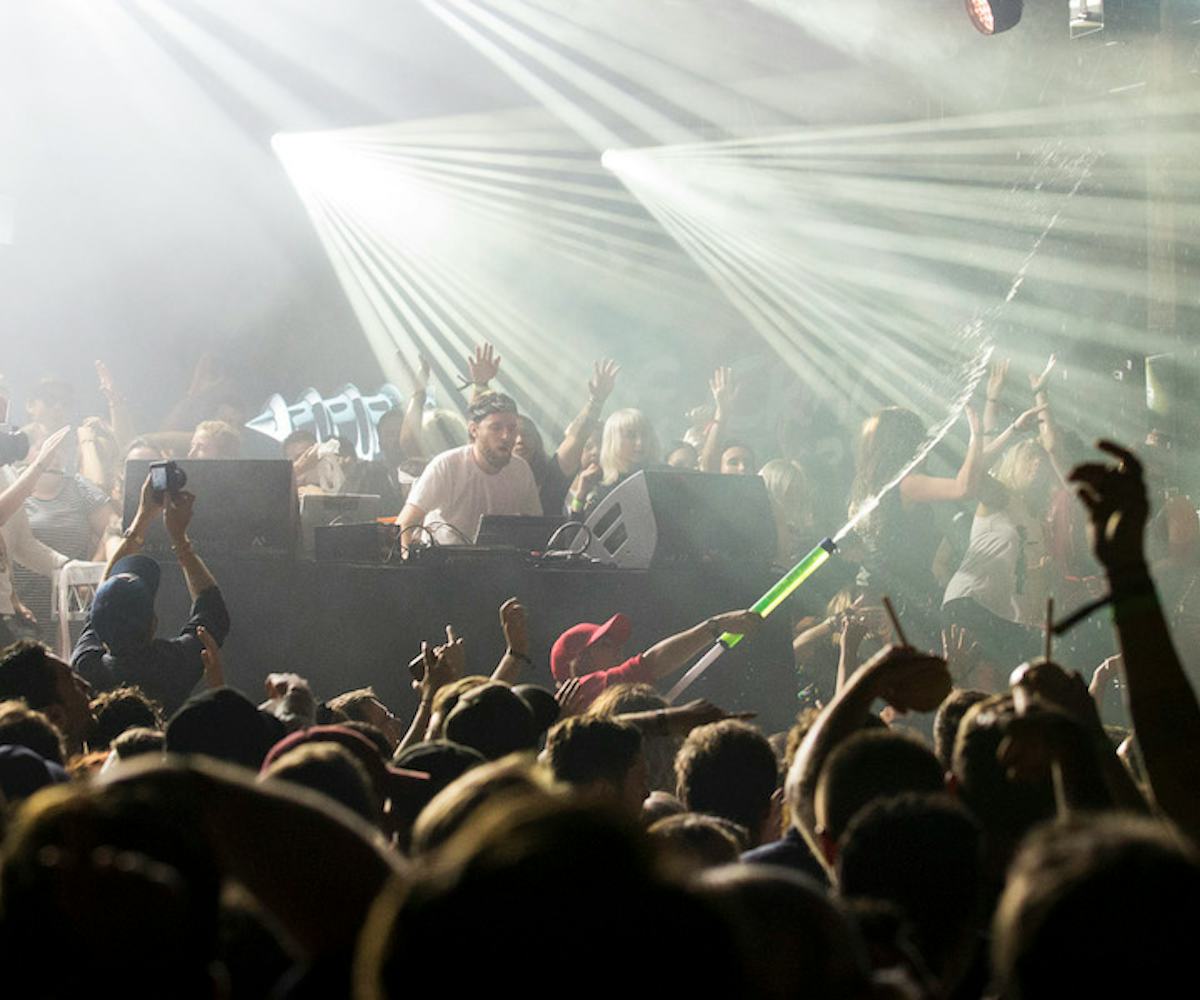 Photo by Matt Jelonek/Wire Image
Girl Talk Announces North American Tour
The King of Mashups will be traveling North America this spring
There's a moment in 2012 I don't think I'll ever forget. I was a high school senior, obsessed with EDM and rave culture, and at my first Coachella Festival. After splitting up from my friends who wanted to get food in between The Weeknd and Dr. Dre, I found myself alone at Girl Talk's set. Initially, I felt weird not having someone I knew by my side. But eventually, I forgot about everyone else entirely. Here I was, surrounded by drug-addled teens and young adults trying to recapture the glory days of their youth — and they were all having the time of their lives. Girl Talk pulled fans on stage to dance alongside him while giant balloons, beach balls, and stuffed animals flew all around the crowd. I felt like a part of a whole.
Though that year also featured sets by some of my favorite musicians — including Radiohead, Neutral Milk Hotel, Bon Iver, St. Vincent, and Flying Lotus — it was Girl Talk's set, perhaps, that has stuck with me most. The sheer joy I felt while dancing to mashups of Kelly Clarkson and MC Hammer was incomparable. So when the artist born Gregg Michael Gillis slightly disappeared shortly after that magical experience, naturally, I was upset. Would I ever be able to experience that joy again? The answer is yes: Girl Talk will head out on a North American tour this spring, leading up to his hotly anticipated performance at New York's Governors Ball in June. And just like that, 18-year-old me is filled with glee.
Beginning on April 29 at the House of Blues in Cleveland, Ohio, Girl Talk — who has rightfully been crowned the King of Mashups thanks to his most recent album, All Day, and earlier albums like 2008's Feed the Animals and 2006's Night Ripper — will take his fun stage show on the road. Other cities include Chicago, Denver, Portland, Seattle, Austin, Boston, and his hometown of Pittsburgh, Pennsylvania. So if you have also been anxiously awaiting the day you'd be able to dance around to a frenzied set of pop, rock, and rap mashups again, prepare to be dazzled.
Find Girl Talk's tour dates below. Buy tickets for the tour here.
04-29 Cleveland, OH - House of Blues
05-01 Pittsburgh, PA - Stage AE
05-02 Toronto, Ontario - Phoenix Concert Theatre
05-03 Chicago, IL - Metro
05-05 Minneapolis, MN - First Avenue
05-07 Kansas City, MO - The Truman
05-08 Denver, CO - Ogden Theatre
05-09 Salt Lake City, UT - The Depot
05-11 Portland, OR - Crystal Ballroom
05-12 Seattle, WA - The Showbox
05-13 Vancouver, British Columbia - Commodore Ballroom
05-15 Los Angeles, CA - Echoplex
05-16 San Diego, CA - House of Blues
05-18 Austin, TX - Emo's Austin
05-19 Dallas, TX - Granada Theater
05-21 Asheville, NC - The Orange Peel
05-22 Washington, DC - 9:30 Club
05-23 Boston, MA - Royale
06-07 New York, NY - The Governors Ball Music Festival