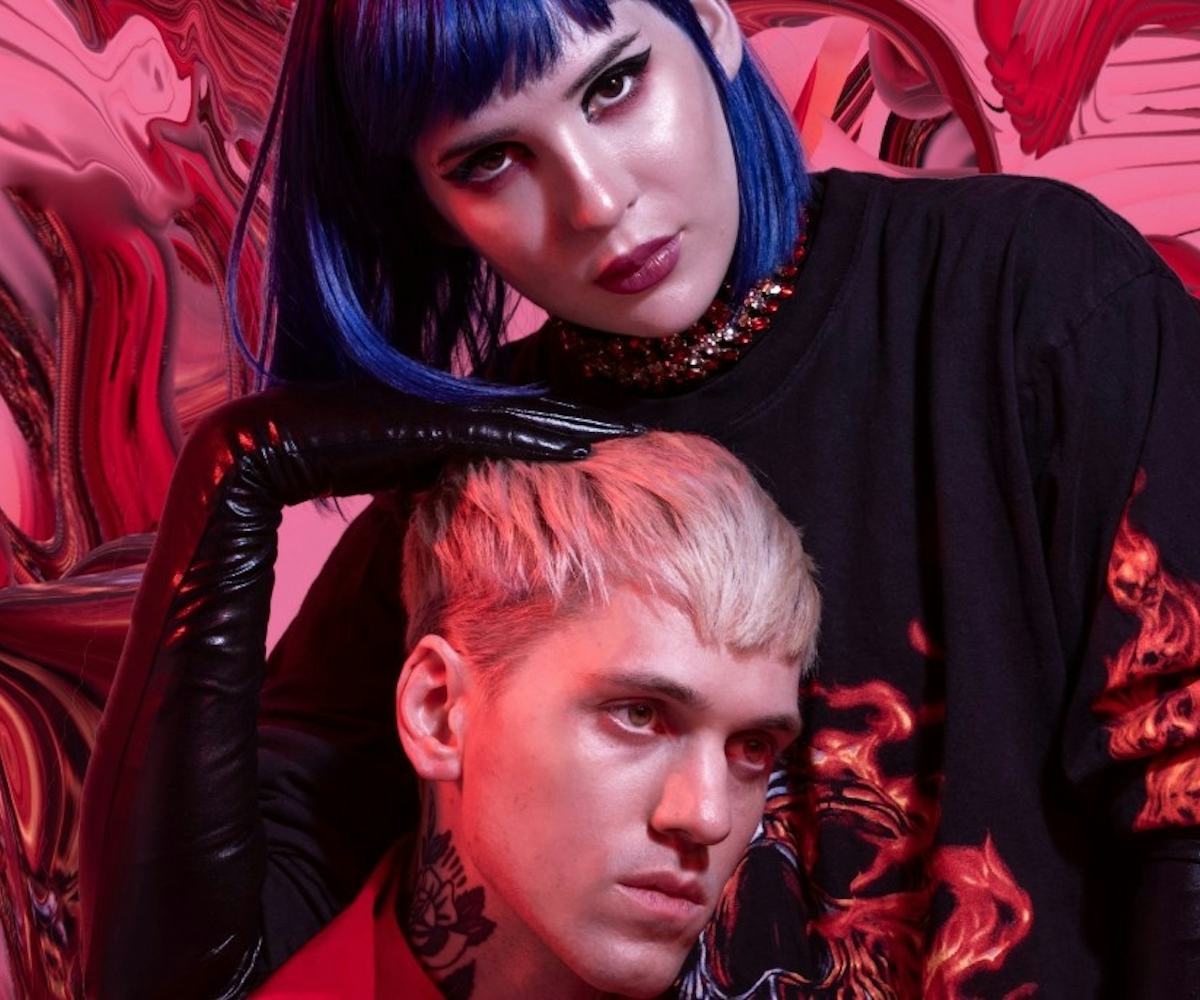 Helen Moga
Premiere: Glycerin's "Nothing Lasts" Is Nu-Gaze For The End Of The World
Watch Glycerin's new music video for their emo Nu-gaze track, "Nothing Lasts"
Casper Slate and James Wayne, the two members of Seattle-based Nu-gaze band Glycerin, make music that sounds like "if Courtney Love let down her defenses to hold hands with a sad android underwater." At least, that's how they compellingly and cryptically described their song "Nothing Lasts," the video of which premieres exclusively on NYLON, below.
It's true — there is something rather aquatic about their modern-take on the genre, the shimmering and clashing flux of the guitar on "Nothing Lasts," and Slate's crystalline vocals, which sound like they're drifting toward you through something...wet. Their lyrics about about the impermanence of everything that exists feel less intimately tragic and more nonchalant, gesturing at something vaguely apocalyptic. It's a compelling presentation of what feels to be a general consensus on the state of the world right now: "Build it up, and watch it fall," Slate sings in the hook.
In the accompanying video, Slate and Wayne can be seen roaming around their hometown, riding down escalators and in train cars. Editor James Mao, who's worked on videos for 88rising's Lexie Liu and Higher Brothers, transformed the footage to resemble a radioactive neon Seattle that might exist some hundred years in the future.
To Slate and Wayne's credit, they don't have much of a social media presence except for an Instagram and SoundCloud, but they are set to release an EP soon titled Wish I Was You. Watch "Nothing Lasts" below, and read on for a brief conversation with the pair about being amateur chemists and musicians in Seattle, and their love for all things sci-fi and apocalyptic.
Why the name Glycerin?
We're both amateur chemists in Seattle, so we use Glycerin all the time. The word by itself sounds beautiful. There's also something poetic in the fact that Glycerin is used in everything from beauty products to bombs. We met when we both migrated to the corner of a party while trying to avoid socializing. Unfortunately, we had to talk to each other because there was nowhere else to go.
How would you describe your music?
Like if Courtney Love let down her defenses to hold hands with a sad android underwater. Something like that.
Where do you guys draw inspiration from for your sound and style?
We have a wide range of influences — from My Bloody Valentine to Future to Arca. Sometimes we just watch satisfying video compilations for the background music. You know the ones where people play with slime or cut lipstick or make straws in a factory? It's like soothing, binaural meditation music. Visually, we draw a lot from sci-fi, futurism, and horror manga. We like things that look utilitarian and post-apocalyptic. Like you're ready for the end of the world.
How was it like working with James from 88rising on the visuals?
Working with James was effortless — we worked with him on our last video, too ("Wish I Was You"). He's super talented — he took the footage we filmed ourselves, and transformed it into these haunting dreamscapes. His work matches up perfectly with our sound and aesthetic.
What is your favorite song of the decade and why?
Alex Somers' "Out There." This song is from the Black Mirror episode "Hang the DJ," where two people are falling in love in a strange, sterile cyberworld. It makes you feel like you're longing for someone that doesn't exist.
Who's your favorite TikToker?
@melovemealot555. She's really cool — I think she might be a wizard or a magician or something.