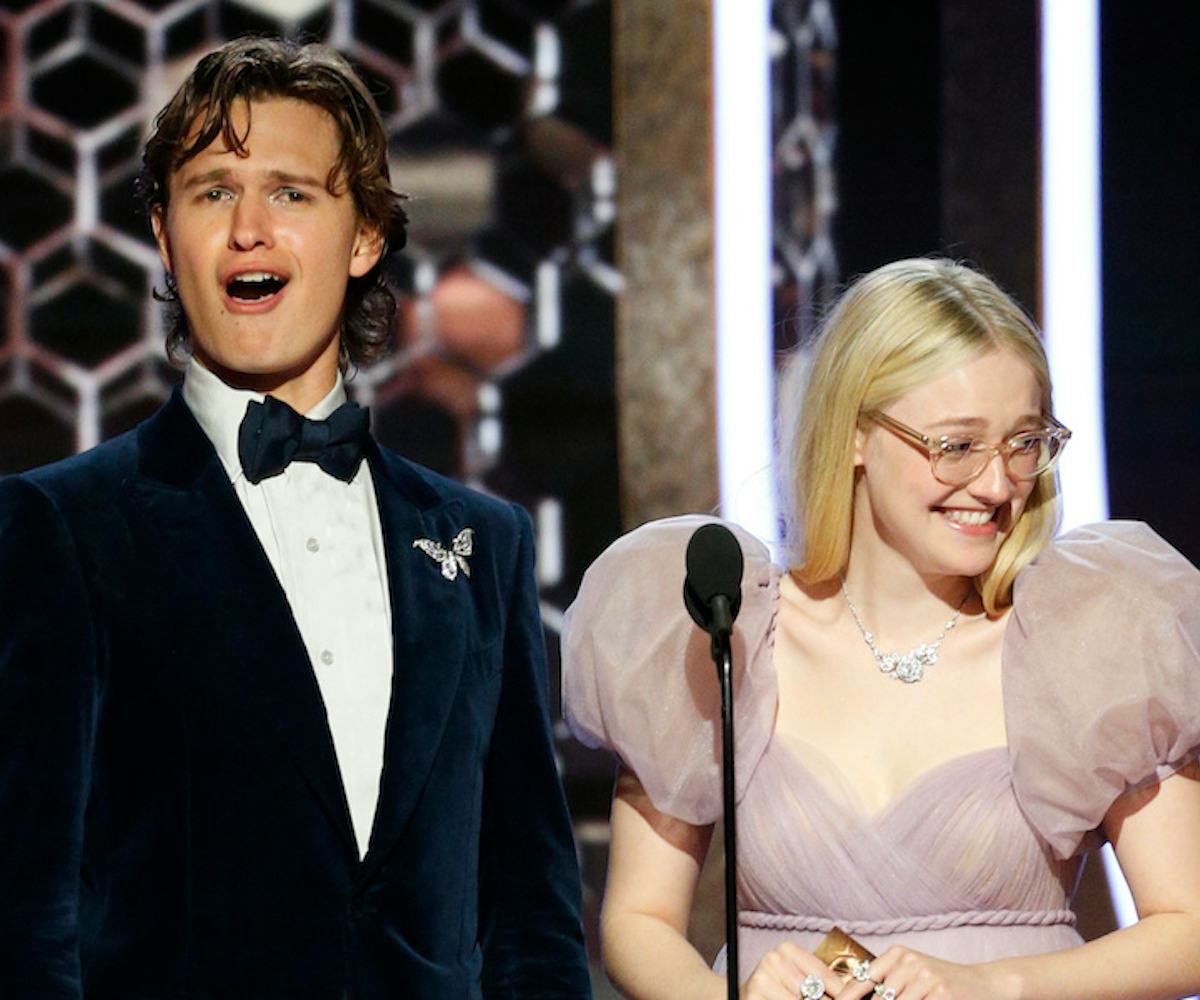 Photo by Paul Drinkwater/NBCUniversal Media, LLC via Getty Images
All The Best Memes From The 2020 Golden Globes
Beyoncé's presence was felt strongly across the internet
While awards shows continue to become less and less exciting with each year — the 2020 Golden Globes were no exception — the memes and internet reactions only get better. Host Ricky Gervais managed to throw in a few digs to keep the evening entertaining, taking a jab at Leonardo DiCaprio's inappropriate dating habits and riffing on the privilege held by Hollywood's elite, but nothing was enough to keep the slight tinge of existential dread from creeping in. Even Tom Hanks couldn't hide his emotions long enough for Gervais to wrap up his opening monologue.
Beyoncé's late arrival to the awards show proved to be the blessing the internet needed to become something worth watching. Bey's facial expressions alone were enough to spawn countless jokes and cleanse our palates after various awards were given to projects and actors we may not have been rooting for. As usual, her mere presence was noteworthy.
If you somehow escaped the endless droll of the HFPA chaotically assigning awards to movies and actors on Sunday evening, on the internet and otherwise, congratulations. Now, relive the evening the only way one should have to: through memes.
Sitting down to watch an awards show feels like a form of masochism at this point, but you know we'll be there, even if only to participate in the online banter later on.
The Child was there — Laura Dern saw him! (Just kidding, but Baby Yoda memes are always a good choice.)
Baby Yoda may not have actually waddled down the red carpet, but the real bummer was that none of the Cats cast were brave enough to show up to the Golden Globes in fur-suits.
This mid-crisis look is basically a renaissance painting depiction of anyone sitting down in front of their television at home.
The producers should have had a camera on Tom Hanks' face the entire night, and his reactions to Gervais' monologue were proof enough.
Gervais actually had some funny lines, especially when he was calling out the most privileged people in the room — maybe he should (definitely) do more of that, and ditch all of his transphobic material now and forever.
To be fair, Gervais had plenty of easy, cutting material to work with — Leonardo DiCaprio was sitting front and center, and still won't date a woman his own age.
Look past DiCaprio for a moment and you'll see Jennifer Aniston gazing on, the gift that kept on giving as Brad Pitt later walked onstage to accept an award. You want to know who really deserved that award? Whoever created that seating chart.
Whether or not you actually enjoyed Marriage Story, the internet is thirsty for Adam Driver, and subsequently freaked when he didn't take home a Golden Globe for his performance.
But, maybe Billy Porter had some pointers for Driver to secure him the win next time? This is a conversation I would like to see.
The best acceptance speech of the night was given bydirector Bong Joon Ho, who took home the award for Best Motion Picture - Foreign Language with Parasite (and arguably could/should have won outside of the foreign language category, had the film been considered). In Korean, he stated, "Once you overcome the 1-inch-tall barrier of subtitles, you will be introduced to so many more amazing films," which was the most beautiful read ever.
I mean, really.
Quentin Tarantino's acceptance speech for Best Screenplay - Motion Picture for his work on Once Upon A Time In Hollywood was, uh, not quite as good. In fact, it was very bad. He couldn't even find anything real to say about leading lady Margot Robbie, but that's probably because she hardly had any lines in the movie.
Busy Philipps was back playing her forever-role of the most supportive friend ever. Please look at me like this when I say moving things on stage!
But, the rest of the audience seemed to provide that support for Pitt alone.
One of the stranger moments of the night came as Joaquin Phoenix accepted Best Actor for Joker, which was a Big Choice made by the HFPA, no doubt.
His acceptance speech was just as bizarre as the reality of him taking home the award, but somewhere in there he had a point?
There was definitely a point about climate change and privilege in there somewhere.
Beyoncé was least impressed with Phoenix's win, remaining seated as the room rose to its feet to congratulate him on the award.
As a nation, we really put Beyoncé through it last night. She also had to watch Ansel Elgort sing like that onstage! Apologize, now.
Her presence was the only truly good, rewarding thing that occurred during the late hours of January 5, 2020.
Even Beyoncé may have clapped for Ellen Degeneres' big award, but somewhere, somehow, we all know this is exactly what was playing out in Dakota Johnson's head.
Ava DuVernay was entirely unbothered and called out the HFPA for her snub right from the comfort of her seat last night. "I don't have to juggle getting into hair, makeup, and gown while researching, reading, and worrying about impeding war. Also: easier to block trolls without newly manicured nails. Thanks HFPA. This is a win win!" We stan!
We may all still sit in awe of Paul Rudd and J.Lo's joint refusal to age, but it's definitely not a secret serum that's keeping their skin tight.
Forget anti-aging — Pierce Brosnan's transformation into a Hunger Games host is much more intriguing.