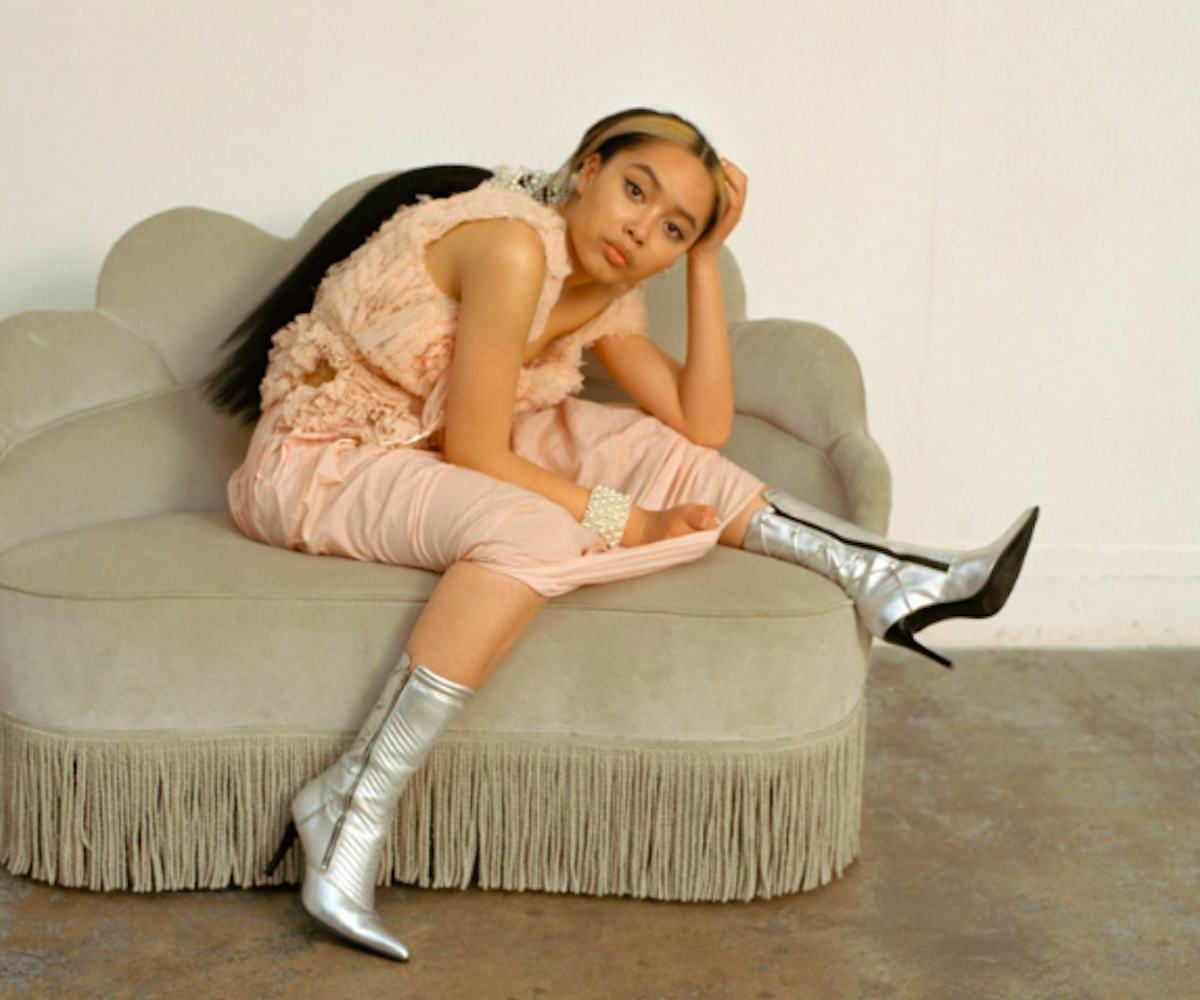 Photo courtesy of Warner Records
Griff's Acoustic Video for "Mirror Talk" Is Bedroom Pop At Its Coolest
We're obsessed with the stripped down feel of this song
Today, British pop singer Griff premieres the acoustic version of her electric debut song, "Mirror Talk," with an accompanying video, exclusively via NYLON. Recorded in the bedroom of Griff's childhood home, the video's raw, shot-on-an-iPhone feel parallels the minimalist instrumental accompaniment and stripped-down vocals on the single's track. The idea for the song's theme actually came to Griff while she was in her bedroom in her parents' house; it's also where the video was shot. "The whole concept of talking to yourself, for me, happens physically anywhere: train, home, bedroom, girls' toilet, in the car," Griff told us. The final product is bedroom pop at its coolest.
"Mirror Talk" explores the relatable habit of talking to oneself in the mirror when things get rough. "Come on girl/ Oh get it together/ You can't stay here forever/ Enough of this mirror talk," Griff sings. "I think it's something we all do consciously or subconsciously, and the idea was kinda based off of all the moments in the day/week where I pull my shit together and carry on with life," Griff said.
Instead of using a mirror to introduce the cardinal concept of the video, though, Griff opts for a small Asus TV she found in her bedroom. The opening shot shows a close-up of the TV, which live-streams Griff who, though a bit obscured, can be seen performing in the background. Just as Griff sees only a reflection of herself in the mirror during her "Mirror Talk" sessions, at first, the viewers only witness a reflection of Griff's performance through the Asus TV. Eventually, the camera pans out and a dialogue between the mirrored live-stream on the Asus and Griff's actual performance in her bedroom begins.
Whereas the official video for "Mirror Talk" pictures Griff in ethereal gowns and pearls, she rocks a retro sweater vest over a white blouse paired with norm-core sneakers in the acoustic version. The outfit looks like something Griff might have been wearing in her room after school one evening, a choice that complements the vulnerability of the lyrics. "I guess I quite like clothes and attempt to make them now and again," Griff said. "In fact, I made the top I'm wearing in the artwork. I think the clothes have just been a fun way to give my songs a good visual."
Griff assured us that after "Mirror Talk," there is more music on the way. Get an exclusive first look of Griff's bedroom pop dream, below.