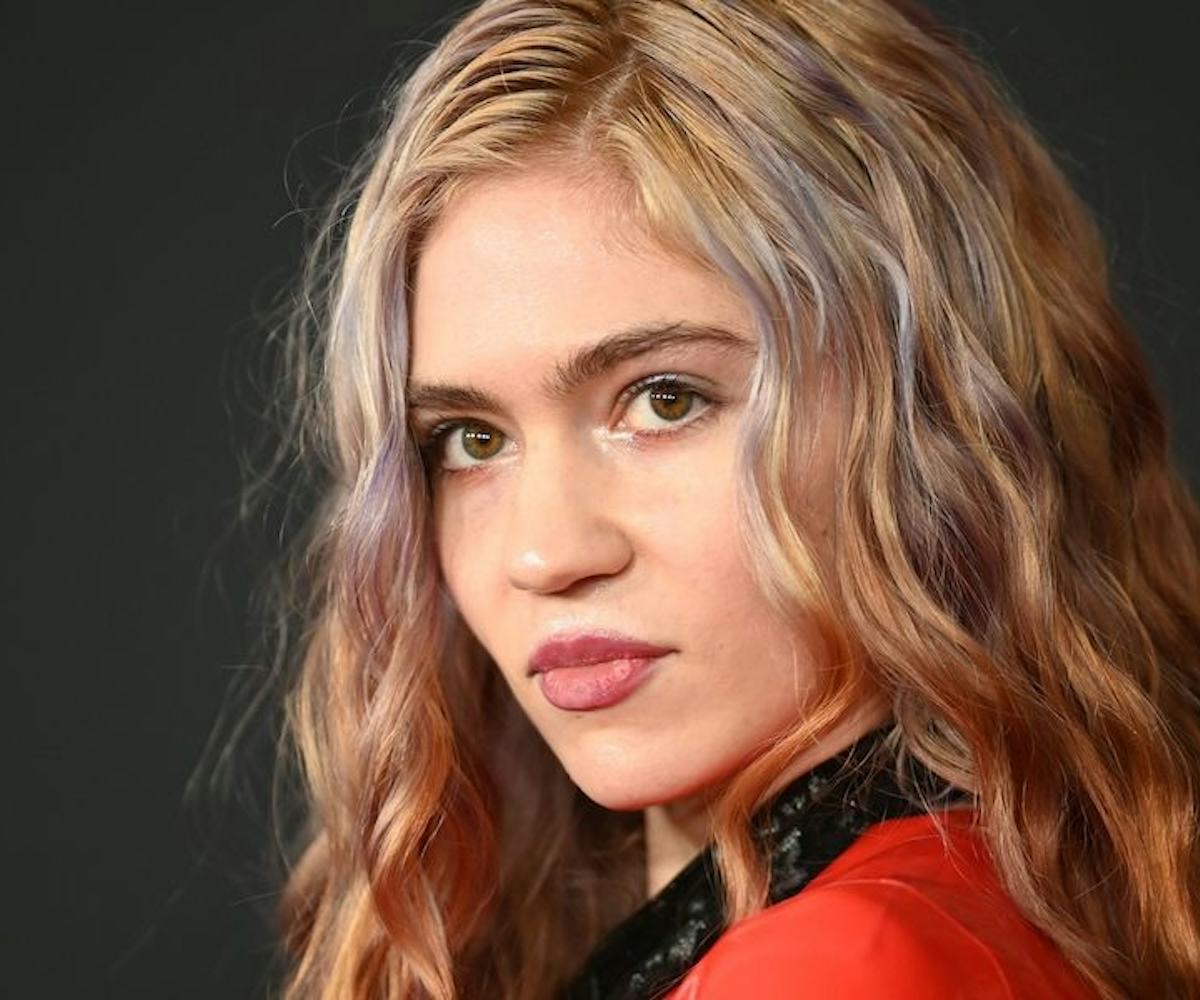 Photo: ROBYN BECK/AFP via Getty Images
Grimes Explained Her Digital Avatar, WarNymph
"The digital realm makes the real realm more rare and precious"
We as a society need to accept that Grimes is operating 300 years in the future. She's ready to upload her consciousness to the cloud and go to Mars if the opportunity presents, and that's okay. Miss_Anthropocene, her highly-anticipated forthcoming album, asks the question: "What if there was a goddess of climate change?" In addition, Grimes' latest venture is ushering in a new era of her digital avatar, WarNymph. In a new interview with The Face, Grimes waxes poetic and candid on digital avatars and how they tie to pregnancy, mental relief, and of course, the future.
When Grimes first introduced WarNymph back in January, there was speculation that the avatar was some sort of embodiment of her unborn child. She quickly shut down the rumors, and WarNymph grew from a baby into a teenager — clad in head-to-toe Balenciaga no less. "Everyone is living two lives: their digital life and their offline life," she explains of WarNymph's creation. "I want to untether my two lives from each other for mental-health purposes, haha. And also for fun."
The concept is by no means new; digital pop star Hatsune Miku sells out stadium tours to adoring fans and Lil Miquela reports from fashion weeks and wears buzzy brands like Marine Serre and Kim Shui like any real life influencer on her A-game would. Avatars are the foundation for most of the gaming industry. For Grimes, the liminal space digital avatars create adds a sense of mental relief. "We need to start thinking about 'mental health hygiene,'" she says. "In a video game there's an avatar between myself and the monsters I'm fighting. We thought maybe we should try to work on this idea IRL."
Grimes's pregnancy also plays a major factor in WarNymph's genesis. "Having a digital body allows me to keep working throughout the later stages of my pregnancy, and after I have my baby, so I can spend more time with them. It's hard for me to do photoshoots and fit into clothes at the moment, but WarNymph is here in your magazine promoting my album for me, haha."
Grimes and her brother and creative partner, Mac Boucher, have lofty goals for WarNymph including growing, dying, respawning, and eventually becoming playable. WarNymph's creation is by no means a by-product of any cynicism of Grimes's part. "The digital realm makes the real realm more rare and precious," she explains. "It also offers escapism and perfection. Sometimes I want imperfection, real life. Sometimes I want perfection."