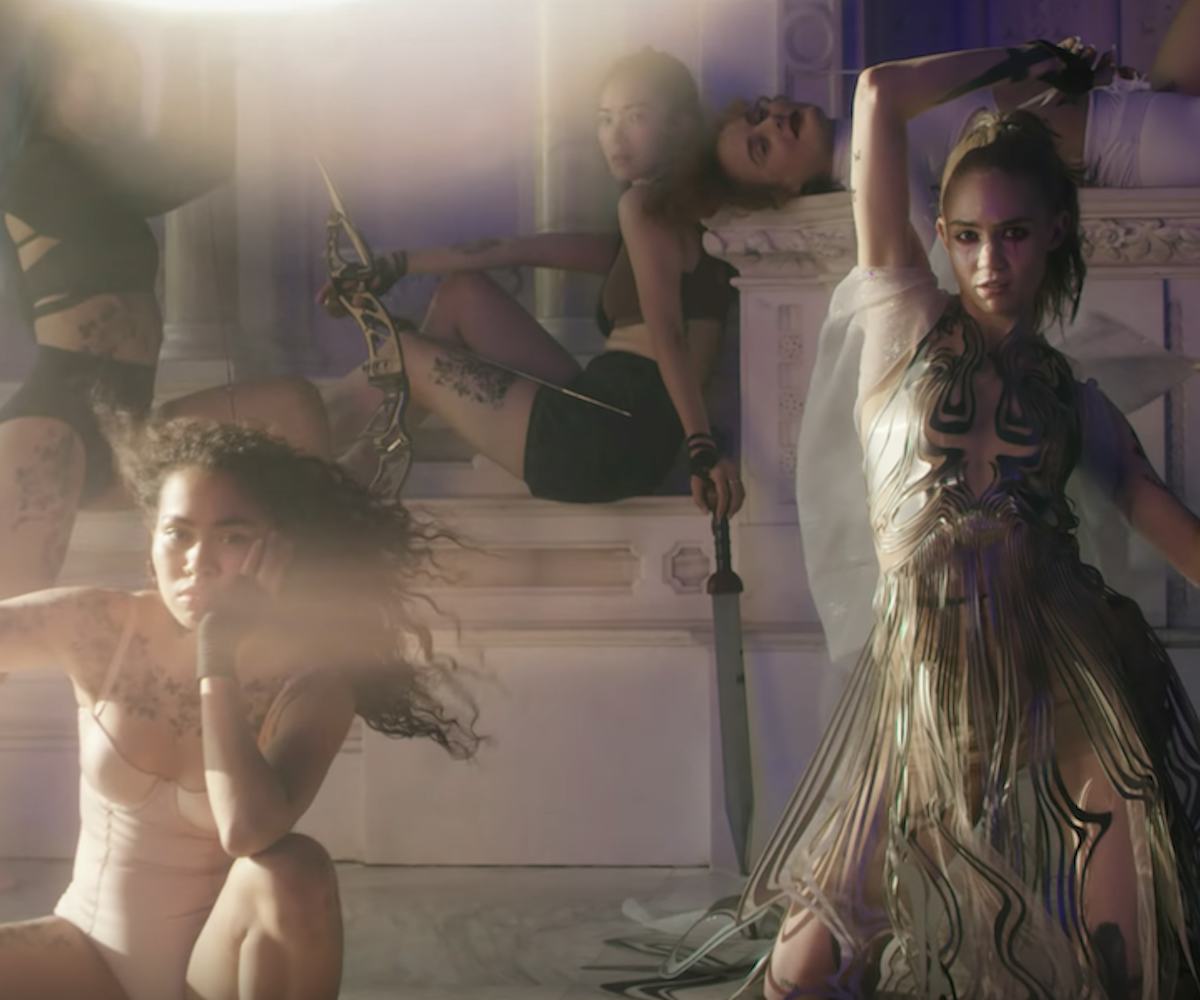 Screenshot via YouTube
Grimes Is An Ethereal Warrior In New 'Violence' Music Video
It's the latest from her forthcoming album 'Miss_Anthrop0cene'
Grimes has revealed new visuals from her concept album Miss_Anthrop0cene for dark pop single "Violence," a collaboration with producer i_o, and we might just have our first real look at the Goddess of Climate Change she's become. In the video, Grimes is a sword-wielding princess kneeling atop an altar, with a crew of dancers ready to fight at her side.
At the top of the video, Grimes is reading from ancient text The Art of War by Sun Tzu as a breeze flutters through her mesh gown. The camera pans out to reveal her fighters as Grimes sings of dangerous power play in a relationship, repeating throughout the song, "I am like, begging for you baby/ Makes you wanna party/ Wanna break up/ Baby it's violence," and "You can't see what I see/ Cause you/ You feed off hurting me."
Back in March, Grimes gave a pretty specific descriptor of the goddess she would create on Miss_Anthrop0cene: She's a "psychedelic, space-dwelling demon/ beauty-Queen who relishes the end of the world." Grimes also added that she's into "godly personifications of abstract/horrific concepts" and that each song on the album would address "a different embodiment of human extinction through a Pop star Demonology," and "Violence" is right in line with that. She's an ethereal, intergalactic princess dancing and training for a fight, finding pleasure at the mention of violence, whether it be metaphorical or literal.
Watch the video for "Violence" below.