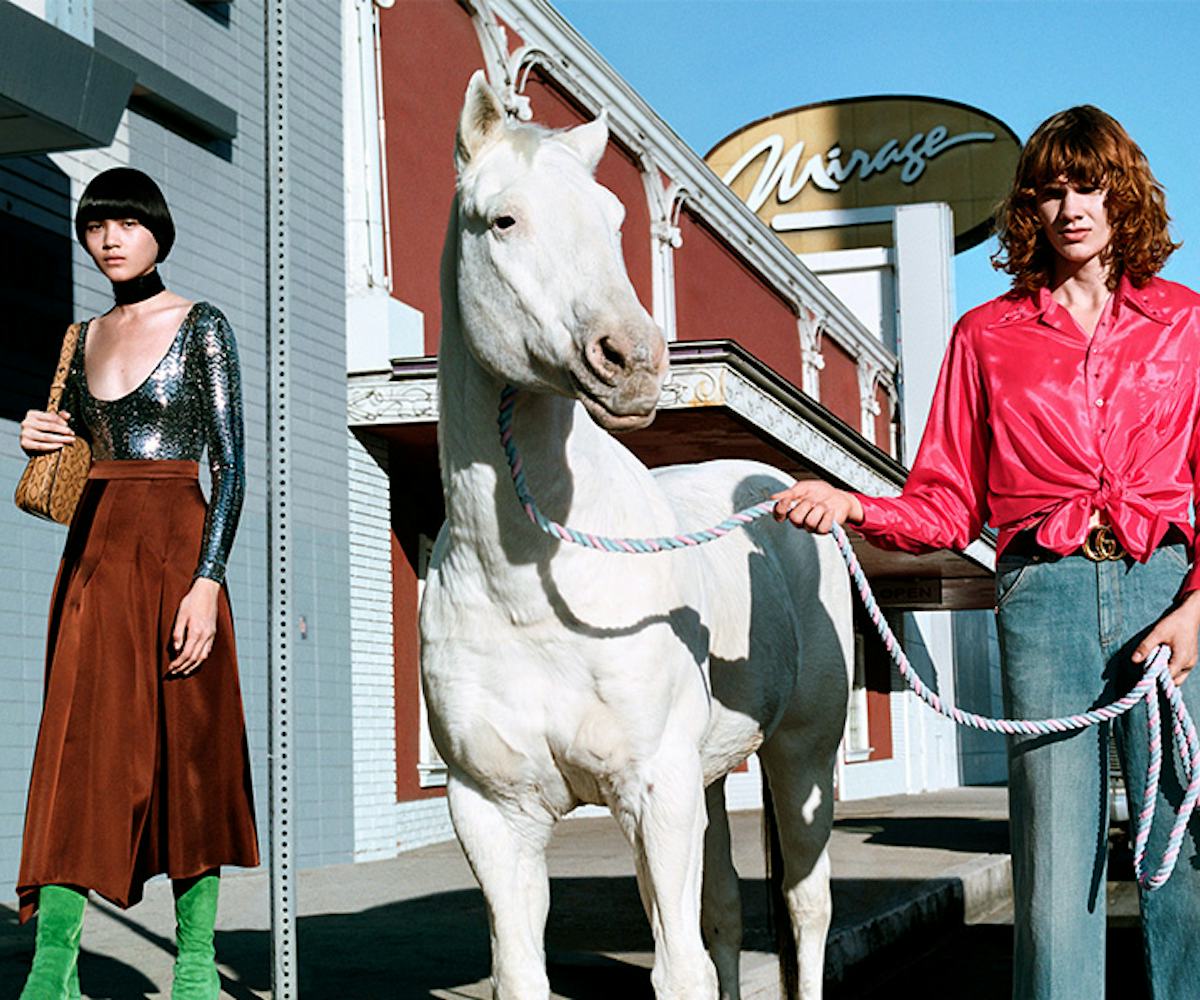 Photo by Yorgos Lanthimos Courtesy of Gucci
Gucci Brought Horses To The Chateau Marmont For Its New Campaign
The reign of the horse girl continues to giddy-up through the high fashion world as Gucci's Spring/Summer 2020 campaign debuts. Creative Director Alessandro Michele tapped director Yorgos Lanthimos to photograph the campaign, which brought horses and models throughout Los Angeles and to the legendary Chateau Marmont.
While Gucci doesn't give a straightforward explanation for including horses throughout the campaign — not so much as a simple yeehaw — but they do, however, offer a flowery list of suggestions for what the horse could represent. "Never underestimate the power of a triplet. Omnia tria divina sunt says the old adage. Even more so if the trio includes a horse," the brand shares in a press release. "Is the longhaired, tailed equine a pet? A family member? A therapy aid? A nod to the enduring equestrian lineage in the Gucci DNA? A mythologic incarnation of some love-messaging deity? Maybe all of the above, maybe none."
Needless to say, Gucci did not find a stable or pasture in Los Angeles to shoot the horses in their natural habitat, but rather made them into on-brand hipster socialites for the visuals. They're taking a dip in the pool with an overdressed model, riding in a vintage sports car (literal horses in the back!), and having a tea party in a parking lot. One is even stuck in traffic with a nipple-pasty-clad model riding bareback. You can't say it's not original!
Take a look through all the imagery from the Gucci SS20 advertising campaign below.