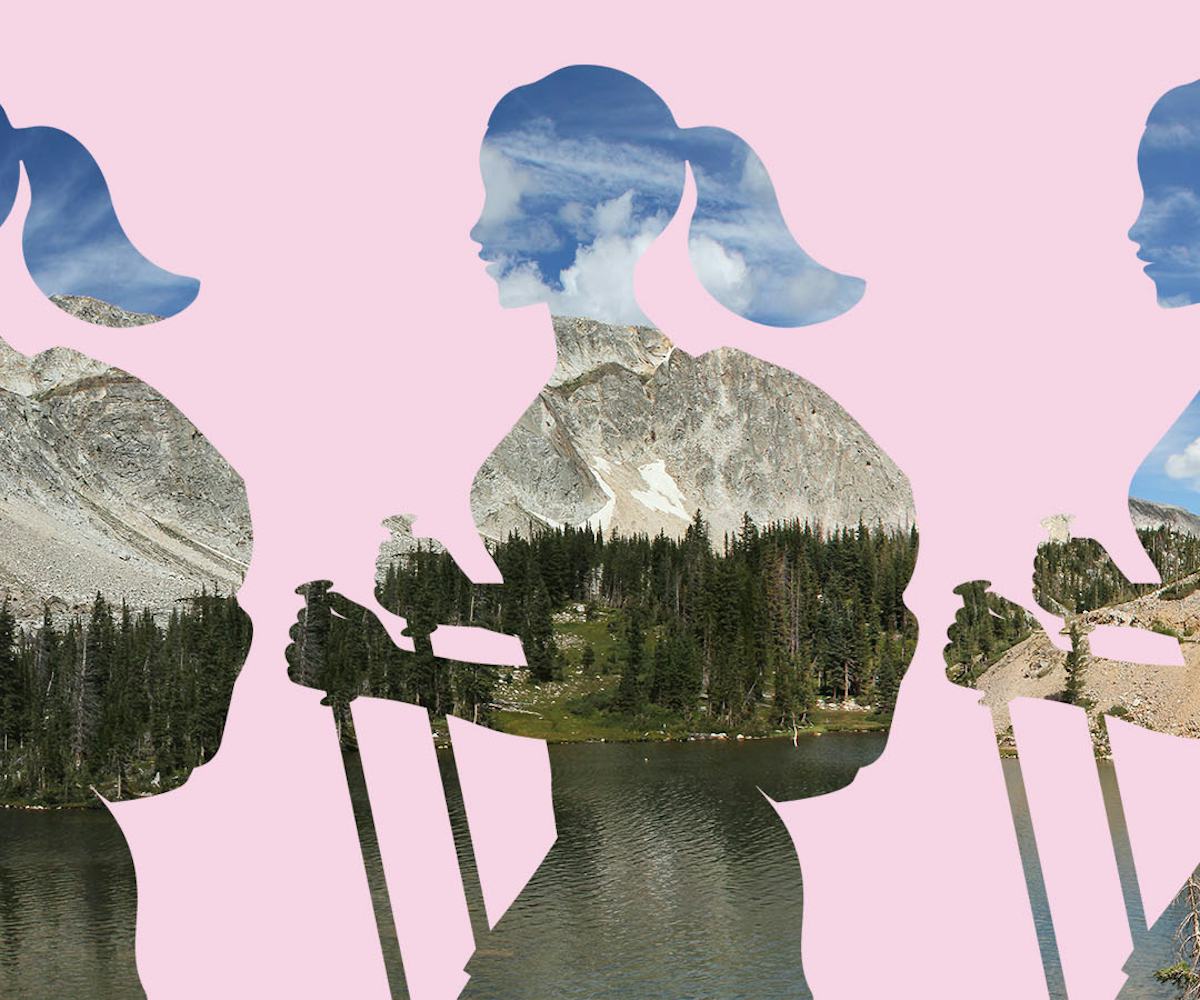 Photos from Getty
Wyoming Is Where You'll Want To Plan Your Next Girls Trip
Everything to do in the Equality State
It was less than a week after the Brett Kavanaugh hearings that I found myself plodding through the snow blanketing the Gap Lakes Trail 11,000 feet high in Wyoming's Medicine Bow National Forest. There were 12 of us women climbing the saddle between Sugarloaf and Browns Peak—some seasoned hikers in thick Gore-Tex trail shoes, others city mice in moto boots and fluffy teddy bear coats. Each of us was quite literally following in the footsteps of Rebecca Walsh, the cheery powerhouse behind Hike Like a Woman.
As we climbed past ice-cold lakes and remarked on the strange calls made by pikas—a sort of small alpine cousin of bunny rabbits—Walsh filled us in on her return to Laramie. It was this tiny town of just 32,000 where she and her husband remembered having a lot of fun before they joined the military. It was here that Walsh wanted to start a family, and where Wyoming's ever-present array of natural wonders inspired her to start Hike Like a Woman, a blog and podcast that quickly snowballed into an online community and in-person tour group.
Walsh's story is unique, but also followed the contours of many women's stories I heard during my week in Wyoming. Jill Hunter, for example, came to Lander—an even tinier town of 7,000 that sits 200 miles northeast of Laramie—for the rock climbing. She stayed to buy a restaurant and eventually found a feed store, as well as The Mill House Inn, an impeccably decorated, deeply welcoming downtown bed and breakfast in a rambling flour mill built in 1888.
At an informal gathering at the Inn, Hunter introduced me to a bevy of local women, many who seemed to be drawn to Wyoming by the sort of happenstance that mystics might describe as a calling. One of the attendees, a potter with flowing blonde hair, had arrived in the 1970s by Greyhound Bus. Another described how she had come with her husband, only to stumble into the journalism business. Entrepreneur Jenna Ackerman was drawn in by the hiking and climbing in Shoshone National Forest and Sink's Canyon before founding a restaurant called The Middle Fork in 2012.
All these incredible women crafting their own lives in the Equality State are part of a long tradition of women who came here and found more than they expected. A hundred-and-fifty years before I joined Rebecca Walsh for a hike or broke bread with Jill Hunter, a woman named Esther Morris arrived in remote South Pass City by stagecoach from Illinois.
Despite the name, South Pass was less a city and more the after-hours assembly of men who came to work the nearby goldmine. Morris' husband, a shiftless drunk with a violent temper, aimed to open a saloon. What neither of them expected was that Esther would make history as the first female justice of the peace in the country.
The sharp divisions that defined the United States in 1869 weren't terribly dissimilar to the ones that kept us up at night in 2018. The Civil War had ended just four years before, and the survivors were pouring into the American West. The women's suffrage movement had kicked off in Seneca Falls, New York, only 20 years prior, and the question of women's right to vote was a hotly contested issue. That was especially true in Wyoming, where territory legislator William H. Bright made the controversial decision to pass a bill granting women's suffrage—decades before the nation would do the same.
As one of the historians who teach school groups and visitors about South Pass City's history explained to me, the contention around women's suffrage in Wyoming wasn't far off from the explosive debate that surrounded the Kavanaugh hearings last year. In fact, the controversy was so great that the justice of the peace in South Pass City quit his post in protest.
That left District Court Judge John W. Kingman in charge of finding a new justice, and Esther Morris was his choice. She was just outspoken enough for her small town to be aware of her views on abolition and women's rights, and it was a prime opportunity to put the idea of women in office to the test. Though it took some convincing, Morris eventually accepted and began handling cases from her family's tiny one-room cabin at the far edge of South Pass City. When her husband tried to express his views on women in office by force, she responded by having him arrested.
Though her term was brief, Morris continued to play an active role in national suffrage efforts and attended women's rights conventions. Her impact continued to be felt in Wyoming, too, where women not only retained their right to vote when the territory became a state but where in 1924 Nellie Tayloe Ross was elected as the first female governor in the country. Later still, Ross was the first woman to be appointed director of the U.S. Mint.
Outlanders might be quicker to associate Wyoming with the Cheney clan, the oil boom, and Yellowstone National Park than the feminist movement—at least I was. But Wyoming women are still blazing trails in their own unique way. Pay a visit to nearly any city in Wyoming, and you'll find community-minded women making this place their own. Rebecca Walsh, Jill Hunter, and Jenna Ackerman are hardly the only women carrying on Morris' legacy.
Instead of heading to Nashville or New Orleans for your next girl gang weekend, you can easily check out how the ladies are still doing it for themselves in the Equality State. Head to Sweet Melissa's in Laramie to experience one of the oldest bars still operating in the state. If you're anticipating a ranch-country menu full of beef, you can leave your spurs and expectations at the door. Owner Melissa Murphy is serving up vegetarian and vegan comfort food that even die-hard carnivores can enjoy.
Right around the corner is the Bent and Rusty. It's a cavernous store crammed with dreamy antiques, upcycled furniture, and one-of-a-kind goodies. It's also America's largest craftsman's co-op, and a lot of the makers with a stake are women. Call ahead, and you can even arrange for a workshop in the basement studio, where one of the all-female staff will lead you through an activity like chalk-painting. The gals at Bent and Rusty can even hook you and your besties up with a vacation rental big enough for a group and definitely worthy of the 'gram.
In Casper, Wyoming, don't miss a cocktail or two at Backwards Distilling Company. This family-owned outfit makes their spirits on-site and spins them into fanciful concoctions in a charmingly burlesque tap room. Time your visit right and you can detox and retox at happy hour yoga, attend a trunk show with wares from local artists, or get a tour from frontwoman Amber Pollock. When she isn't working the counter at Backwards, Pollock is helping other women jump-start their passion projects as a board member with the Casper Area Economic Development Alliance.
Chase cocktails with dinner at The Pump Room, a cozy, darkly glamorous hideaway with a thoughtful menu and drinks list. Or, if you need a pick-me-up the morning after, head to the Crescent Moon Coffee Shop, owned and operated by 19-year-old Makenzie Rothfuss. She hosts open mic nights, Coffee with Cops, and a chapter of the teen book club, amongst other events, and the menu includes special flavored lattes that nod to local businesses like the 42° North outdoor store around the corner.
For more substantial hangover grub, the Cheese Barrel will fix you right up. This greasy spoon is run by three women who mean business when it comes to green chilis and, of course, cheddar cheese. Or if you prefer a little hair of the dog, a Fly-Tying Class and Wine Tasting at the Ugly Bug Fly Shop is the Wyoming equivalent of a paint-and-pour, and it's even more fun when you can take your creation out for a spin on the Platte River. The guides at Ugly Bug can let you know the best spots to go if you want to test drive your glittery new nymphs and wooly buggers.
A hundred-and-fifty years after Morris first exercised her right to vote and hold office, we still have a long way to go. As the #MeToo Movement, Kavanaugh hearings, and comments on Representative Alexandria Ocasio-Cortez's boyfriend just go to show, no state is truly the Equality State yet. But if you need to get away from the news cycle or celebrate a loved one, Wyoming is a place where you can experience both stunning scenery and a chill vibe. Not to mention something much harder to find—a place where women have been making magic for 150 years, simply by stepping up and being their tenacious selves.