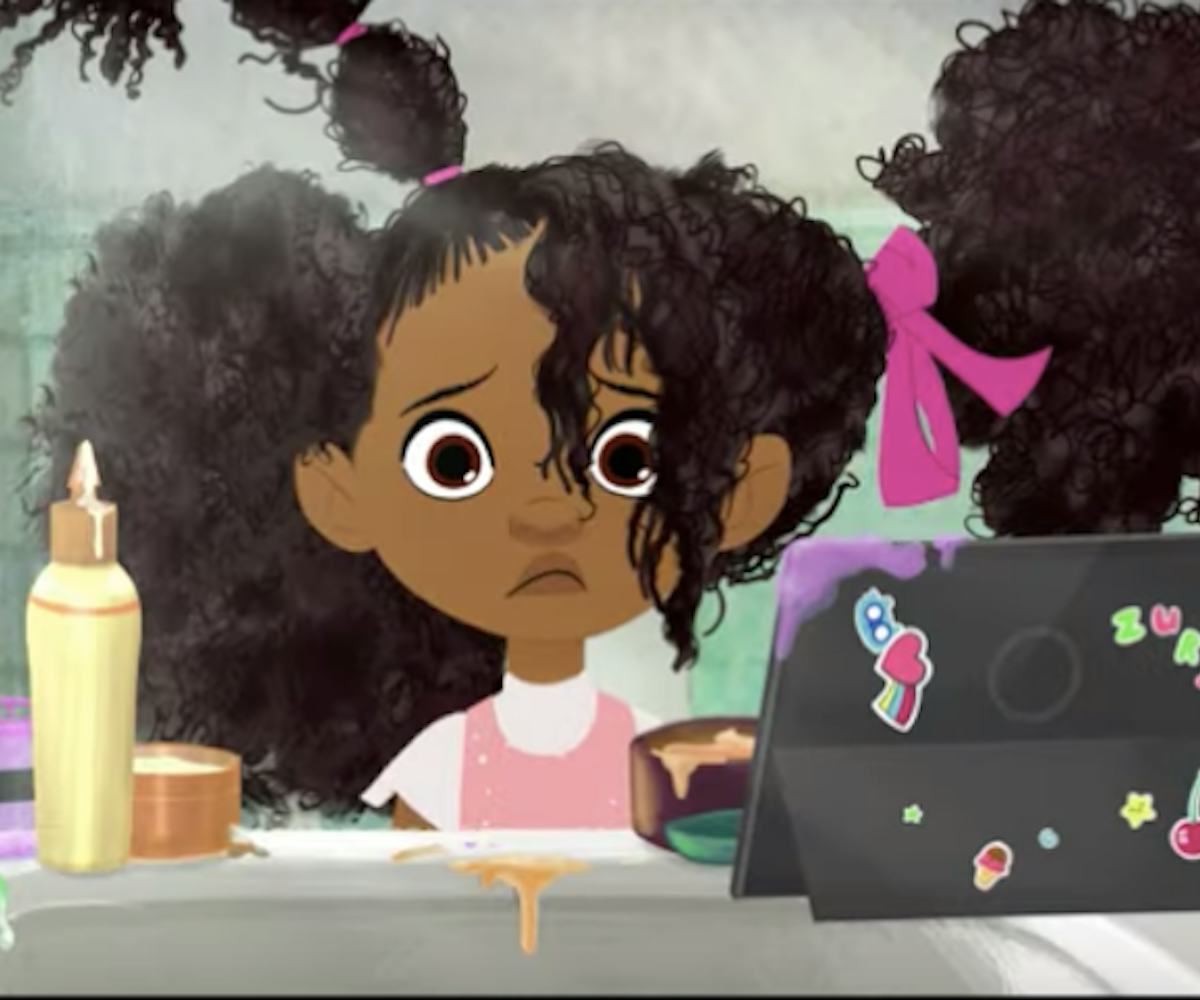 Photo courtesy of Sony Pictures Animation
The Oscar Win For 'Hair Love' Was A Step Forward For Diversity In Animation
It takes home the award for Best Animated Short
The short film created by former NFL player Matthew A. Cherry in conjunction with Dove, Hair Love, is now an Oscar winner. Released in December 2019, the six-minute animated film followed the adorable story of a father learning how to do his daughter's hair for the first time. Its important message of representation, which was intended to "normalize Black hair," was nominated for an Academy Award for "Best Animated Short Film," and during Sunday's ceremony, it was officially declared the winner.
Funded through Kickstarter, Cherry had previously told NBC News that he wanted children and families watching the film to be able to see themselves through the characters. "Media is so powerful," he said. "When you grow up and watch TV shows and movies and you don't see yourself represented, but you see every other type of hairstyle represented, that can really affect your self-confidence."
Following the film's Oscar win, many on Twitter expressed their admiration for Cherry's work. "My type of hair...the type people cursed over while trying to comb and made fun of while I was child...won an Oscar. Excuse me while I go cry," Tiffany Jackson wrote. "Representation matters," another person wrote. "Normalizing black hair shouldn't even be a thing, but it is," one Twitter user wrote. "The short is beautiful, meaningful and so important to so many people!"
The film's producer Karen Rupert Toliver joined Cherry on stage to accept the award, and during their acceptance speech, Cherry encouraged viewers to sign a petition supporting the Crown Act, a piece of legislation that was first passed in California. Under the Crown Act, which stands for "Create a Respectful and Open World for Natural Hair," employees and students would be protected from hair-based discrimination.
The win makes Toliver the first Black woman to win an Oscar in any animation category, and Cherry the second black man. Kobe Bryant — to whom the pair dedicated the award on stage — was the first, for his 2018 short Dear Basketball.
See the full acceptance speech, below.