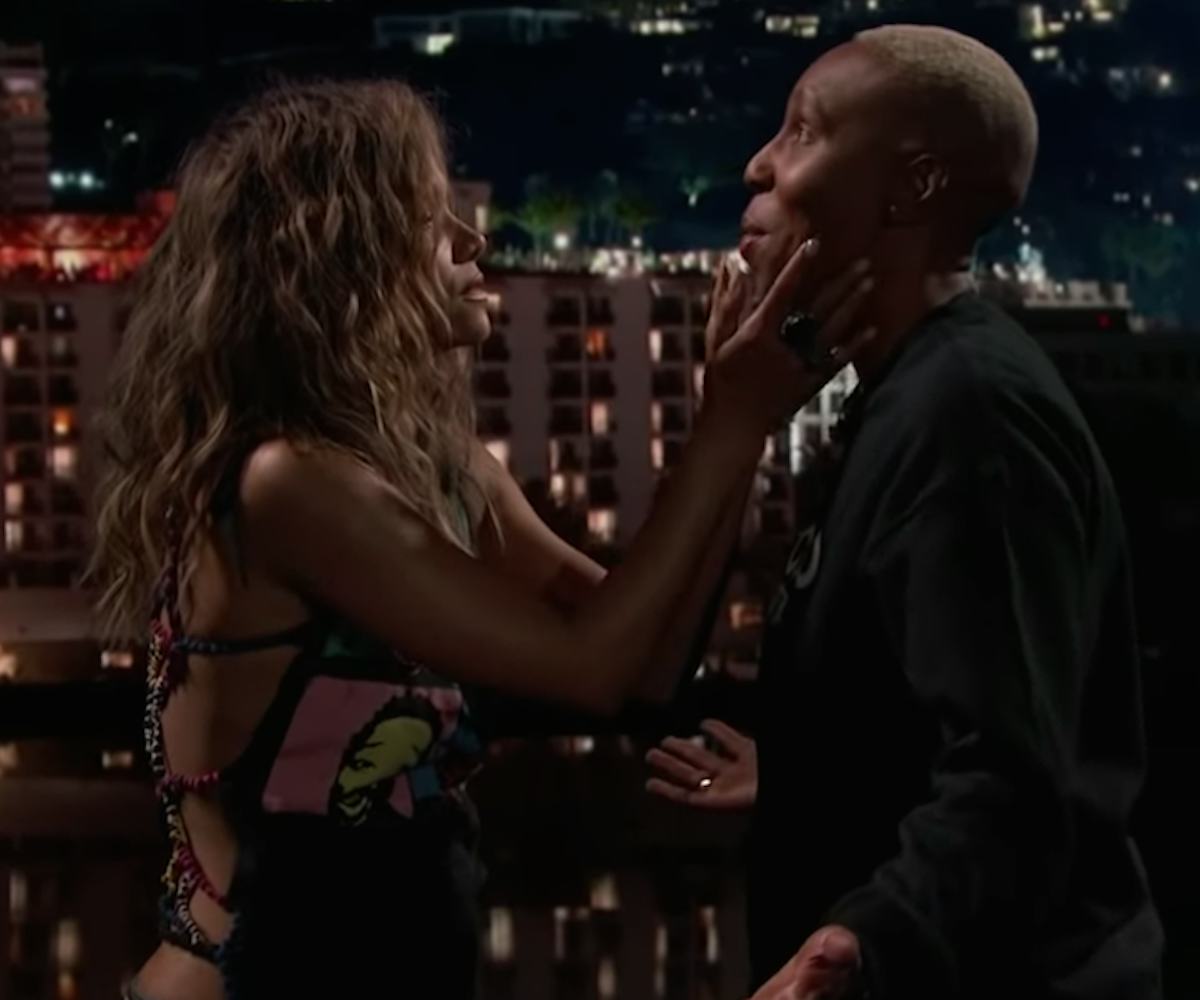 Halle Berry Kissed Lena Waithe On 'Jimmy Kimmel Live'
After delivered the perfect pep talk
When Lena Waithe took over as a guest host on Jimmy Kimmel Live, her first time ever as a late-night host, actress and friend Halle Berry knew exactly how to pump her up. After Kimmel's security guard Guillermo Rodriguez hit the "Berry Button" (a large button on the wall that says just that), Berry came running out in a backless tee and boyfriend jeans to give Waithe a pep talk... and plant one on her.
Berry rolled in as if she'd just jogged from hanging out with her friends to come to Waithe's immediate aid, joking she wasn't dressed for the occasion; but, let's be real, she could wear a paper bag, and we wouldn't complain. Waithe requested the "Halle Berry juice," similar to her 2002 Oscars speech, and Berry immediately had the lights turned down low and jumped into inspirational speech mode.
"I know that you are a force of nature. You are a beautiful African-American queen going after everything that is hers," Berry said before going on to list Waithe's many titles and accomplishments. She jokingly concluded, "And you already winning, girl, 'cause you are dressed way better than Jimmy ever will," before asking if Waithe needed anything else. Clearly, Waithe thought that was all Berry was there to do, because she said no, but Berry insisted she needed one more thing before grabbing Waithe's face and surprising her with a kiss. "Wow," Waithe reacted after Berry pulled away, and honestly same!
Watch the video, below.