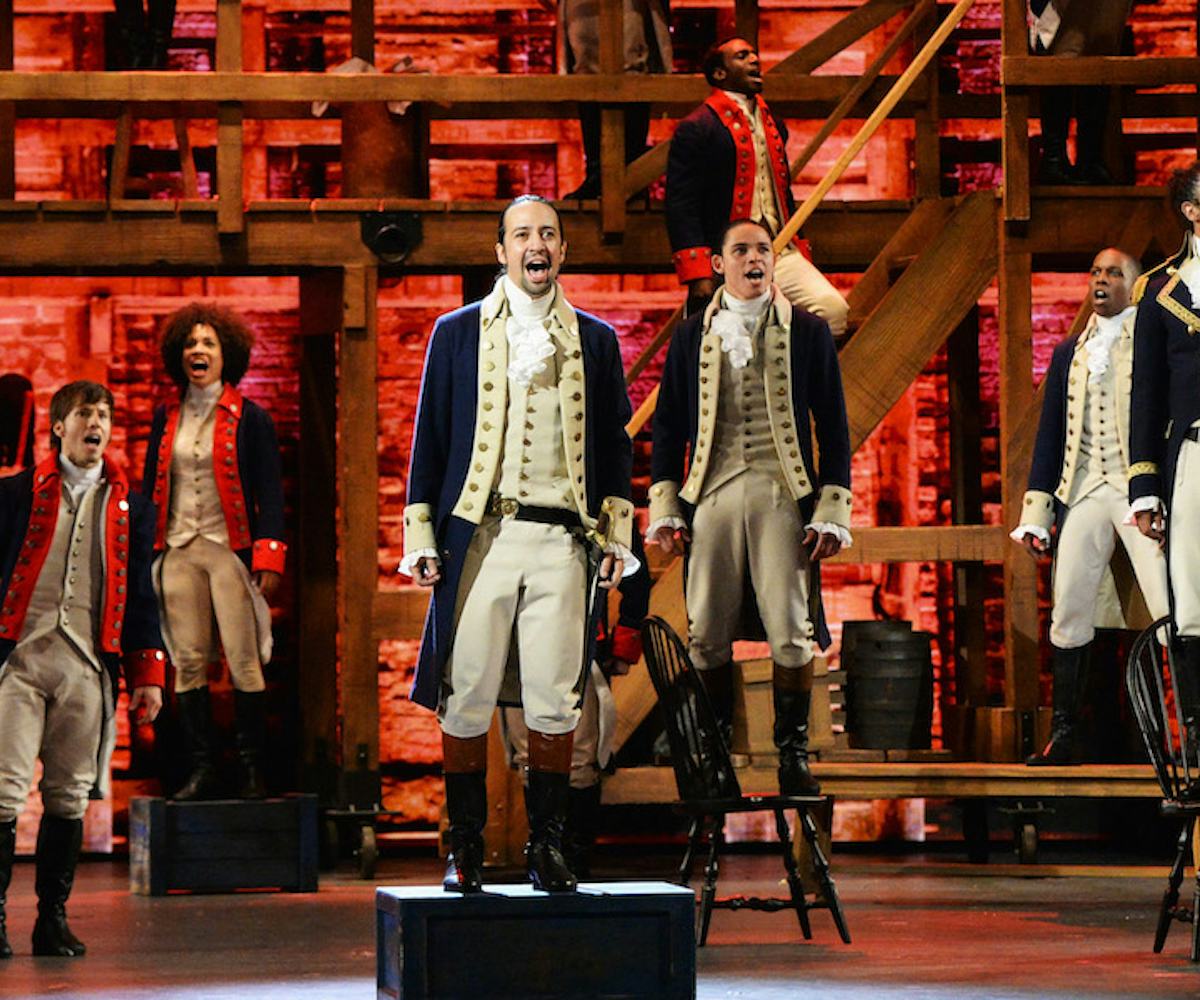 Photo by Kevin Mazur/Getty Images for Tony Awards Productions
It's About To Become Way Easier To See 'Hamilton'
*Lin-Manuel Miranda voice* just you wait
Forget the notoriously difficult ticket lottery, because it's about to get way easier to see Hamilton. Disney has unveiled that a Hamilton musical film will hit movie theaters next year, making the massive hit accessible to the masses at much less than the price of a Broadway ticket.
The forthcoming release, dubbed #Hamilfilm on Twitter, is not a film adaptation of the stage production, but rather a recording of a performance that took place right at the Richard Rodgers theater with the entire original Broadway cast. Without having to time travel, you'll be able to experience show creator Lin-Manuel Miranda's take on Alexander Hamilton, as well as Jonathan Groff's King George III.
According to a press release (via Deadline), the film is a "leap forward in the art of 'live capture,'" which combines "the best elements of live theater and film" for "a cinematic stage performance that is a wholly new way to experience Hamilton." Whatever that actually means, you can bet there will be packed theaters filled with theater nerds trying their best not to rap along with Daveed Diggs during "Guns and Ships." Hopefully, Miranda and co. have already predicted this and will schedule a few rowdy screenings for those who'd like to sing along.
Back in 2017, Miranda teased the possibility of a true adaptation of the musical for the big screen in an interview with The Hollywood Reporter. At the time, he confirmed having read a first draft of a Hamilton film script, written by In The Heights playwright Quiara Alegría Hudes, but noted that it would not come to fruition for a matter of years until all have had a chance to see it onstage. Now, with the stage recording being spread to the masses, maybe Miranda will consider speeding up the timeline for a proper Hamilton movie.
As previously announced, Miranda's debut musical hit In The Heights — which predates Hamilton by a decade — has been adapted into a musical film and will hit theaters on June 26 this year. Anthony Ramos, who originated the role of John Laurens / Philip Hamilton in the Broadway production of Hamilton, stars as Usnavi, "magnetic bodega owner... who saves every penny from his daily grind as he hopes, imagines, and sings about a better life," per the synopsis. Check out the film's trailer here.