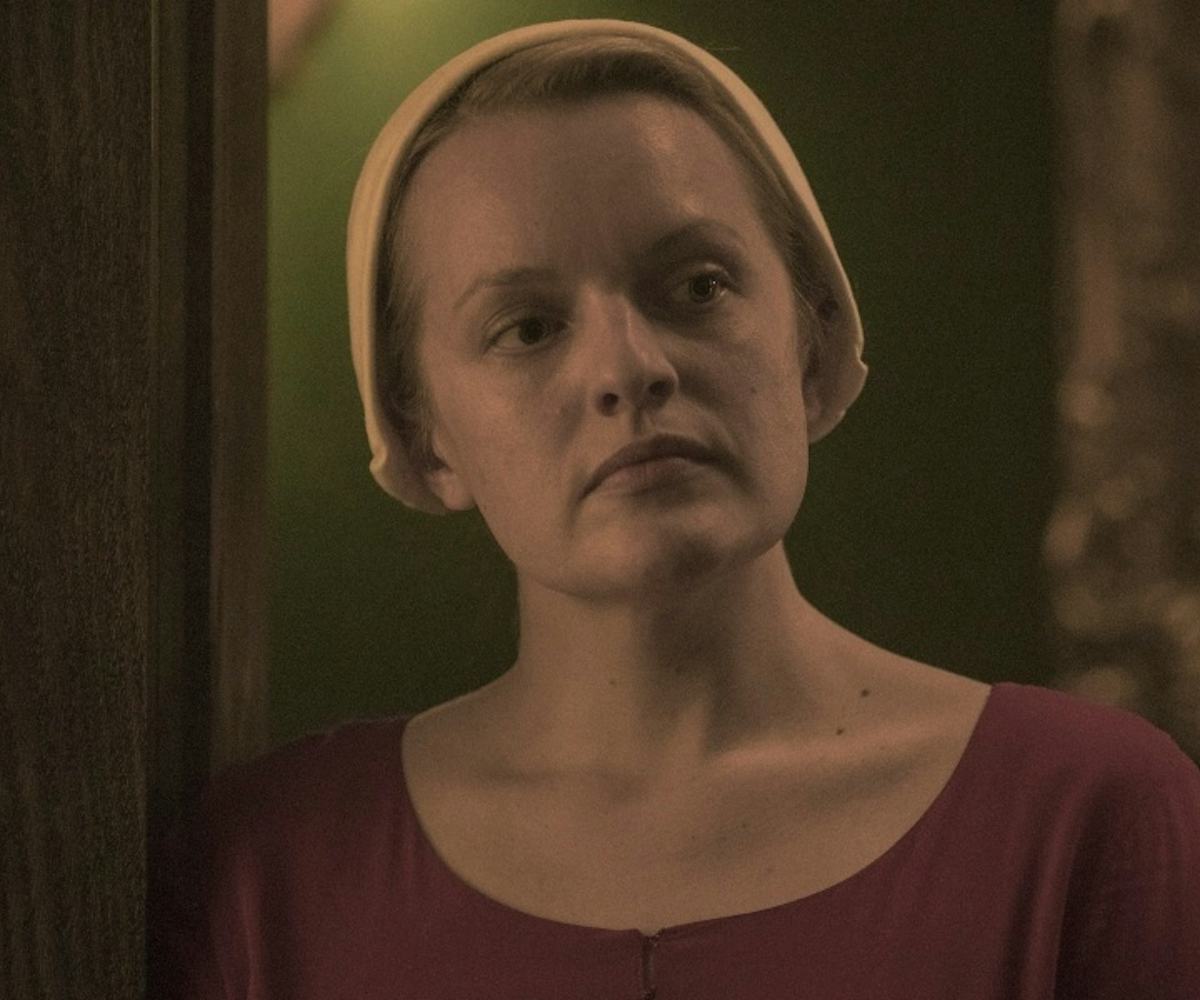 Photo by Jasper Savage/Hulu.
June Became A White Harriet Tubman In 'The Handmaid's Tale' Finale
But it's still really good TV
Season 3 of Dear White People included a hilariously spot-on take on the allure of Hulu's The Handmaid's Tale. When main character Sam (Logan Browning) couldn't stop watching it, despite its ridiculous sexual, class, and racial politics, I felt that—especially after The Handmaid's Tale's third season finale last night.
Spoilers for the finale ahead.
Even after three years, Margaret Atwood's television adaptation still hasn't figured out what to do about its white woman problem. White women dominate the series, relegating women of color to supporting roles, and making the white women out to be the true leaders of the resistance, with protagonist June (Elisabeth Moss) transforming into a Harriet Tubman figure. So why am I already salivating for Season 4?
Despite insurmountable odds stacked against her, June is determined to move dozens of children out of Gilead and into Canada, where they can grow up in freedom. She has a gun, she's not afraid to use it, and she's tunnel-visioned on accomplishing her goal, with the support of about a dozen other handmaids and Marthas. As June and her charges travel through the woods, she distracts guards and puts her life on the line to save those of others. She wears her hair tied down beneath a bonnet and a long, flowy dress. She looks like, and is, an abolitionist on a mission, who just so happens to be white, making it clear that the show has moved beyond merely appropriating violence against women of color to actually cosplaying them.
I've already exhausted myself breaking down the racial mistakes of this show, so now the only thing that's troubling me is that I can't bring myself to break up with the show over it. Because even though my days of rooting for June are behind me—she's changed, has become reckless in her resistance efforts, and certainly doesn't possess the discipline of the ancestor Tubman—it's still gratifying to see that she does succeed in getting the kids on the plane, and they arrive safely in Canada into the waiting arms of other escapees, Moira (Samira Wiley) and Emily (Alexis Bladel), plus Luke (OT Fagbenle). As for June? She's shot and remains in Gilead; we're unsure if she's dead or alive, but if it's the latter, it's hard to believe she won't have to face any consequences for staging such a huge coup.
If June dies, the show will recover: She has quickly become one of its least interesting characters, and is now only a small part of the complex world The Handmaid's Tale has built. Gilead itself is also a character, perhaps the most evil of them all, and I'm most invested in seeing it defeated. The story at the heart of The Handmaid's Tale—what it takes to overcome an oppressive regime—is still resonant, it's just frustrating to have to watch it through the eyes of a white woman while women of color play on the sidelines—but I'll still be watching.