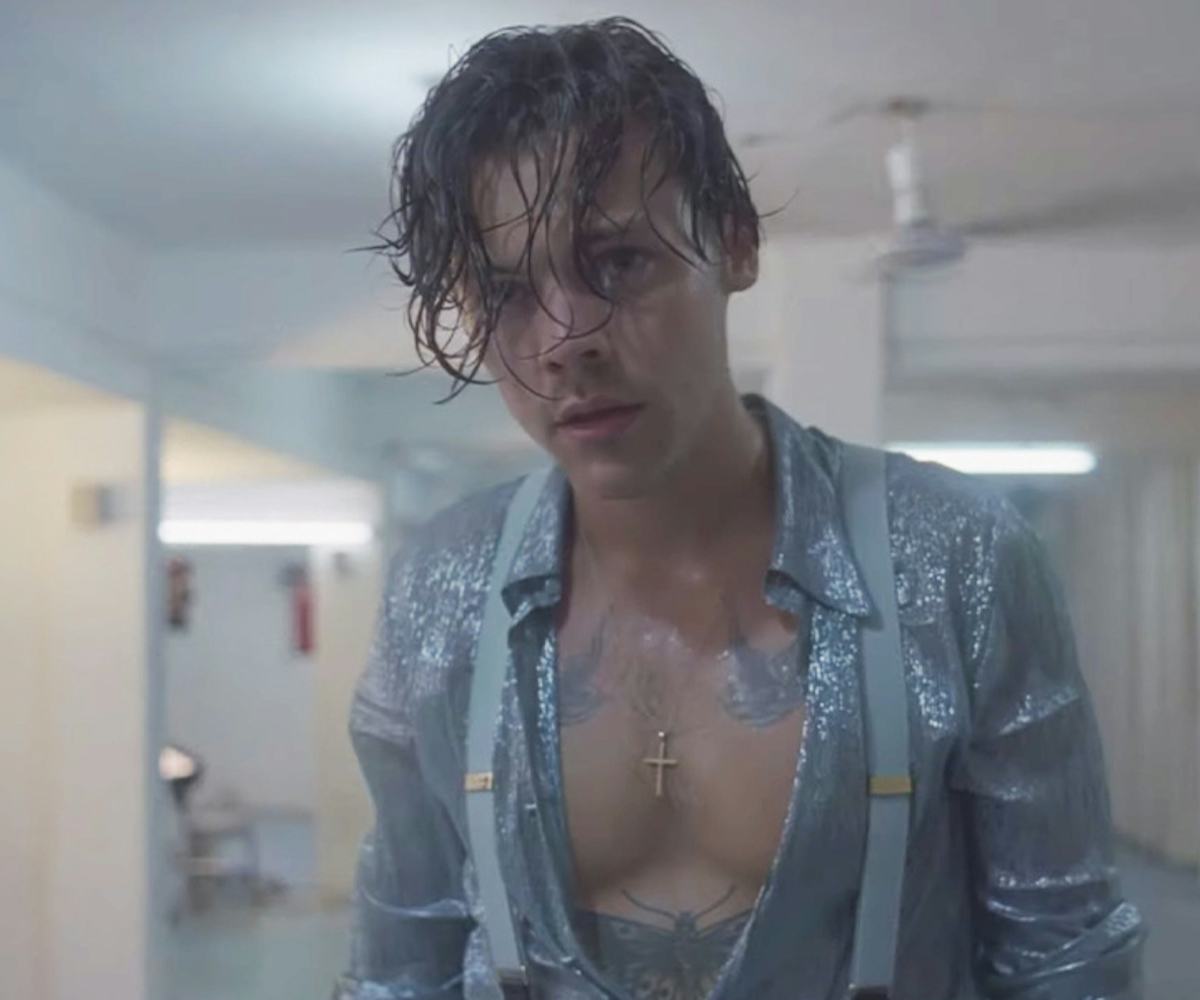 Screenshot via Youtube
Harry Styles' "Lights Up" Is Basically 'Euphoria' In A Music Video
Shimmer, sweat, and drama
A new Harry Styles era is upon us, and so far it has all the aesthetic allure of a Euphoria party. Early on Friday, Styles released the first new music since his self-titled debut album in 2017, giving fans a first look at what he has in store for this next HS2 chapter. Styles opted out of his classic floral suit and puppies combo with "Lights Up," essentially throwing a bisexual rager near the beach and dramatically riding off on the back of a motorcycle.
The song itself is an anthem for accepting who you are, now and forever. Through a vocoder, Styles discusses identity in the chorus, ending on a question: "Lights up and they know who you are/ Know who you are/ Do you know who you are?" In the bridge, Styles repeats, "Shine, step into the light/ Shine, so bright sometimes/ Shine, I'm not ever going back," with each new line echoed by a choir. The video adds to the sexy minimalism of the track's instrumental makeup; people of all genders dance and grind on the singer, who appears to be woozy yet happy in his place at the center of the celebration.
Styles' fans can't get over the fact that the video's release coincided with National Coming Out Day. Previously, fans have speculated about the singer's sexuality when lyrics to unreleased song "Medicine" referenced messing around with both boys and girls. Whether the empowering lyrics and near-naked, sexually-fluid video for "Lights Up" are meant as a nod to his own sexuality, Bisexual Twitter has claimed this song as its new anthem.
Watch the video for "Lights Up" below.