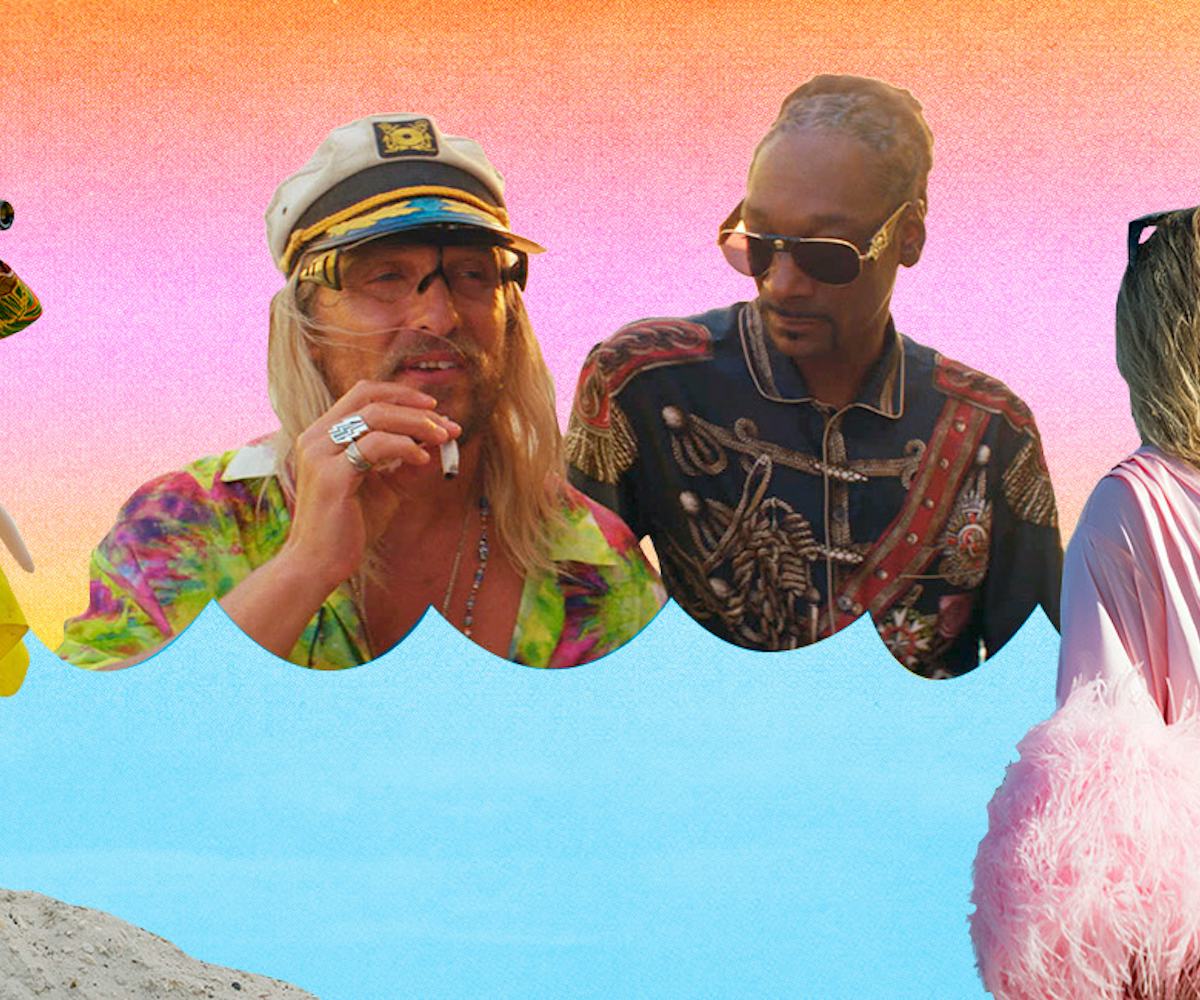 Photos courtesy of Neon and Vice
'The Beach Bum' Is The Height Of Sleazecore Fashion
The film's costume designer, Heidi Bivens, dishes on all of Matthew McConaughey's gloriously lurid looks
If you're like us, the costumes for Harmony Korine's new film, The Beach Bum, have been on your radar for a while now, probably since the first glimpses of Matthew McConaughey in flame-printed sets, Velcro shoes, and a soft pink feathery robe hit the internet back when the movie was being shot, in 2017. To be honest, those looks are everything we ever wanted. And they also felt vaguely prophetic. The film seemed to catch the sleazecore trend right before those artistically disheveled outfits that the likes of Jonah Hill, Justin Bieber, Pete Davidson, and Post Malone wear became ubiquitous. But The Beach Bum's costumes definitely came first.
In fact, Heidi Bivens, the mastermind costume designer behind The Beach Bum's instantly iconic looks, tells me over the phone that she wasn't so happy about those long-ago paparazzi shots when they were first released, though she now appreciates that there is proof that her work was definitely not lifted from Biebs and co.
"I think it was great timing that our film was made and the paparazzi shots were taken before all that stuff really hit in terms of fashion, so at least we won't be thought of as copying the fashion trends," she says. "So, in retrospect, it's nice that everything was documented before the trends really hit hard. I'm not saying that we created them, but at least we weren't following them."
Though she won't take credit for the sleazecore (or "scum-bro," as Bivens calls it) trend, she instead points to an idea of a "creative ether" that she feels everyone who works in fashion is tuned into. "There's the sort of unconscious, or subconscious, inspiration and influence that goes on, where sometimes people are inspired by things they don't recognize at all." This is what she feels spawned her work to coincide with looks seen on Hill and Bieber (and others) at the same time, or soon after her costumes were photographed by paparazzi. Bivens used flames in an outfit because she wanted McConaughey's Moondog to "look like he was on fire"—a look that Posty now rocks whenever he so chooses.
Specifically hingeing on the idea of the dad sneaker, which everyone has seen a million iterations of by now, Bivens says that she and Korine, who definitely "is not looking at fashion at all," actually took the idea for their shoes for Moondog from an actual man living in Key West, one of the filming locations, "who was wearing like running shorts and these Velcro sneakers." She also notes that Moondog wears a lot of printed sets, which were inspired by a children's outfit that Korine saw in a storefront.
"[Korine] had taken a photo of this little boy's short and shirt set that was in a window, and it was when I saw the photo I thought I could find the adult version, but it was really difficult to find anything like that," Bivens tells me. "It didn't exist. It's coming into popularity more now, but at the time it was only, like, 1950s cabana sets, that kind of thing." So they had to make their own, which became Moondog's "uniform," and eventually that, too, came into fashion. (They probably wouldn't have such a hard time finding these outfits in stores now.)
Though, as you can tell from 10 seconds of the trailer or one peep at the collection of outfits in the collage above, Moondog doesn't really understand how to piece together an outfit (or, maybe he knows much better than us). But he does have money—he's a famous poet—and his outfits are meant to reflect that, too. "We liked the idea of, like, having some sense of absurdity in the way he dresses, but also that he's put together in a way that someone who has money would be," Bivens explains. "Which is one of the reasons why we decided that the sets worked so well: because of this idea that he was wearing custom clothing that he created for himself that no one else was gonna have."
Moondog also breaks down the gender binary when it comes to clothing, in a way that we're not used to seeing. Bivens tells me that she collaborated with Adam Selman on a green gown that he wears for one scene in the film, and there's also the feathery pink robe that he wears, which was his wife's. Along with the loud prints and bright colors, this costume choice was meant to show how little he cared about conforming to societal standards. "Just because he's wearing women's clothes doesn't mean one thing or another," Bivens says. "The definition of who a man is or what his sexuality is based on if he wants to wear women's clothes, what that might have meant a generation before us... now it can mean anything."
Overall, Moondog's approach to fashion, whether it influenced how we dress now or not, shows us to "dress with confidence," says Bivens, regardless of what you're wearing. "It's good to take chances. People can get away with a lot more than they probably think they can if they just approach it with confidence." How else would we have gotten Bieber's Drew collection if he weren't confident? How else would Davidson land his recent string of (very hot) girlfriends? McConaughey wearing a thong for the entire time the film was shot (even, she thinks, when he went home for the night) might have inspired this "anything goes" sense of style and even the big dick energy that goes along with it.