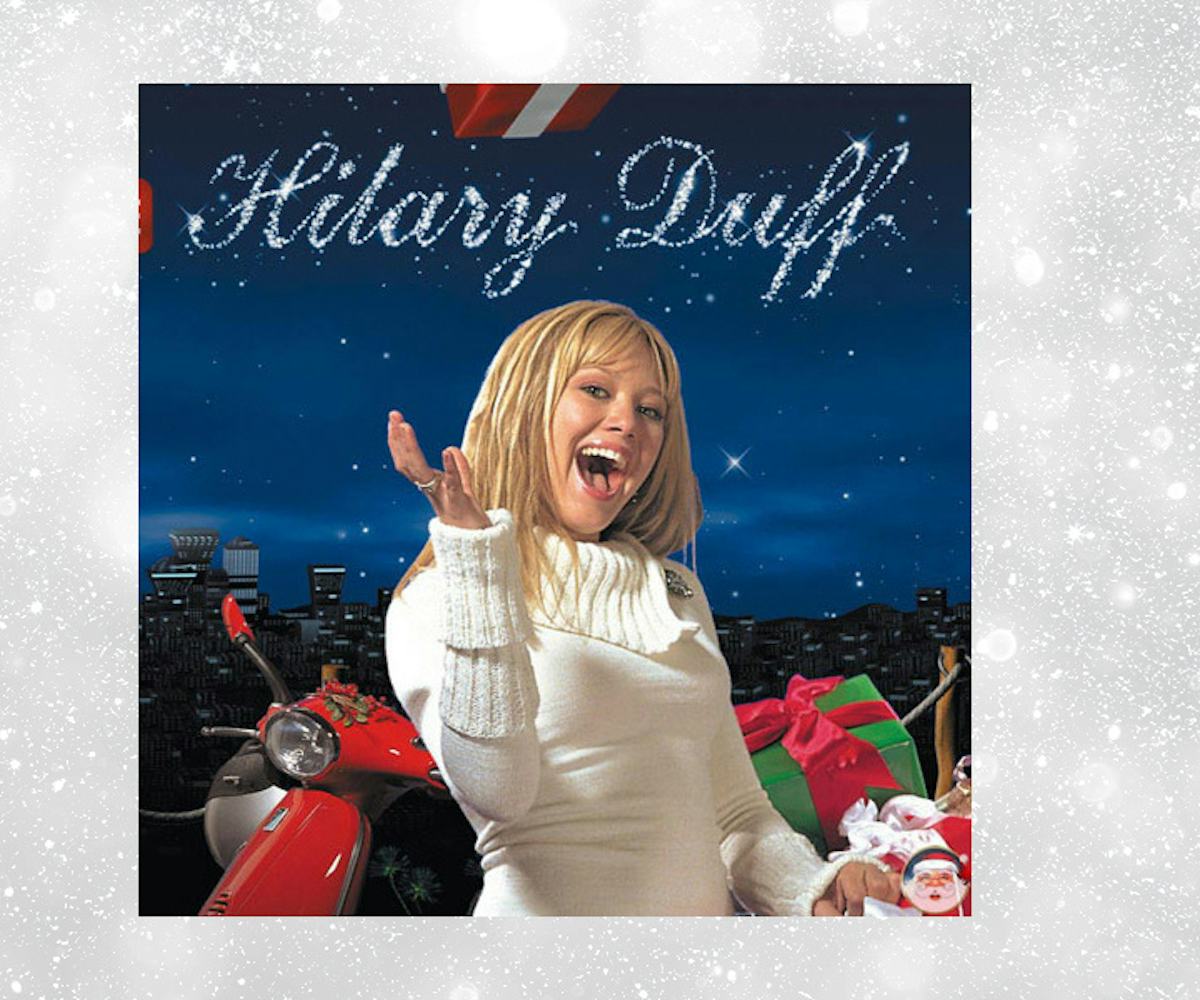 Hilary Duff's Hip-Hop Holiday Duet With Lil' Romeo Deserves Proper Justice
And so does all of 'Santa Claus Lane'
In Look Back at It, we revisit pop culture gems of the past and see if they're still relevant and worthy of their designated icon status in our now wildly different world.
Before Hilary Duff let the rain fall down on Metamorphosis, children bred on the Disney Channel were just getting to know her as a middle schooler named Lizzie. She had yet to become a household name, or to truly explore the possibility of adding the role of pop star to her repertoire. As Lizzie McGuire took off — and Duff realized she wanted to give music a go — her first efforts were marked by a single holiday compilation album: Santa Claus Lane. As the world prepares to welcome Lizzie McGuire back into our lives with its forthcoming Disney+ reboot, now is the ideal time to revisit some of Duff's earliest work.
When the album first came out in 2002, critics acted as though they were the same people who get upset over Starbucks' holiday cups — it wasn't Christmas-y enough, or didn't add enough to the pre-existing canon of music, as if there was a traditional formula to follow, like Jesus popped out of the womb singing "Jingle Bells". New York Times writer Kelefa Sanneh described the album later as "a concept album loosely inspired by Saint Nicholas, the fourth-century bishop of Myra" — a stale and roundabout way to avoid referring to it as, simply, a Christmas album. But unless you're the actual Grinch, one undeniable fact is that Santa Claus Lane is an album for Christmas, about Christmas, to be played around Christmastime.
Christmas purists will love Duff's few covers, sprinkled amongst the original work. Her sparkling bubblegum vocals were made for expressing the kind of holiday cheer that just can't be contained; if you told me Hilary Duff was born inside a snow globe and raised as a professional Christmas caroler, I might believe you. Her performances of songs like "Jingle Bell Rock" and "Sleigh Ride" are absolutely delightful.
Arriving along with the 2003 re-release of the album, "What Christmas Should Be" is Duff's best attempt at an original Christmas song. The chorus contains a simple wish for Christmas that falls outside the capitalist American tradition: "How bout peace on earth/ it can't be bought or sold." Though perhaps a bit naïve, the line is delivered with total sincerity.
For listeners already instilled with a sense of nostalgia for the album — or, at least, for Duff — the best moments are those clearly marked by near cringe-worthy early aughts pop charm. For newbies, you probably won't care that her campy hip-hop holiday duet with Lil' Romeo, "Tell Me A Story", is missing from all current streaming versions of this record. Why it is not available is a mystery — the album itself only just hit Spotify and Apple Music this year, but without Duffs two big collaborations (the second being "I Heard Santa on the Radio" ft. Christina Milian).
The singer notably does not remember the song — or at least, she doesn't want to — but I do. I *really* do. The classic Christmas tale which famously begins "'Twas the night before Christmas" just hits different when it's delivered by Master P's son, who was 13 years old at the time. Unless you can secure a physical copy of the album, you'll be forced to experience the song through shoddy YouTube uploads by fans. That's not proper justice for the song, but real fans will stream it anyway.
Duff takes a cue from Britney Spears' earliest music at the top of "When the Snow Comes Down in Tinseltown", with a perky reading of her letter to Santa. Her Christmas isn't like those of other girls — she lives in Hollywood, not suburbia. It's corny, but so is all holiday music. Though, if any song were to be deserving of the negative reviews garnered back in 2002, it'd be "Same Old Christmas". It's not bad, but it's boring, and an easy song to skip past with every listen. Though it was a heartwarming touch to include her sister Hayley Duff on vocals, it would have been to the benefit of both to have her hop on another song and strike this one entirely.
Duff redeems herself on her cover of "Wonderful Christmastime", which pushes past the standard rock performance and into emo territory. It was perfect for those of us alternating between Christmas music and Avril Lavigne's breakout album Let Go, and just as emo has remained culturally relevant, so has the appeal of this final song. Just as so much holiday music does, Santa Claus Lane is a generous dose of nostalgia for young millennials and Gen Z. And, if you're not the type to only play Bing Crosby's White Christmas until your ears bleed, it'll probably bring you a little more joy this holiday season, too.
Relive the magic of Santa Claus Lane below.