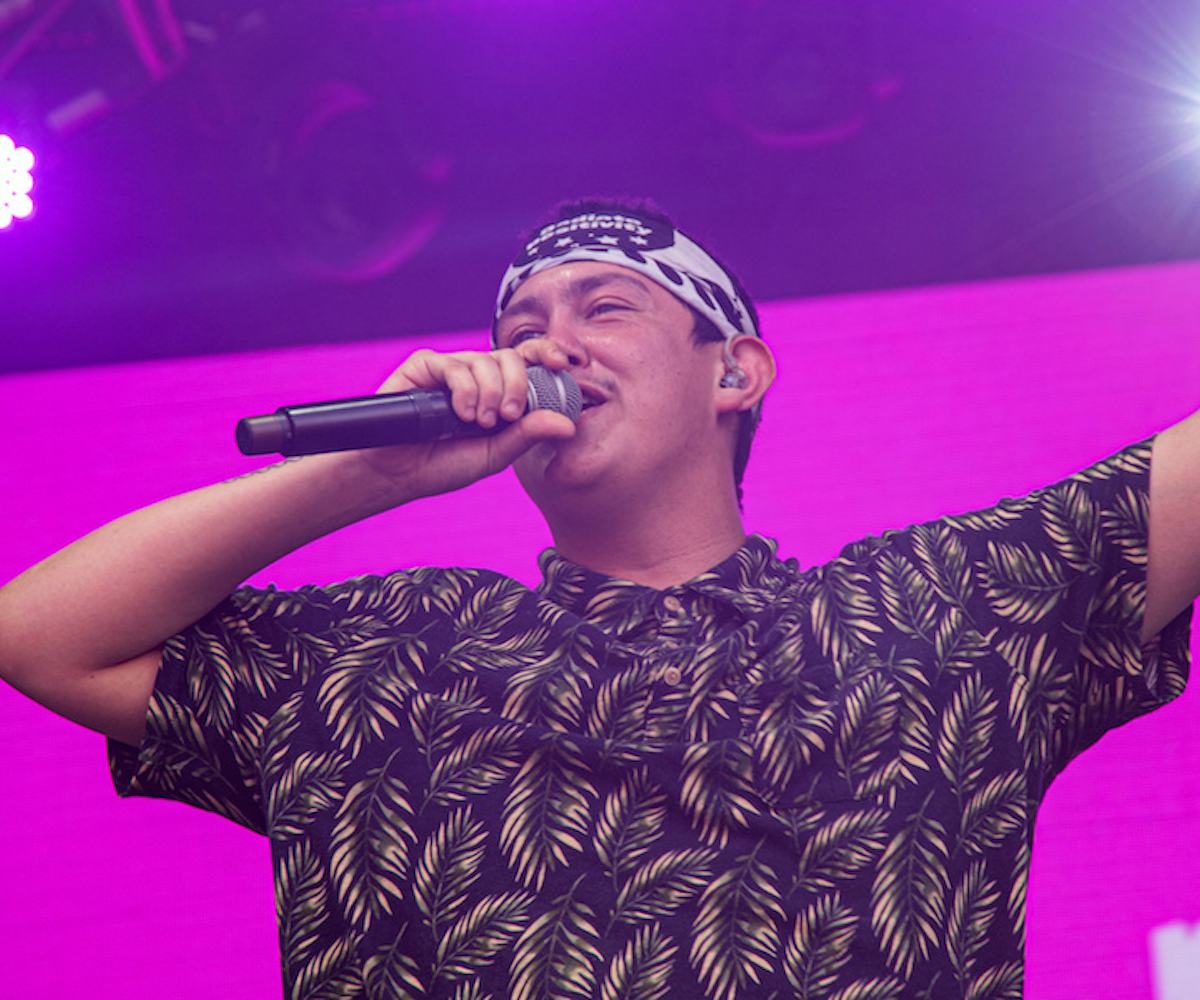 Photo by Lindsey Byrnes
Hobo Johnson's "Typical Story" Lyrics Came To Him While Washing Dishes
The bonkers video drops today
Today, slackercore king Hobo Johnson has released a new song, "Typical Story," along with a totally wild pool party music video. Ahead of its release, Hobo Johnson, aka Frank Lopes Jr., sat down with NYLON at Bonnaroo to dish on the story behind the track.
"I actually wrote it a really long time ago," Lopes shared. "I was a dishwasher, and I was just washing dishes one day, and it popped in my head. So the first quarter of the song is that," he added, "and then the rest is really narrative-driven; there's a general theme. I made it so every line is a stand-alone, almost like haiku, it'll live on its own." And in that way, we get plenty of "almost contradictory" stories that Lopes links together to create one singular wild ride.
"I'm pretty intense," Lopes says when it comes to songwriting, "but it's definitely song to song." He shares that he wrote his breakout hit "Peach Scone," that wound up winning him the NPR Tiny Desk competition back in 2018, in "30 minutes or something," but "Romeo and Juliet" was "crafted over months," created from "six different poems pushed all together."
Watch the full video for "Typical Story" and check out Lopes' newly announced tour dates on The Fall Tour Of Hobo Johnson, below.
10/9 - Seattle, WA @ Showbox SoDo
10/10 - Vancouver, BC @ Vogue Theatre
10/11 - Portland, OR @ Crystal Ballroom
10/13 - San Francisco, CA @ Warfield
10/14 - Los Angeles, CA @ Wiltern
10/16 - Anaheim, CA @ House of Blues
10/18 - Las Vegas, NV @ House of Blues
10/19 - Phoenix, AZ @ Van Buren
10/21 - Dallas, TX @ House of Blues
10/22 - San Antonio, TX @ Aztec Theater
10/23 - Austin, TX @ Stubb's Waller Creek Amphitheater
10/24 - Houston, TX @ House of Blues
10/25 - New Orleans, LA @ Voodoo Festival
11/2 - Orlando, FL @ House of Blues
11/3 - Atlanta, GA @ Tabernacle
11/4 - Charlotte, NC @ Fillmore
11/6 - Baltimore, MD @ Rams Head Live
11/7 - New York, NY @ Playstation Theater
11/8 - Philadelphia, PA @ Fillmore
11/10 - Sayreville, NJ @ Starland Ballroom
11/11 - Boston, MA @ House of Blues
11/13 - Toronto, ON @ Danforth
11/14 - Detroit, MI @ Royal Oak
11/15 - Cleveland, OH @ House of Blues
11/16 - Chicago, IL @ House of Blues
11/17 - Cincinnati, OH @ Bogart's
11/19 - Indianapolis, IN @ Egyptian Room
11/20 - Louisville, KY @ Mercury Ballroom
11/21 - Dallas, TX @ House of Blues
11/22 - Saint Louis, MO @ Pageant
11/23 - Kansas City, MO @ Truman
11/24 - Minneapolis, MN @ First Ave
11/26 - Denver, CO @ Ogden
11/29 - Sacramento, CA @ Ace of Spades