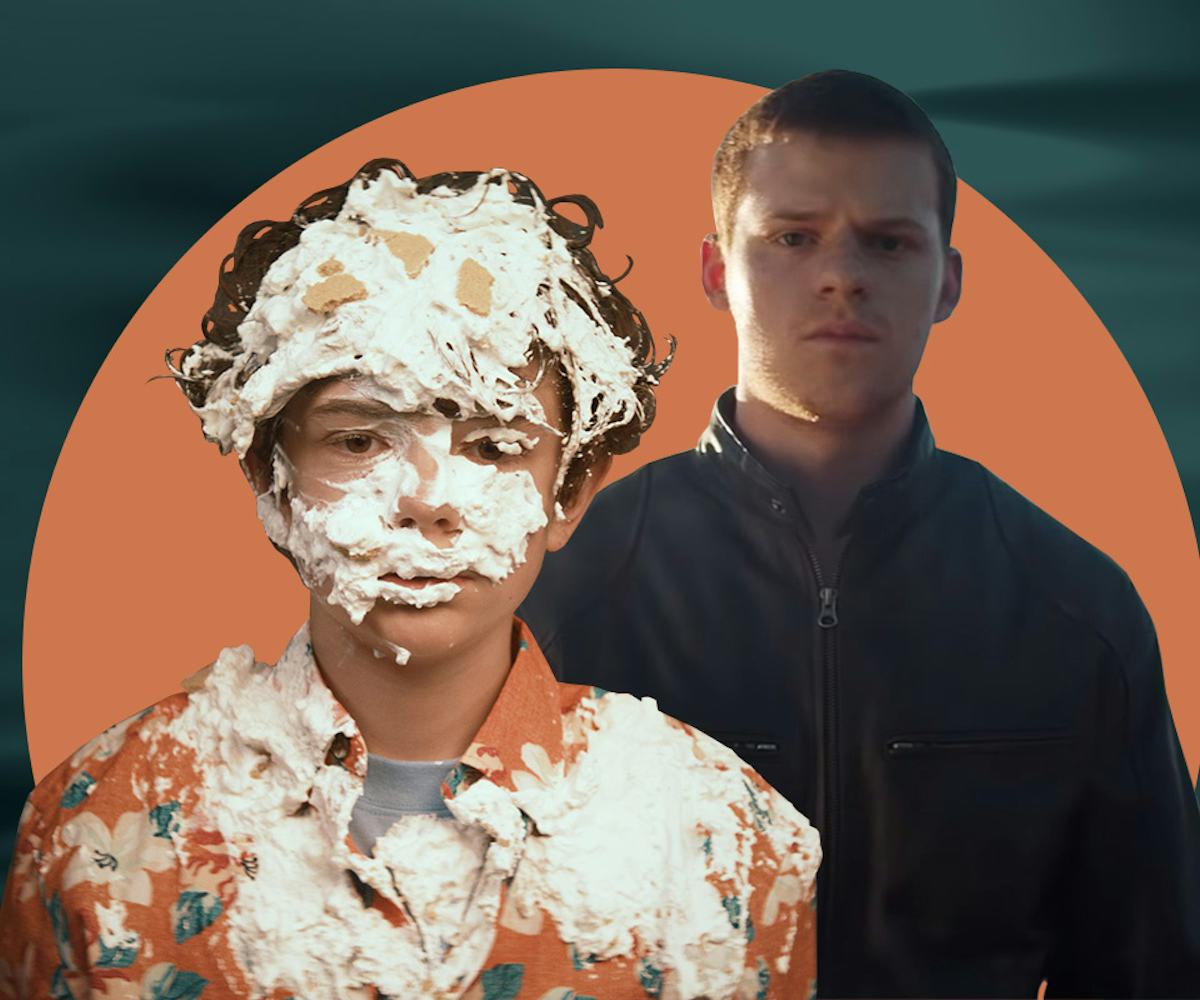 Lucas Hedges And Noah Jupe On Why They Aren't Just Sad Boys In 'Honey Boy'
We spoke to the two stars of Shia LaBeouf's autobiographical film
To tell the story of one boy in pain, Shia LaBeouf needed the help of two actors to bring him to life. "I wanted Shia to love me," says Lucas Hedges. He plays Otis Lort, age 22, in Honey Boy, the film written by LaBeouf and loosely based on his years as a child actor, detailing his rising star and a fraying relationship with his father. Otis is the onscreen proxy for LaBeouf, and his journey is framed between two decades.
Noah Jupe, who plays Otis at 12 years old, was less familiar with LaBeouf before joining the project. "I didn't really know Shia," he confesses. "I knew of his name, because it's so specific, but I was mostly attracted to the character and the story — the way [Shia] writes is incredible." Opposite the two young actors respectively is LaBeouf himself, playing a character based on his father.
Although Hedges and Jupe don't share any scenes, they drew from the same DNA. When asked about the process, they start to mention developing the same mannerisms — while folding their arms in sync. The challenge for both came through the different dynamics they needed to establish with LaBeouf, the subject but also the writer, actor, and fictional father.
"I felt safe with this story," says Jupe. "If I messed up, I knew I had this person who would protect me. Shia was my shield from getting too lost inside this world." For Hedges, in some ways, Otis is an extension of his previous characters. I bring up his Sad Boys — Manchester by the Sea, Lady Bird, Boy Erased, Ben Is Back — and both actors can't help but laugh and agree.
"I'm not a sad boy in real life," he clarifies. "I think I was in high school, but I'm coming out of my years of it." It feels relevant to establish this, as in Honey Boy, Hedges' Otis is framed through the painful memories that colored his childhood and tainted his sense of self. But he's not just a conventionally snappy young adult — LaBeouf wrote the script from court-ordered rehab as a therapeutic tool to exorcise his trauma. There's a greater sense of maturity here than the trope of the Sad Boy has often allowed. "Otis wouldn't want to be categorized," Hedges agrees. "He'd think it's stupid. He's very active, he wants things — Sad Boys aren't very active. I see Otis as different, because he's going to do something but he's trapped."
Making Honey Boy was LaBeouf's way of setting himself free. It took courage and sensitivity, and the careful direction of the actor's longtime friend and collaborator Alma Har'el to helm the project with dreamlike direction. While the two actors hadn't met Har'el before, there was something in the stars that spelled out a confident future together for Hedges. "Alma directed the music video for 'Elephant Gun' by Beirut," he explains. "It's probably the one song that has the most connected me and my father over the years."
The strained connection between father and son is what defines Honey Boy, in the way such a relationship puts pressure on a young man to act far beyond his years. At 12 years old, Otis financially supports his parents with his acting work, and emotionally suffers their own upsets. In one devastating scene in the film, Otis referees an argument over the phone. His mother, at the end of the line, is explaining why she had to leave, and Otis is repeating her voice out loud to his father, who stands shouting right next to him. "Otis sees this maturity as what he should be doing," says Jupe. "I don't think he necessarily sees it as a negative thing that he has to play this adult role; he realizes when he's older maybe, but not at the time."
There's a push and pull between childhood and adulthood in the film, as the script jumps between both timeframes. It's an involving, affecting watch, always bringing the viewer close to the beating heart of the story — which transpired offscreen too. "Everything was vibrating," Hedges says. "Like it was in triple HD. That's how Shia experiences the world — he has so much energy. It had nothing but a positive effect, but it also made things extremely intense."
For Jupe, 14 years old in real life, Honey Boy marks a clear turning point. "If I had to pinpoint the moment in my life when I changed from a child to a teenager, it would be while making this movie. I've played young kids, and right now, as a kid, I want adult responsibilities. This was my first role where I got to discover so many emotions."
Despite having fewer scenes opposite his role model, it was not without challenges. "[Shia and I] were both constantly trying to impress each other," he says. "When we were together, we couldn't figure each other out — but that's true of Otis and his dad too."
More than a boilerplate biopic or an exercise in self-indulgence, Honey Boy gives three people the chance to feel their way through trauma, ambition, loyalty, and love beyond fiction. In the way Jupe and Hedges light up when talking about LaBeouf, or how they both nod intently when the other person speaks, it's clear that the potent devotion to each other and to this story runs deep.
"There were a few moments where I felt like I earned [Shia's] love," Hedges admits. "This was about chasing my hero. It didn't come down to releasing anything of mine, it was about getting lost in the chase."
Honey Boy is out in select theatres today.