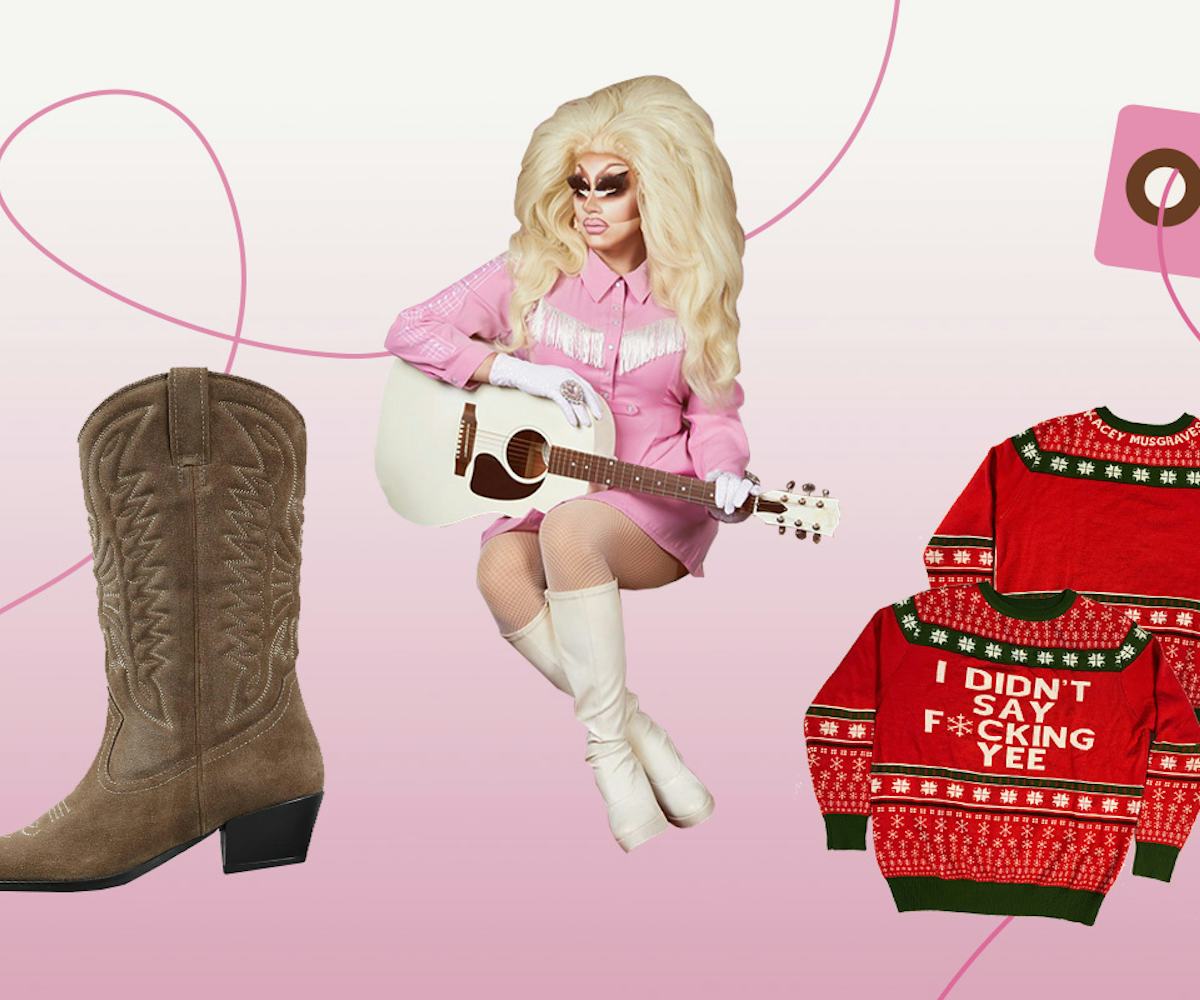 15 Gifts For The Girl Who Never Stopped Asking For A Horse For Christmas
'The Saddle Club' and chill?
'Tis officially the season for gift-giving. For us, that's a full month in which we'll be providing gift ideas for everyone on your list with our Unwrapped holiday gift guides. So make your holiday shopping a breeze this season, and let us help you find gifts for all the people in your life.
Always a horse girl, never a horse owner. At least, that's how every holiday season has been for those of us who spent hours sitting at the family desktop computer taking care of our digital stables, without the means to make it happen in real life. When will Santa finally put a Pinto under the tree? He never did — which is (maybe) OK at this point, since it wouldn't fit in your current apartment anyway — but that's not enough to kill your thriving yeehaw spirit. With that in mind, NYLON has rounded up 15 gifts for the horse girl. From home decor and vinyl records to dresses worthy of queen Dolly Parton, there's a little something for everyone!
Slip into your favorite pair of Western boots and start scrolling to make horse-filled dreams come true this holiday. The Saddle Club and chill, anyone?
Neon Cowboys, Hat in Red, $99, available at Neon Cowboys.
Don't think, Where would I wear a light-up cowboy hat? Think, Where *wouldn't* I wear it? This is your new closet staple; thank me later.
The Saddle Club Season 1 Box Set, $18, available at Amazon.
The official crash course in becoming a horse girl.
Kacey Musgraves, Ugly Holiday Sweater, $99, available at Kacey Musgraves.
This sweater checks off every box. You can wear it to an ugly sweater party, it's plenty in line with the yeehaw agenda, and it commemorates Kacey Musgraves' now-iconic Coachella chant. What more could your recipient want?
Broganalexandra, Dolly Parton Enamel Pin, $11, available at Etsy.
Let the eternal wisdom of Dolly Parton guide you through life. If you're ever in doubt, this pin can act as a cute little reminder.
Fashion Brand Company, The Trixie Dress, $145, available at Fashion Brand Company.
Unleash your inner Dolly Parton (and RuPaul's Drag Race star Trixie Mattel) with this adorable pink cowgirl dress. The sleeves are even embroidered with the sheet music to Mattel's song "Mama Don't Make Me Put on the Dress Again."
Club Exx by Dolls Kill, Sheriff Shine Cowboy Boots in Pink, $175, available at Dolls Kill.
The boots that will bring any horse girl's Instagram game to the next level.
C/Meo Collective, Nearby Dress, $240, available at Shopbop.
A horse girl dress that's also chic.
Kevin Russ, Cloudy Horse Head Art Print in Grey Barnwood 12" x 12" Frame, $79, available at Urban Outfitters.
Bring the vibe indoors while leaving the horses (and, you know, the stable stink) where they belong.
Free People, Black Rock Western Belt in Sage, $38, available at Free People.
Maybe your recipient is more of a subtle horse girl. She can still show her love through accessories, like this Western belt.
Elektra Records, The Highwomen 2LP Vinyl w/Etched Design, $21, available at The Highwomen.
Be the musical influence your favorite horse girl deserves and bless her with the harmonies of this ultimate country supergroup.
Vagabond, Emily Taupe Suede Tall Boots, $240, available at Vagabond.
If bedazzled pink cowboy boots are too much for the giftee's taste, these are ideal for day-to-day wear, whether they're in jeans or a floral dress.
Levi's, Ex-Boyfriend Fringe Trucker Jacket in Black, $148, available at Levi's.
Nothing screams yeehaw like an all-over fringe denim jacket. Plus, it's black, so it goes with everything.
Neon Rose, Plus Relaxed Shirt in Horse Sketch Print, $45, available at ASOS.
This blouse works for every scenario a horse girl may find herself in; tuck it into trousers at the office and tie it up with cutoffs for the rodeo.
Wrangler x Lil Nas X, Women's Cut-Off Short, $79, available at Wrangler.
If your horse girl claims to be obsessed with yeehaw but says she doesn't want *Lil Nas X voice* Wrangler on their booty, she's lying to herself.
NYLON uses affiliate links and may earn a commission if you purchase something through those links, but every product chosen is selected independently.