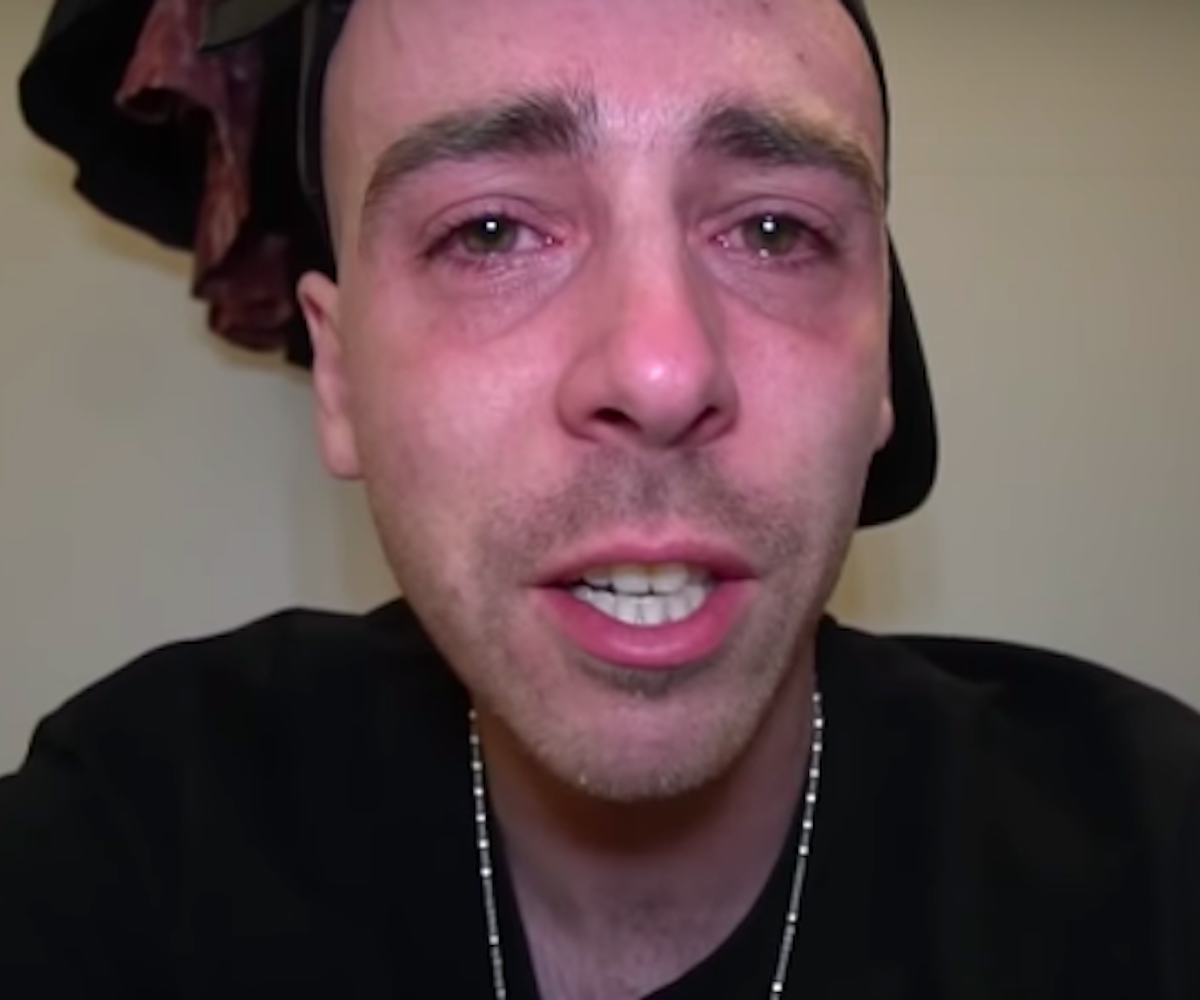 YouTuber Apologizes For Faking His Girlfriend's Death For Clicks
In a series of videos that included visiting a fake memorial
Over the past few years, YouTube has been the source of enough controversy to fill an entire epic novel. There's the fight between Tati and James Charles, Shane Dawson's unfortunately necessary assertion that he has never had sex with his cat, and, of course, Logan Paul's ill-fated visit to Japan's Aokigahara Forest. Still, most controversies pale in comparison to the video site's latest scandal, which finds a popular Canadian YouTube prankster, Jason Ethier, who goes by the name of ImJayStation, staging the death of his girlfriend, Alexia Marano,only to get caught in his lie and be forced to admit that it was all a desperate ploy to gain more subscribers for their joint account, just a week later. To add insult to injury, though Ethier claims that while he and his girlfriend planned the entire scam together, Marano ultimately ended up reporting Ethier to the police for allegedly assaulting her with a weapon.
Let's set the incredibly bonkers stage: Last week, Ethier uploaded a video to his 5 million-strong subscriber YouTube account titled "My Girlfriend Alexia Died... *Rest In Paradise*" The original video, which has since been deleted, claimed that Alexia, who often appears in Ethier's videos, recently died after being hit by a drunk driver. According to his claims, it was always his girlfriend's dream to reach one-million subscribers on their joint 'DreamTeam' channel, and he used her death to try and convince his followers to subscribe to that channel in remembrance of her.
For several days following the "incident," Ethier continued to upload new videos, supposedly grieving his recently lost love. One, titled "SAYING MY LAST GOODBYE TO MY GIRLFRIEND ALEXIA (REST IN PARADISE)," found the YouTuber tearfully visiting a memorial site he claimed her parents had erected in the snow, complete with a wooden cross, flowers, tea light candles, and several framed pictures of Alexia. In another, this one called "DEAD GIRLFRIEND OUIJA BOARD CHALLENGE AT 3AM!! (GONE WRONG)," Ethier attempted to make contact with his "deceased"lover through an Ouija board, recalling a similar video the prankster made following the tragic death of rap legend Mac Miller in 2018.
But things began to seem fishy when the videos mysteriously disappeared from his account just a few days later. It didn't make sense until yesterday, when Ethier finally came clean in a new apology video titled, "ALEXIA MARANO *THE TRUTH ABOUT HER*". The video opens with a behind-the-scenes clip from the ouija board video, in which Ethier coaches Marano through a number of steps meant to make the ouija board prank look real. Underneath the clip, Ethier noted, "Alexia was okay with the videos we made to promote dreamteam channel and helped me to produce them." Though the video started as an apology to Marano's family and to his subscribers for lying, it quickly turned into an attempt to also clear his name when he admitted that Marano had left him in the middle of the night to report the YouTuber to the police for allegedly assaulting her with a weapon. In the video, Ethier notes that he now has a warrant out for his arrest even though, according to him, he has never hit her.
Ethier starts out the supposed "apology" video by saying, "I want to start out by saying I'm sorry to Alexia's family for putting them through any hard times or stress about the death of their daughter. I didn't intend for them to get any hate or put them through any emotional stress involving Alexia or anything. I didn't mean for them to get involved in anything, at all. Nothing. I expected all of this to stay on YouTube, and it didn't."
For the remainder of the video, Ethier traces the course of his tumultuous relationship with Marano, starting with his initial impression that Alexia was just a "party girl" and moving through to his eventual discovery that she was "a really hardworking, smart, intelligent girl with a lot of good qualities that I really admire in a female." Though much of it reads as insincere, at several points during his retelling, Ethier does appear to break down into tears, noting that, when he was dating Alexia, he "felt the happiest I've ever felt in a long time."
However, as the YouTuber notes, he now has a warrant out for his arrest, and he blames Marano for "ruining my entire life." In a last minute ploy for sympathy from his followers, Ethier dredges up information about his difficult past — a childhood spent with abusive parents, no high school diploma, struggles with depression and alcoholism, and a stint in prison just a few years ago — to claim that YouTube is all he has now, and that he would be unable to find employment elsewhere. "I put everything on the line to achieve success on YouTube," he claims through tears. Take that how you will.
I don't know about you. But with the recent outpouring of love and critical acclaim that has surrounded the Sundance premiere of A24's upcoming Zola movie, I'd start trying to secure the rights to this completely demented tale now. Who knows? It could very well be the next based-on-an-internet-story indie hit. I'm certainly opening FinalDraft right now.
NYLON has reached out to both Ethier and Marano for comment.
Watch Jason Ethier's video below.