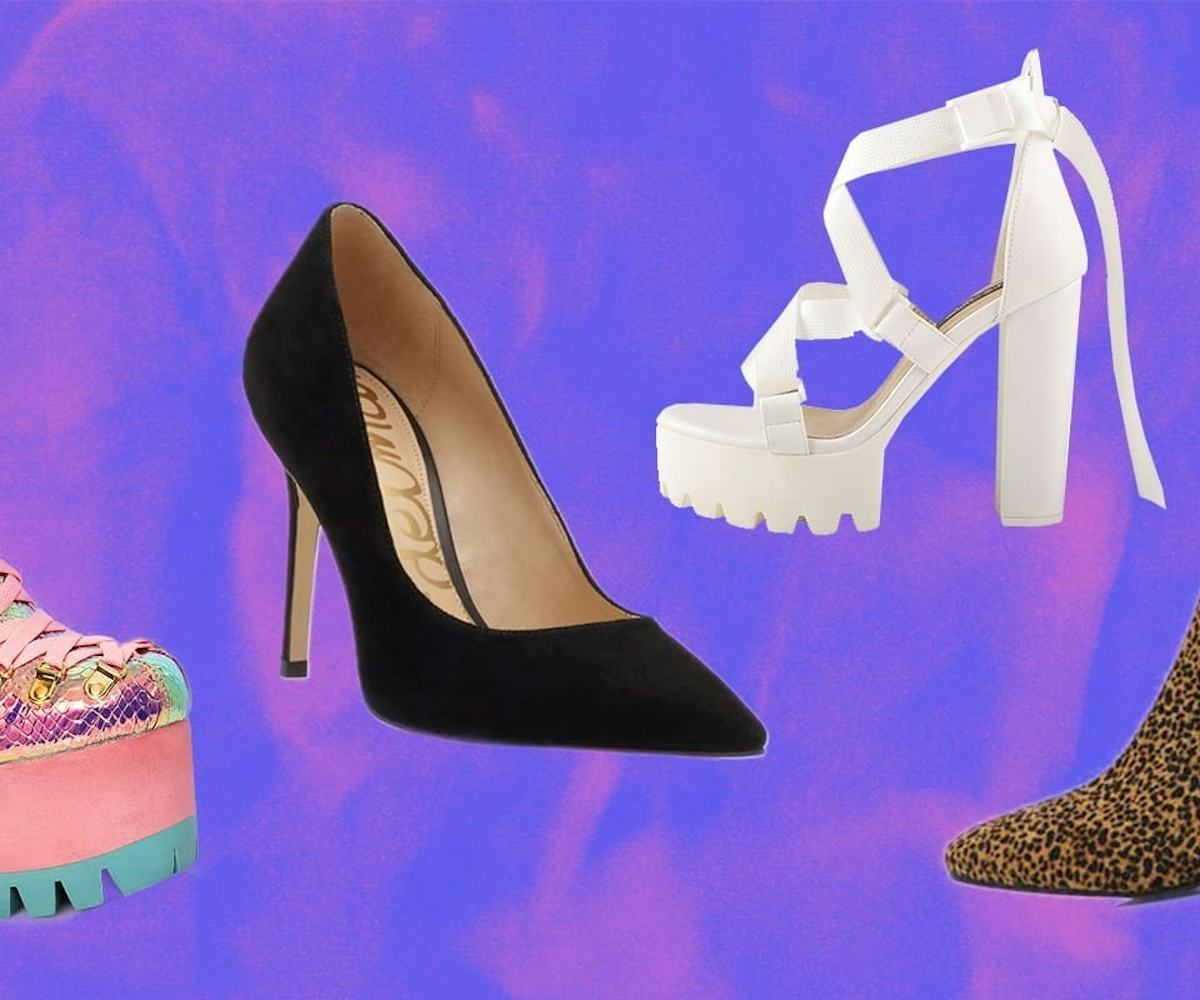 Here's Where To Find The Cutest Shoes In Extended Sizes
We *all* deserve a hot platform heel
NYLON is all about finding fashion that is size-inclusive, but finding proper size diversity isn't just limited to apparel. For trans women, finding shoes in sizes that are larger than a 10 can be extremely difficult, because most stores and brands think of that as the maximum, and if they offer anything else, it's a clunky orthopedic nightmare. Worse, plenty of sites meant to cater to this gap in the shopping space appear to have been made in 2004, and then never updated since, leaving you wondering if the shoes you just paid for exist, or will ever ship to you.
Though there's still clearly far to go for shoe suppliers—and fashion, in general—to make sizing more inclusive, plenty of stores have increased sizing to 13, 14, and beyond—thankfully, in things other than sneakers and mules. So whether you're looking for a pair of sensible office heels or a holographic, platform dream to wear on a night out, there's now finally something for you, no matter your size.
Scroll down to see some of our favorite shoe brands and stores that make it easy to find your size in shoes you *actually* want to wear.
Only Maker
Probably the most impressive, wide range of options in extended sizing (up to a size 15) you'll find for shoes that follow current trends. The best part? You won't find a single shoe onsite for over $70.
Only Maker, Open Toe Cross Strap Platform Block Heel Sandals, $53, available at Only Maker.
Long Tall Sally
This brand has long been the secret of tall girls for finding pants that are actually long enough. Similarly to the apparel selection, LTS shoes are offered through a women's size 15.
Long Tall Sally, Sylvia Animal Hair Leather Ankle Boot, $115, available at Long Tall Sally.
Demonia
Demonia is the best for those who never quite left their goth phase (me), or who want to find a little bit of edge to add to their wardrobe. Along with the wide range of creepers, combat boots, and more, Demonia features plenty of cute heels, like the ones above, available through a size 16.
Demonia, Dolly in Black Velvet, $49, available at Pleaser Shoes.
Penny Loves Kenny
TBH, I might just be placing an order from here later today. Don't worry about finding another slew of plain black and tan heels; want something a little more extra? Peep these booties. All shoes by Penny Loves Kenny are available through a size 14, in medium *and* wide widths.
Penny Loves Kenny, Ormond in Green Iridescent, $70, available at Penny Loves Kenny.
Dolls Kill
Am I a Dolls Kill stan? Yes. But with good reason! While Dolls Kill doesn't have an option to sort shoes by size on its website, you'll find that many of the in house labels—Club Exx, Current Mood, and more—have shoes offered through a size 15. It's worth the extra few minutes peeling through the site, IMO.
Club Exx, Poisonous Vixen Snake Platform Boots, $59, available at Dolls Kill.
Shoes.com
While many sites' search engines specifically for size cut off in the women's department at an 11, maybe 12, Shoes.com allows you to search half sizes through a size 20. Unfortunately, most non-athletic shoes aren't offered through that size, but plenty are available through size 15—like these metallic Bellini mules (and most Bellini shoes).
Bellini, Formosa Mule, $50, available at Shoes.com.
Sam Edelman
Okay, I know most stores only offer their basics in extended sizing, but those that go above a size 10 tend to not be super cute. Little did I know, Sam Edelman's chic pointed toe classics are available through a size 13, as are many sandals, flats, and booties.
Sam Edelman, Hazel Pointed Heel, $120, available at Sam Edelman.
Franco Sarto
Many of Franco Sarto's offerings are available through size 13, and can even be found in DSW. The brand is perfect for finding summer sandal staples, dressy and otherwise.
Sarto by Franco Sarto, Tristan Sandal, $129, available at Franco Sarto.