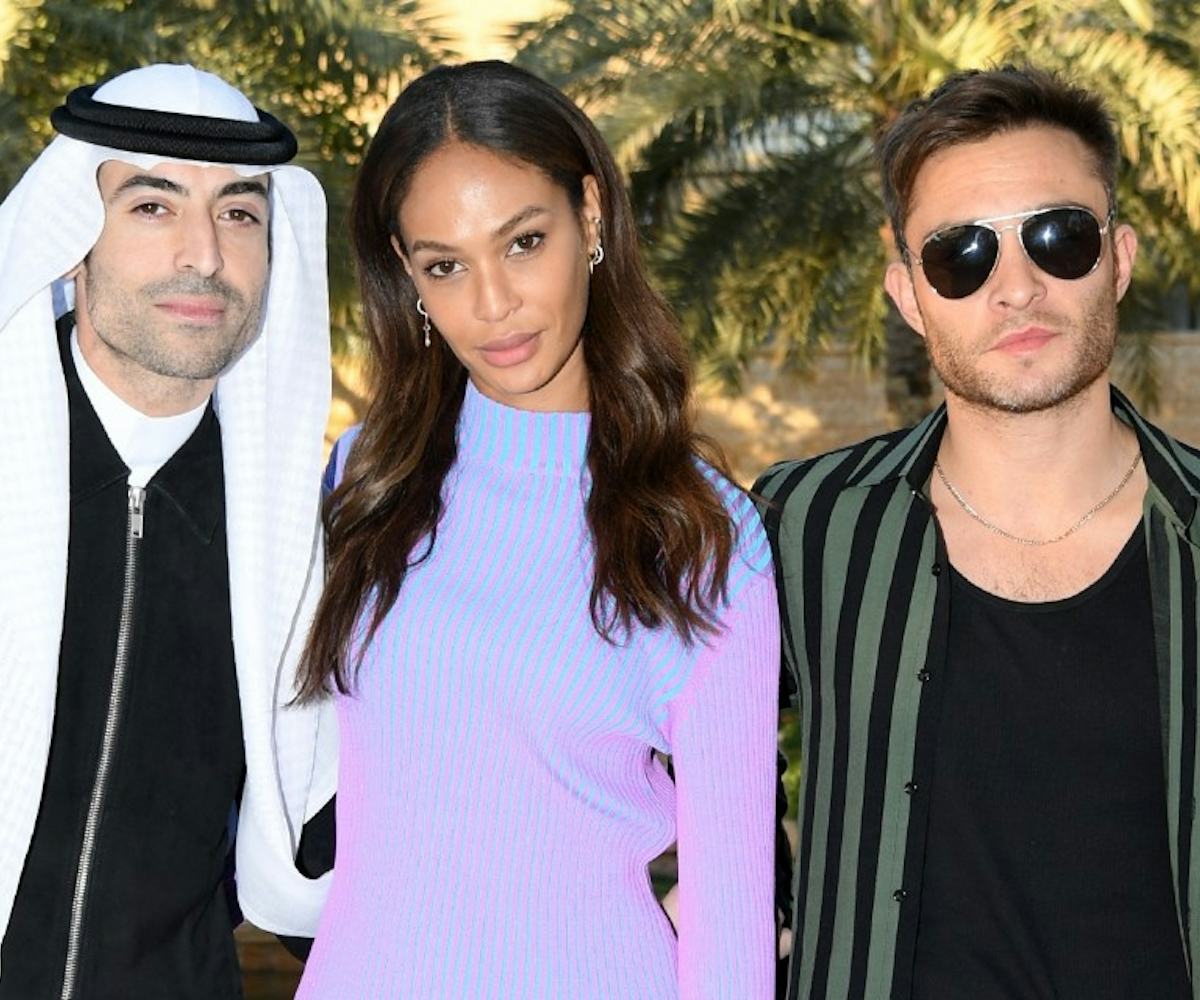 Daniele Venturelli/Daniele Venturelli/Getty Images
Models, Musicians & Influencers Criticized For Attending Music Festival in Saudi Arabia
Online backlash to their presence in the Middle Eastern country was swift
During the weekend of Dec. 19 - 21, Armie Hammer, model Joan Smalls, and countless other actors, musicians and influencers — including Luka Sabbat, Olivia Culpo, and Teyana Taylor — were posting photos and dispatches on social media from Riyadh, the capital city of Saudi Arabia. The occasion? The inaugural MDL Beast Festival, a "first-of-its-kind" music, arts and cultural event that "aims to pave the way to a whole new experience within the society it exists in," according to the FAQ section of its website. With sets from Steve Aoki, David Guetta, Rick Ross, and Swizz Beatz among others, the three-day event reportedly drew nearly 150 thousand attendants in its first two days, according to a festival press release.
"What I just witnessed was truly special," Hammer wrote in an Instagram caption on a series of photos taken at the festival. "I saw Saudi men and women ecstatic about an event that they never thought they would ever see in their lifetimes... Social evolution is slow and takes time but what I was able to be a part of felt like one giant seed of growth." Smalls wrote more simply, "@mdlbeast Thank you for having me."
Online, backlash to their presence in the Middle Eastern country was swift. Popular Instagram account Diet Prada called out the posts as propaganda and accused the influencers of reportedly cashing out checks "to rehabilitate the image of Saudi Arabia." American writer and podcast host Aminatou Sow tweeted her disappointment on Sunday, writing that she was "sick to see celebs and influencers shamelessly promoting this nonsense." Model and actress Emily Ratajkowski posted a statement on Twitter which revealed that she had been invited to visit the country on a sponsored trip but declined, stating that it "is very important to me to make clear my support for the rights of women, the LGBTQ community, freedom of expression and the right to a free press. I hope coming forward on this brings more attention to the injustices happening there." Ratajkowski did not specify if the opportunity was in relation to the MDL Beast Festival.
As The Guardian points out, the MDL Beast Festival isn't the Saudi Arabian government's first attempt at opening its country's doors to outside tourism, nor is it the first time celebrities and influencers have been invited to the country to promote it as an exciting new tourist destination. In September, Saudi Arabia's government enacted a slew of changes loosening restrictions for unmarried couples and solo women travelers visiting the country, and began offering visas to non-religious tourists for the first time. Shortly after, the first wave of Instagram influencers posting positive commentary about the country alongside photos taken from their sponsored press trips, started appearing on social media.
Most recently the middle eastern country has been in the news surrounding the 2018 murder of Saudi Arabian dissident, journalist and Washington Post columnist Jamal Khashoggi. The kingdom has also become notorious for its highly restrictive laws against women and LGBTQ identifying people in the country, previously banning women from driving, though that was lifted in June of 2018. See more from those who attended the festival, below.