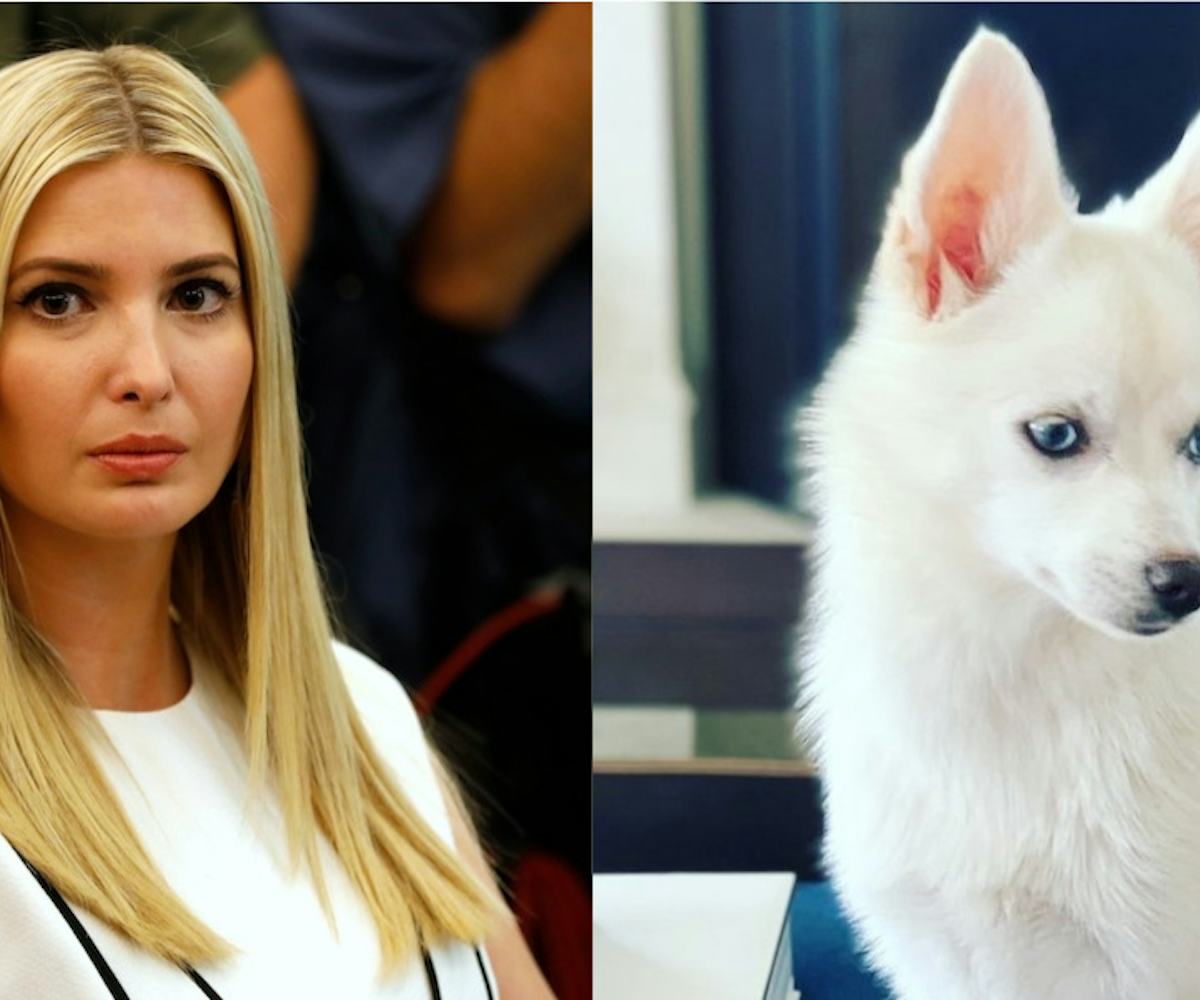 Photos via Shutterstock and @IvankaTrump on Twitter
Ivanka Trump Got A White Dog, And We Have Some Questions
I feel bad for this dog, it didn't ask for this life
Ivanka Trump bought a dog for her daughter Arabella, and Twitter has some thoughts about her choice of breed. The all-white dog, named Winter, appears to be some sort of American Eskimo mix (or something similar), and plenty of people have suggested that perhaps Trump had a reason for choosing a dog that's so, well, white.
Some have linked the dog's white fur and blue eyes back to the Trump administration's support from white supremacists, with one person calling it "the most Aryan dog I've ever seen."
Actress Nancy Lee Grahn replied to Trump's photo of Winter on Twitter, writing, "How darling. I see you skipped a rescue and went straight to an Aryan breeder. Does it sit and sieg heil yet?"
While it's unclear whether or not Winter is being crate-trained, one person, linking Winter's adoption with the inhumane treatment of immigrants at the Mexican border, asked Trump: "If it was a brown dog, would you put it in a cage?"
Another followed suit, writing that Winter would probably have a pretty plush life, "unlike those children locked in cages living in unsanitary conditions & abused down at the border," adding, "I bet the nanny will be forced to walk Winter, right?"
And yet another Twitter user asked, "Will [Winter] be locked in a cage now that it's been taken from its mother?"
The Nation sports editor Dave Zirin suggested that maybe "Complicit" would have been a more apt name than Winter, and honestly, I couldn't agree more.