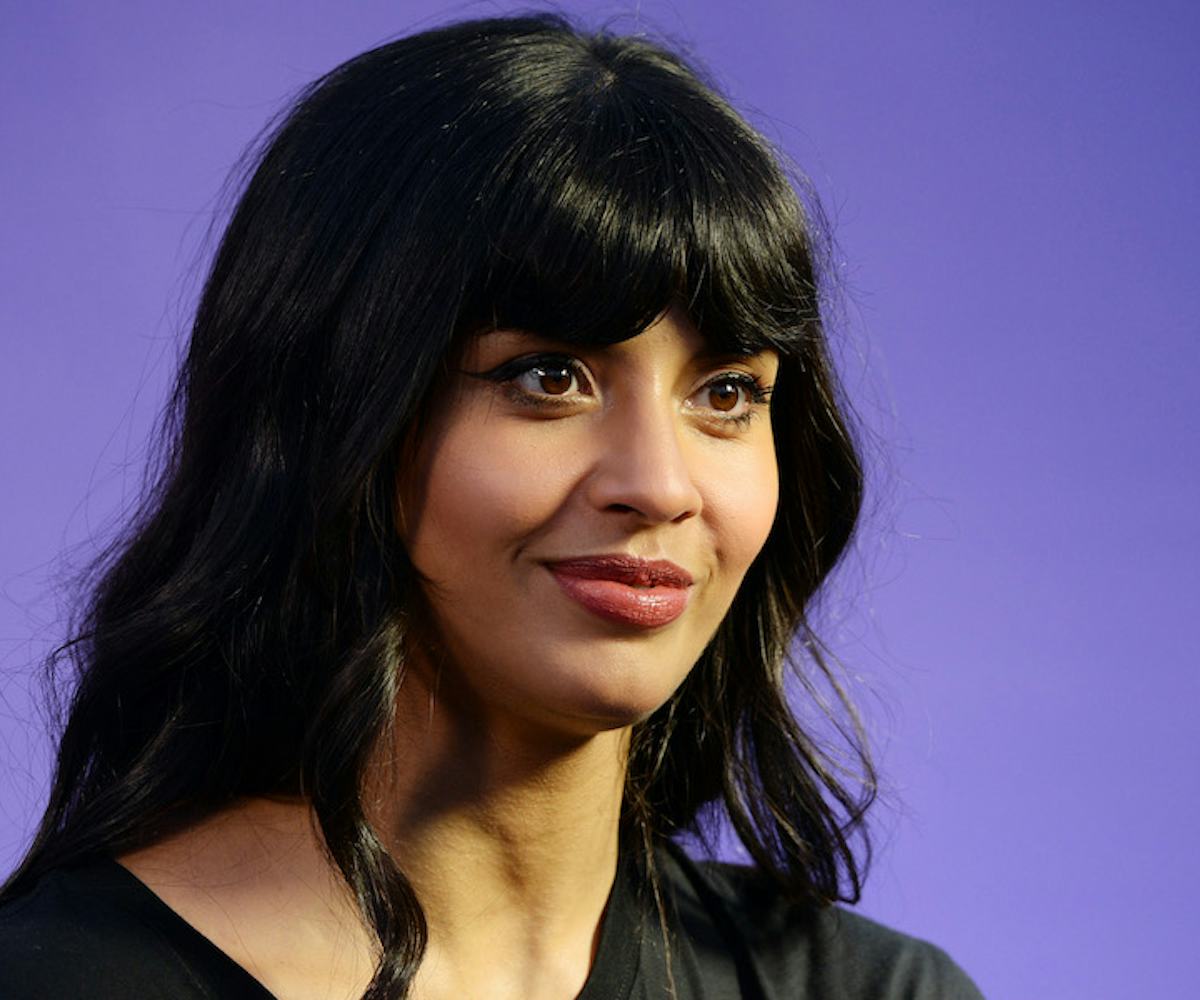 Photo by Amanda Edwards/Getty Images
Jameela Jamil Responds To Backlash Over Her Role In HBO Voguing Show
In a string of tweets, 'The Good Place' actress clarified her involvement with the show
Yesterday, the internet erupted into flames when a notice from HBO hit our newsfeeds. According to the release, Legendary, a ballroom voguing reality competition show slated as one of many new series coming to the new HBO Max streaming platform, would be MCed and judged by Jameela Jamil. It's easy to understand why so many people were outraged. After all, as ballroom culture has slowly but surely crept its way into the mainstream, thanks to shows like Pose, it has also been sanitized and cut off from its roots in queer Black and brown communities. To finally get a competition show that places ballroom at the center, only to watch it be usurped by a straight woman with no fundamental ties to the culture was disheartening at best, dangerous at worst. Luckily, it turns out that's not entirely the case. Following the announcement, Jamil took to Twitter to clarify she will not be the actual MC of the show.
In her tweet, Jamil noted, "Hello! @DEADLINE says I am the MC of this show! I am NOT. I am just one of the judges. The brilliant @DashaunWesley is. With help from the fabulous @TheOnlyMikeQ. I'm a long time fan of ballroom and just wanted to help this show get made to celebrate this beautiful community."
This morning, Jamil elaborated on the situation with a new string of tweets. "Reading an inaccurate press release about our new show yesterday was upsetting, and it triggered a lot of incorrect news articles about it," The Good Place star said, referring to the wave of negative press that came on the heelsof the troubling announcement. "To be very clear, it's @DashaunWesley who has worked on this show for 2 years, is (and always has been) the MC of #Legendary." A followup tweet sought to elucidate even further, claiming, "I'm a judge, alongside @leiomy, @theestallion and @LUXURYLAW with music from icon @TheOnlyMikeQ."
This update reassured many, since, in the realm of ballroom, the role of MC is sacred. As seen through Billy Porter's Emmy-winning performance as Pray-Tell in Pose, it is a job that requires charisma, skill, and most of all, a real familiarity with the culture at large. The language that is used, the ability to chant, the tendency to playfully "read" contestants — it all descends from an intimate knowledge of ballroom's history. Though Jamil may have normal TV hosting experience through her involvement with The Misery Index, MCing for ballroom would have been an entirely different beast. To bestow such a hallowed position onto someone with no real familiarity of the scene could understandably feel like a smack in the face.
In the end, the actress declared that she got involved with the project as a means of helping to uplift the community. "I know some of us aren't from ballroom," the actress concluded. "But we are here to bring our followings, press and news audiences to the show, to support and celebrate the ballroom community. That is all."
Though it's safe to assume that Jamil would have addressed the matter eventually, it's also important to note that her response was not entirely unprompted. Shortly after the original (false) announcement came out, Trace Lysette, a trans actress who spent a significant amount of time immersed in New York's ballroom community, took to Twitter to voice some of her own frustrations — and was quickly met with an outpouring of love and sympathy.
"I interviewed for this gig. As the mother of a house for nearly a decade it's kind of mindblowing when ppl with no connection to our culture gets the gig," the Hustlers actress said, quickly clarifying that this was "not shade towards Jameela." As she said, "I love all that she stands for. If anything I question the decision makers."
For now, Jamil is off the hook. A number of celebrities, including Lysette's Pose co-star Indya Moore, have since weighed in, expressing a sigh of relief after learning that the original announcement was merely a miscommunication. "I spoke with Jameela & I am SO relieved to learn that it's been misreported that she is MCing for the program," said the Queen & Slim actress. "She informed me that @leiomy, @TheOnlyMikeQ, @DashaunWesley are not only consultants but that MIKEQ x Dashaun are MCING the production. Leiomy is also a host & panelist."
Over severalfollowuptweets, Moore — the current face of Louis Vuitton, who also came up in the ballroom scene — maintained that although it's natural to feel a sense of disappointment over not being included in the show, it's also important to celebrate those who are. "This program is a community centered program & again it is being led, consulted & starred by ballroom Monarchs of whom deserve to be celebrated!!!!" they exclaimed. "This is going to be amazing & I'm so excited to watch."
HBO Max launches in May, but there is no word yet on when we can expect Legendary to premiere.