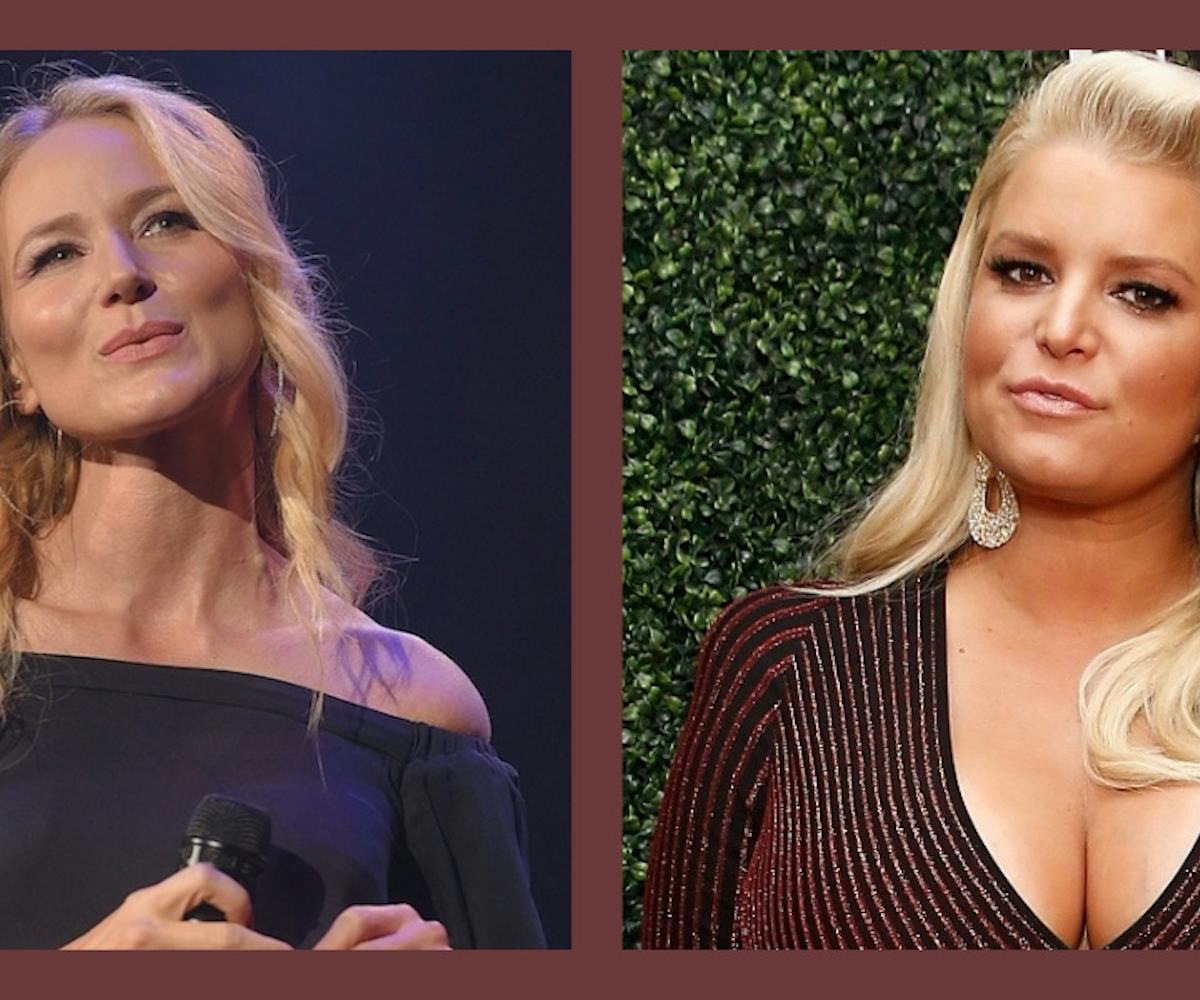 Photo by Jason Kempin, Brian Ach/Getty Images.
This Throwback Video Of Jessica Simpson And Jewel Singing Is Going To Haunt Me
Jessica Simpson tried to out-Jewel Jewel
Jessica Simpson and Jewel once shared a stage on national television for a musical performance that the internet is now never going to let die. The two singers took on Jewel's own hit "Who Will Save Your Soul?" and got really into it. Maybe a little too into it.
When the video first came across my Twitter feed last night, I instantly clicked, then exited the video to silence it, then being the masochist I am, opened it again. It was horrifying and wonderful. It seems that Simpson tries to out-Jewel Jewel herself, aiming for the breathy, nasal quality that Jewel once made sexy, and turns it into what you'd expect from a middle schooler performing a Britney Spears ballad at the talent show. There's a lot of dramatic faces, some oddly timed growling, but still plenty of shared smiles between the two performers. Honestly, I can't tell if Jewel is performing normally at this point, or if Simpson's antics have pushed her to bring her Jewel-ness to new heights.
According to an MTV News article from almost exactly 15 years ago, the performance is from the Nick & Jessica Variety Hour, a variety show on ABC with comedy sketches and musical performances. The description of the full lineup sounds like a fever dream: Simpson also shared a duet with Kenny Rogers, singing "Islands in the Stream," famous muppets Miss Piggy and Kermit The Frog stop by, and some baseball player teaches Nick Lachey how to hit. Though footage of these appearances seems to have disappeared from existence, luckily a few viewers of the variety show must have sensed the meme potential of Simpson and Jewel's duet even before the rise of memes, and uploaded the hypnotic performance to YouTube a few years later. Just last year, Simpson gave it a brief shoutout on her Instagram, and referred to it as "The moment I felt my career explode."
Want to keep staring at the train wreck for longer than Twitter will allow? Savor every single misplaced growl by watching the full performance below.