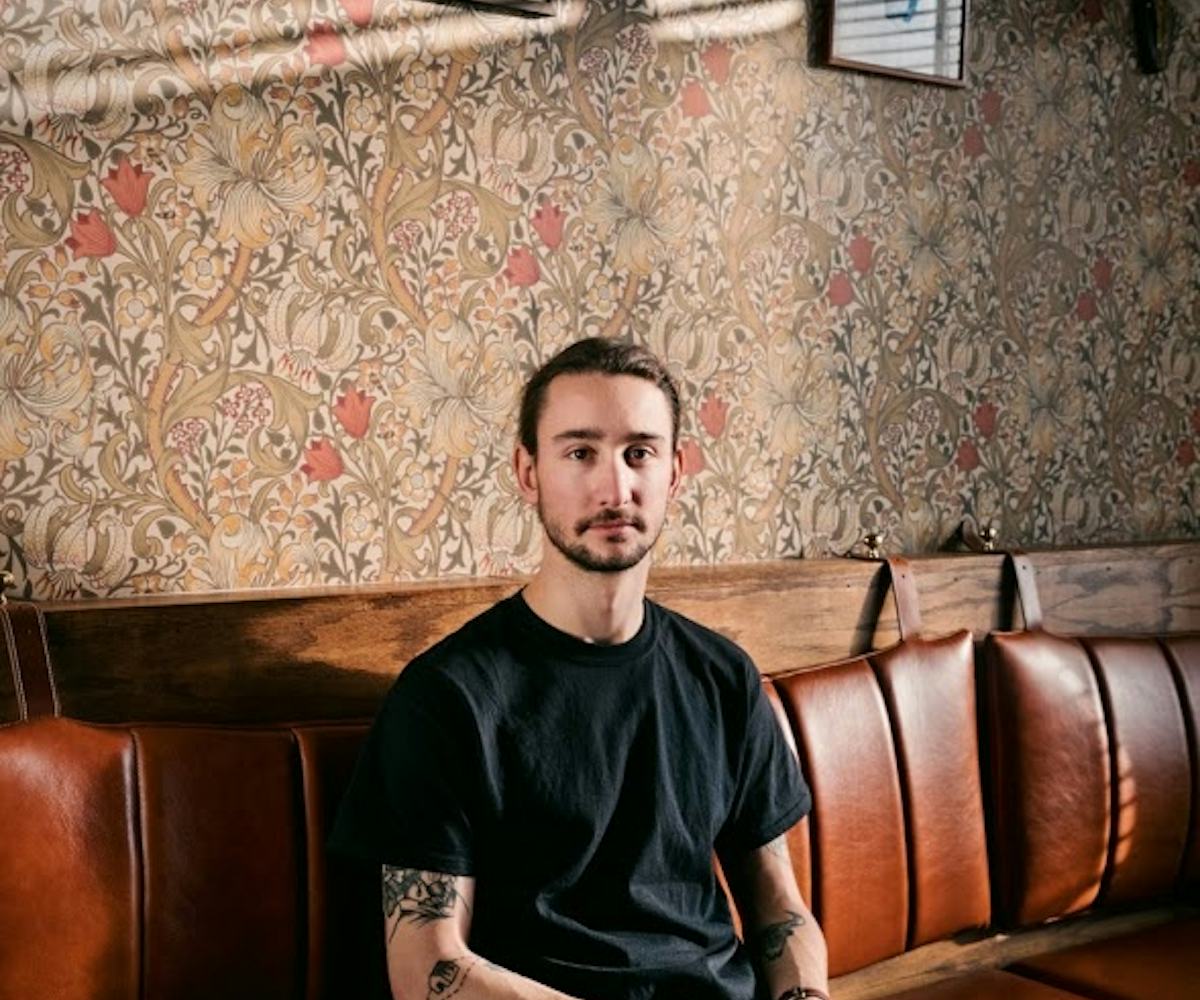 Photograph by Dylan + Jeni
This 25-Year-Old Opened One Of 2018's Best New Restaurants
And landed on Forbes' 30 Under 30 list
Getting Jonah Freedman to describe the aesthetic of his L.A. restaurant in-person is like playing a round of Heads Up!:
We took a lot of inspiration from French brasseries, we looked at steakhouses. My grandparents now live in this country club in Boca Raton… channeling that aesthetic a little bit. This sort of polo club vibe… I think now that's particularly relevant when you look at kind of revival of like the Ivy League aesthetic, but also these geriatric forms, like the Balenciaga Triple Ss, not so far from my grandfather's New Balances. And then looking at English pubs, spaces that were public and then also looking at spaces that were private... old Parisian apartments and, you know, their floors and kind of chevron pattern that they do... We looked at a lot of wallpaper. A lot of William Morris and then this one particular print... like M.C. Escher-meets-Miami.
Sure, the words all paint a familiar picture but you can't quite remember what their common denominator is. After first posing such a big question on the spot, I later email him to ask about it again and give him a chance for a more condensed answer. Not because it doesn't make sense—every component of his modern Jewish deli restaurant Freedman's has a reason for why it's there—but because I am looking for something digestible so hard is it for me to reconcile the fact that a restaurant owner has brought up names like Balenciaga and Maurits Cornelis Escher and spaces like an English pub and a Floridian country club in the same sentence when describing his inspiration. But that's how Freedman is—and one of the reasons he has become one of 2018's most fascinating food newcomers.
At just 25 years old—and in Freedman's first year—the Toronto native has landed himself on Forbes' 30 Under 30 list and his Silver Lake restaurant on Bon Appetit's Hot 10 list. After working behind the fry station at Chicago's The Promontory and in front-of-house operations at London's Rita's, he set out to open Freedman's "to update and innovate Jewish cuisine for a modern palate, while still showing an appreciation to the history of Jewish cooking." He explains:
We looked at Jewish delis and the food that we grew up with and wanted to look at how we could make that young and fun and a little bit more modern. We have noticed a kind of deli revival that had been going on through the States since 2010/11, and the deli aesthetic changing to be modern, minimalist, sleek design, but not actually looking at the food. Everything was the same as it had been for the last 50 years—ethically sourced, but the same. That's when we said, "Well, why is that?"
His answer was a menu (created in collaboration with a culinary team first helmed by opening chef Liz Johnson who has since left) that puts a contemporary spin on Jewish classics, featuring dishes like whitefish cigars, with whitefish mousse rolled inside fried feuille de brick pastry, topped with caraway, honey, and a champagne vinegar glaze and served in vintage tins; waffle iron-cooked latkes with an almost creamy mashed potato center and a crispy hard exterior, a texture he describes as "reminiscent of a molten chocolate cake," served with cured sea trout; and a house-brined and -smoked pastrami "crunch wrap" paying homage to Taco Bell.
Inspired by old-school culinary institutions like Brooklyn steakhouse Peter Luger's and L.A.'s iconic Italian restaurant Dan Tana's whose menus haven't changed in decades, he also opted for a non-seasonal menu ("We're just trying to approach the restaurant a little bit differently than what we feel like is opening a lot, which is often focused on seasonality. And it's great, it's just not what we're interested in") and for a classic cocktail program (though he initially brought in a bartender from Toronto to create a house cocktail list, he decided to scrap it in favor of a strong martini program and a few classics).
"You have a Reuben and a martini, and, like, what else could you want?" he asks. Turns out, a hot dog and a Mai Tai that one regular, according to Freedman, orders four to five times a week.
When opening the restaurant, Freedman says he set two goals: "(1) Create a new restaurant that felt like it had been there for 50 years... the idea of like an instant establishment and (2) make the space feel like a bunch of 20-something-year-olds took over their grandma's house and made it into a restaurant." To do that, he sourced details from different time periods throughout history.
There are 1890 brass sconces that he got from an Etsy vendor who sources her items from flea markets in France and a bar built from various pieces of wood, including a 1940s mantle that he found in L.A. and two armoires he flew from Virginia, and created around vintage bird lamps that Freedman found at a market. "L.A. has flea markets everywhere, all kind of within an hour of the city. So, for like seven months, every weekend it was like, 'Oh, let's do this, let's get in the car again.'" The hardest thing to source though? Brass urinal flushes that Freedman was set on having. "I probably made like 25 phone calls asking people if they have it, if they can ship it, if it was out of stock..."
And while for some making more than three calls to find a bathroom accessory might seem excessive, it speaks to the authenticity of Freedman's initial goals. "As you age, as you grow, as you exist in a space, you collect items throughout certain time periods, so it makes sense to have like antiques that your grandmother passed down to you next to 1960s cane chairs next to, you know, something more contemporary. The idea of this kind of accumulation of generations is what we were interested in [for the decor]."
Adding to the feeling of "your bubbe's Upper East Side apartment if she had really great taste" are the floral and botanical wallpapers (of which there are at least half a dozen) that adorn different parts of the restaurants, juxtaposed by paper napkins (linens felt too formal to him) and $5 hot dogs. "Obviously when you do a restaurant like that, with a bunch of wallpaper, the question is, when does it become kitschy and silly? And when is it proper kind of nostalgia?" he says. "One way that we thought to sort of combat that was to create almost like this pluses-and-minuses list, where every time we did something serious, we kind of lightened up things a little bit." So while the wood handled knives are lovingly sourced from Spain, they are laid next to a napkin with an illustration of a flamingo with a martini glass that tattoo artist Aron Dubois created alongside other whimsy drawings for restaurant stickers (my favorite was of a hungover skeleton with a steaming cup of coffee), cocktails menus, and matches.
It's then that I realize what all of those Heads Up! clues add up to: a feeling of nostalgia, a place that you long for no matter the time period or location or whether you've ever been, one that's both in the moment and timeless, one that's physical but also metaphorical.
A week later, I get the email back from Freedman giving me the answer about the aesthetic of the restaurant: "A place our neighbors could instantly call home."